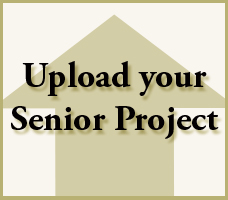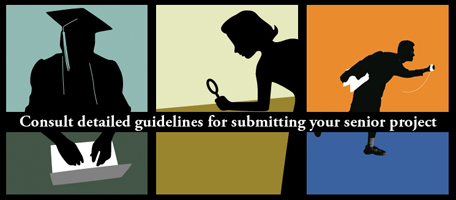 Detailed steps to submit your senior project
Each department has slight variations on the senior project submissions process outlined below, so check with your department first.
You and your advisor must sign the form in the appropriate areas.
Only one form per project is required, no matter the number of authors.
Print one copy of the completed form for the Kennedy Library. Your department may also require additional copies of the form — consult with your advisor.
Step 2: Get a Cashier's Receipt
Pay the $12 senior project processing fee online or in person:

To pay in person (cash or check only), go to the Cashier's window in the Administration Building.
To pay online (debit or credit card):

Log in to your Cal Poly portal
Click on "Money Matters" tab
Select "Make Payment Now"
Select "Click Here to Make an Online Payment" at the top of the page
In the right hand menu you should see an option to pay either senior project or master's thesis fee.

The senior project fee should only be paid once, no matter the number of authors.
Attach the original receipt to the Senior Project Requirement Form and keep a copy of the receipt for your records.
Step 3: Deliver the completed Senior Project Requirement Form and Cashier's Receipt to your Department Office
Your Department Office will advise you on the upload of your completed and signed Senior Project Requirement Form and Cashier's Receipt to the library.
Submission options include: (1) scanning the materials and emailing them to Digital Commons Staff ude.yloplac

null

@snommoclatigid or (2) submitting the materials via campus mail to Senior Projects, Kennedy Library, Building 35.
Step 4: Upload your advisor-approved senior project to DigitalCommons@CalPoly
To upload your project, go to DigitalCommons@CalPoly, click on the link in the sidebar "Submitting a Senior Project?", click on your department, and select "Submit Senior Project" in the sidebar.
What happens next?
Once the library receives all required documentation – the Senior Project Requirement Form; Cashier's Receipt; and your uploaded senior project (note: you will receive an automated email confirming your project has been received) – the library will make your senior project viewable on DigitalCommons@CalPoly and you will receive an email confirming your project is available to the public.
Questions?
Contact ude.yloplacnull@snommoclatigid.