You have many printing options at Kennedy Library, including 14 laser-printers and access to specialty printing. See the links below to find out how you can print, where to find copiers, where you can send a fax, or how to access a scanner.
Printer locations
There are 14 PolyCard printers located in the Library (see
map
). Print from any library computer including rental laptops, then swipe your PolyID at any of the PolyCard printers in the library to get printouts.
Laser printing is available using PolyCard Campus Express account. Printing on library lab computers defaults to double-sided, black-and-white prints. Print defaults can be changed in the print dialog box to color or single-sided as needed.
Printers by floor
Floor 1 – 5 printers
PolyConnect Lab 114B (2)
111 Open Area (2)
Room 111B
Floor 2 – 5 printers
Research help desk
Room/Lab 216A
Room/Lab 216B
Room/Lab 217C
Room/Lab 217D
Floor 3 – 2 printers
Grad Study Room
Near the elevators
Floor 4 – 1 printer
Near the elevators
Floor 5 – 1 printer
Near the elevators
Payment options
Pay by PolyCard
PolyCard printing requires that you have money in your Campus Express account, accessed by using your PolyCard. (Plus Dollars are for dining only.) Find instructions for loading money to your Campus Express account here or pick up an instructional flyer at the library circulation desk.
Cost
| Ink | One-sided | Two-sided |
| --- | --- | --- |
| Black and white | $.10 | $.20 |
| Color | $.20 | $.40 |
The PolyCard printing service is operated by ITS (not Kennedy Library), and delivers non-profit printing services to students campus-wide. ITS works with the campus fee committee to determine the "break-even" cost. Contact the ITS Service Desk at (805) 756-7000 for additional information.
Pay in cash
You can print from your USB drive on the copiers located on the 1st floor which accepts coins. You can use cash, credit or debit cards at Cal Poly Print & Copy, located in the 24-hour Room on the 1st floor. To do this:
Save your document to a USB drive or email the document to yourself
Open the document at Cal Poly Print & Copy
Note: there is a $1.50 minimum for this service
Problems with your prints?
Printer ink faded? Paper jam? We know that your document may not always print out perfectly due to printer issues. You can fill out a request for a print refund here.
Print from your Mac laptop
Please read ALL instructions before clicking on links. This will save you lots of time!
Download the New PolyCard Printer Driver and Pharos Pop Up.
Go to http://uniprint.calpoly.edu/MacPackages.asp (link available on campus only)
Find and select: Library – All Printers OSX Client.zip (see below)
Open the zipped file Popup Client 8.3.3 for Mac OS.zip
Install the "Package"
Keep "clicking" and continue to install
Be aware: You may need to enter an Administrator password for your laptop to uninstall the driver. This password is probably NOT your Cal Poly password and should be your Computer Password.
Library PolyCard printers should now appear in your list of printers found in your System Preferences, Print and Scan
If printer does not appear in your printer list, please refer to the Mac OS instructions provided by the PolyCard office or contact the ITS Service Desk at 805-756-7000.
---
How to print
Step 1. Choose File → Print
The appearance of the File menu or the process to send a document to the printer may vary depending on the application you are printing from.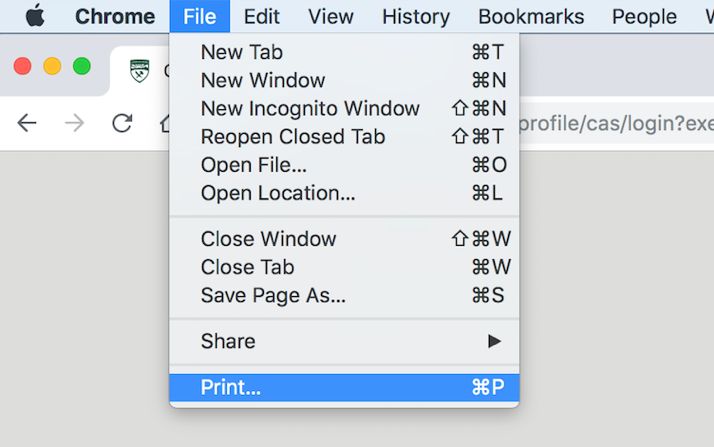 Step 2. Choose the printer
Select the "PolyCard Printers — Library" printer from the print dialog box and click "Print".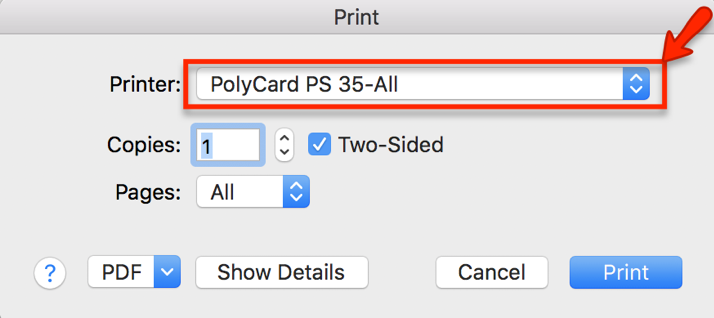 Step 3. User/document name
After sending the job to print, a Pharos Popup dialog box will appear and ask for a username or ID. Enter your username or name your document and click "Print." This name will be used in step 4 to help you identify your document in case other people have submitted documents for printing at the same time.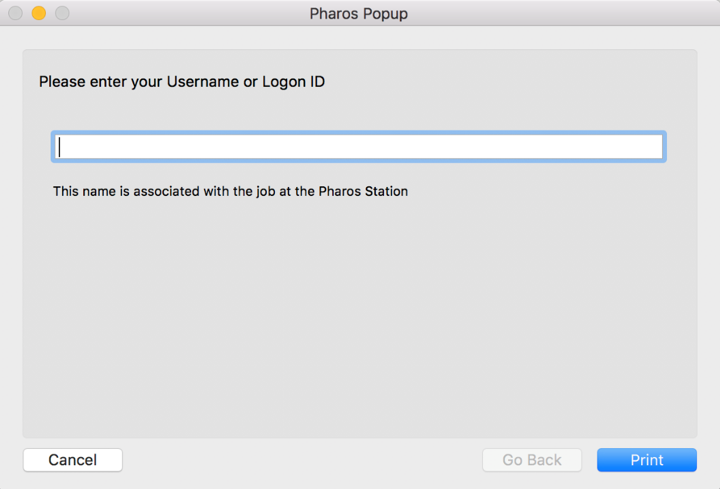 Step 4. Release the print job.
Proceed to a printing station and release the print job with your PolyCard. Instructions for this process are located at each individual print station.
Print from your PC laptop
Windows 10 instructions
Install Pharos Client
Go to http://uniprint.calpoly.edu/Packages.asp (link available on campus only)
Click on the Windows Package link and select "Library – All Printers"

Run the executable, choose to Install. Follow the prompts and close any Endpoint popup windows.
After the files have been installed, Go to → Start Menu → Control Panel → Devices and Printers to check if the printer has been installed successfully.

You should now have a printer named Polycard Printer PS 35-All in your list of printers.

Select Polycard Printer PS 35-All to print your documents and now you can swipe your PolyCard at any printer in the library and get your documents printed.
Default print settings / how to change them
Printing from Library computers defaults to double-sided, black-and-white prints.
Changing PC default settings
After you click "Print" from within your document
Click on "Printer Properties" in the Print window
Adjust the "Duplex" options for 1 or 2 sided prints
Select "Output Color" of either Black or Color
Changing MacOS default settings
To change to one-sided or two-sided
In the Print window, pull down the "Copies & Pages" menu
Select "Layout"
Next to "Two-Sided"

Select "Off" for one-sided printing
Select "Long Edge Binding" for two-sided portrait printing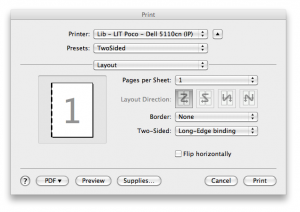 To change to color or black
In the Print window, pull down the "Copies & Pages" menu
Select "Printer Features"
Next to "Output Color"

Select "Color" or "Black"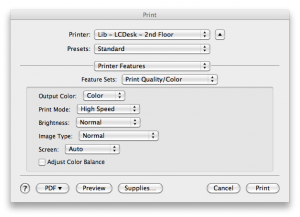 If you need help, go to the Research help desk or the Poly Connect lab for assistance.
Specialty printing, copies and fax
Kennedy Library is pleased to partner with Cal Poly Print & Copy located in Hub24 on the first floor.
Large-format, specialty printing
Cal Poly Print & Copy hosts a specialty-printing lab which can print letter-sized, one-color projects as well as full-color, oversized print projects.
Copy machines
Locations
First floor in Hub24 (Rm. 114)
First floor in room 111
Second floor, near elevators
Third floor, near elevators
Cal Poly Print & Copy also services and maintains copy machines throughout the library. These machines take cash only (no PolyCards).
Fax machine
In addition to printing services and copiers, Cal Poly Print & Copy also has a Fax machine for campus use. Visit their walk-up window for more information.
Scanners
Locations
There are four scanners located on the second floor behind the Research help desk on the 2nd floor. These flatbed scanners can handle documents up to 11″x17." Scanned documents can be saved as PDFs or JPGs and then saved to a USB drive or sent via email.
More options
Cal Poly Print & Copy can also scan documents up to 11″x17″.
For tech support with printers, please contact Information Technology Services (ITS).