The vision of the Student Library Advisory Council shall be to inspire library improvements by engaging in dialog with library staff and administration, advocating on behalf of student needs, and promoting the library's integration of these perspectives.
As a campus hub for student learning, Kennedy Library plays a key role in student success, and nurtures an inclusive and vibrant sense of community at Cal Poly. Student input and support are critical to the Library's ability to meet student needs. The Student Library Advisory Council (SLAC) is a student run committee that advises the library on matters regarding the Robert E. Kennedy Library.
Representation
The Cal Poly Student Library Advisory Council represents diverse campus perspectives. Ideally the council strives to have one member for every academic college, a graduate student member, a library assistant, a representative for Associated Students Incorporated (ASI), a representative the Student Campus Computing Committee (SC3), and if possible additional campus groups (Inter Housing Council (IHC), Inter Fraternity Council (IFC), Panhellenic Association (PHA), etc.).
Advisory
The Student Library Advisory Council meets regularly to discuss and advise on issues that affect the quality of the student experience with Cal Poly Library Services. The University Librarian and Library Faculty Advisor consult with the group chair or co-chairs to develop agendas and to share information with Council members and seek student input on a variety of issues. Some of these include:
Developing and deploying a yearly survey to elicit feedback from student's regarding Library Services;
Raising student awareness of how Library programs and services can help them; and
Strategies for securing new funding to support innovative Library services and programs.
Think Tank
The Council serves as an ongoing "think tank," providing the Library with feedback and input on specific issues, including Library programs, computing interfaces, facilities, communication channels, and Library policies.
Want to join us?
If there are openings on the Council, recruitment of new members commences Spring quarter.
Meetings
The Council meets every Thursday from 12-1pm in room 511 during the Fall, Winter and Spring quarters (except during finals week and academic holidays).
Please see the links for information about the Council's accomplishments last year, their meeting schedule, and opportunities to contribute to the Council.
For more information about the Council please contact the SLAC Faculty Advisor, Katherine O'Clair, at 756-2690 or by email.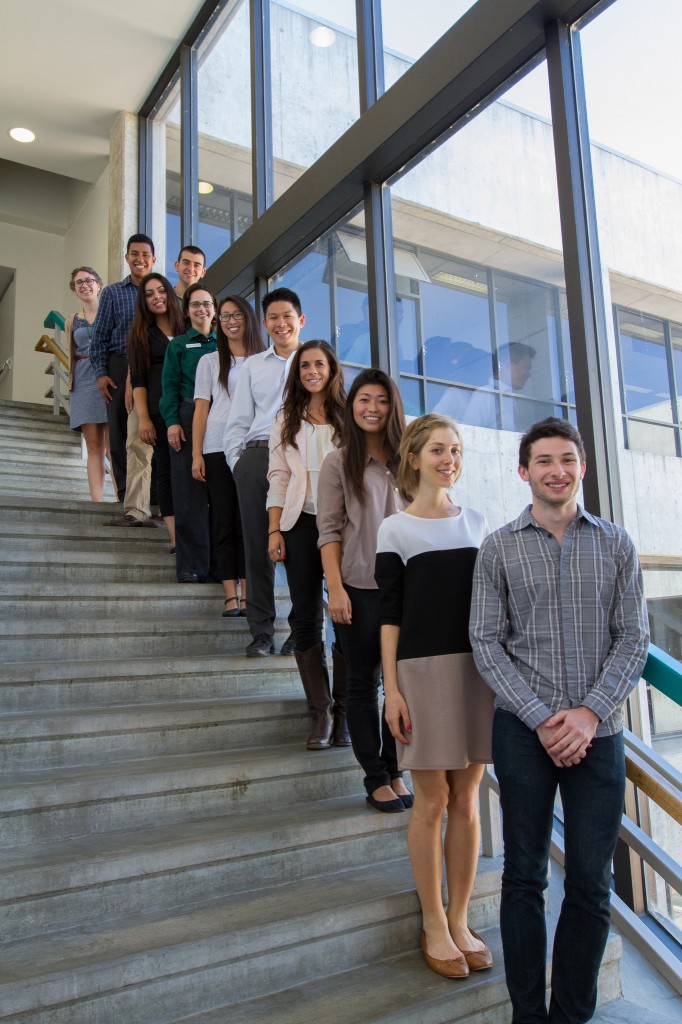 Assessment
Winter 2013 Survey
SLAC survey findings
The Student Library Advisory Council Winter 2013 Student Survey was sent out to 20% of the student body with 693 respondents completing the entire survey and another 275 weighing in on select questions. Here, we're highlighting our findings to show the library's past responses to student demands while addressing new and constantly changing needs.
---
Check out the full results here: SLAC 2013 Survey Summary
45% of the entire student body visits the library three or more times a week.
As the central research hub on campus, Kennedy Library offers a broad range of services Cal Poly students need to further their academic success. An average of 21,000 visitors per week filter in through the library doors. Over the summers of 2011 and 2012 we expanded seating options, made new additions to the Data Studio, and created more collaboration options to make the library your number-one-choice location to work. Among all of the colleges, students in the College of Engineering frequent the library the most, with 27% using Kennedy Library at least 4 or more times a week. Overall, first-year students visit the library the least, utilizing it less than once a week. In contrast, Cal Poly Seniors frequent the library the most–more than 4 times a week! This information supports the statistic that 52% of off campus students use the library more than 3 times a week, whereas only 37% of on-campus students use the library more than 3 times a week.
33% of respondents said it's "very important" to improve course reserves.
Textbooks for free? It's true! Course reserves consist of highly sought out books and electronic class materials held at the circulation desk for specific classes and short-term circulation. With the demand for more affordable quality class materials, the need for course reserves expansion has taken the spotlight. In 2009-20010 alone, our reserves were accessed over 40,000 times! It's no wonder why, in total, 80% of our students rated the improvement of this service as "important" or "very important."
In spring 2012, the library received an increase of $26,000 to help cover publisher inflation in critical digital resources and to improve our course reserves services, and in summer 2012, the library launched our Reserves Redesign team. Among the primary goals of this group is to improve student satisfaction through providing faster access and increasing our supply of affordable resources. This year, the library will be hiring an Open Education Library Fellow to help us, in the words of University Librarian Anna Gold, "put more free, high quality tools for learning into the hands of students of all ages, as well as their teachers."
90% of students were satisfied with the current collaborative technology available to them.
The library is not only a great place to do your independent study, but a place that creates many opportunities to facilitate group collaboration. Our 2013 survey suggests that students were satisfied with the collaborative technology available to them. The most commonly used methods were simple e-mail attachments, flash drives, and Google Drive. Use of library-furnished resources includes dry-erase boards and TV/HDMI projectors. Particularly popular are the "fishbowl" collaboration rooms, with newly improved reservation system. Less than 2% of the respondents said they did not use any form of collaborative technology. In Fall 2012, the new and innovative Data Studio, located in room 111, brought about a revolutionary turn in collaboration at the Kennedy Library. The studio provides TV/HDMI projectors, computer stations, and Geographic Information Systems (GIS) software, giving students a new way to share and present their ideas.
49% say wireless printing is "very important."
Kennedy Library currently provides over 20 different printing locations spread across its five floors. Based on strong support from the Fall 2010 student survey, campus is now a little greener by defaulting print settings to "double-sided." Our recent addition of wireless printing your personal laptop has broadened your ability to utilize printing stations. In addition to printing stations, about 30% of students value accessibility to copy machines, scanners, and specialty printing services from Cal Poly Print & Copy.
Thank you students!
Thanks to SLAC and to the hundreds of students who took the survey and who also made hundreds of useful comments. The Library loves hearing from students and we appreciate all your input. It will make Kennedy an even better library and improve every student's Cal Poly experience!
Learn more about SLAC and how you can participate or support them on the SLAC web site.
Members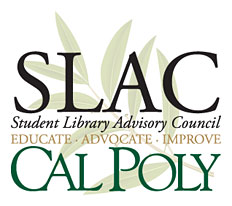 Previous council rosters
2011-2012
Ryan Bitter (CAFES — Horticulture, Undergraduate)
Tucker Brofft, Housing Representative (CLA — Political Science, Undergraduate)
Jessica Bruno (CLA — Political Science, Undergraduate)
Jason Colombini (CAFES — Ag Business, Undergraduate)
Ashley DeGuzman (CENG — Bioengineering, Graduate), Chair, Cal Poly '12
Jordan Hooper (CLA — English Graduate), Library Assistant, Secretary, Cal Poly '12
Susie Kopecky (CLA — English, Graduate), Library Assistant, Cal Poly '12 (Masters)
Patrick McCreesh (COSAM — Biochemistry, Undergraduate)
Hannah Panno (CLA — Geography, Undergraduate), Secretary/Vice-Chair
Lauren Raffi (COSAM — Liberal Studies, Undergraduate)
Solomon Reda (OCOB — Industrial Technology, Graduate), ASI Representative, Cal Poly '12
Mike Shaw (CENG — Civil Engineering, Undergraduate)
Philip Tran (COSAM — Biology, Undergraduate)
2010-2011
Tucker Brofft, Housing Representative (CLA — Political Science, Undergraduate)
Jessica Bruno (CLA — Political Science, Undergraduate), ASI Representative
Ashley DeGuzman (CENG — Bioengineering, Undergraduate), Chair
Jordan Hooper (CLA — English Undergraduate), Library Assistant, Secretary
Susie Kopecky (CLA — English, Graduate), Library Assistant
Jonathan Mahrt (OCOB — Business), SC3 Representative, Cal Poly '11
Hannah Panno (CLA — Geography, Undergraduate), Secretary/Vice-Chair
Solomon Reda (OCOB — Industrial Technology, Undergraduate), ASI Representative
2009-2010
Tucker Brofft, Housing Representative (CLA — Political Science, Undergraduate)
Jessica Bruno (CLA — Political Science, Undergraduate), ASI Representative
Ashley DeGuzman (CENG — Bioengineering, Undergraduate), Vice-Chair
Benafsh Husain (CENG — Electrical Engineering, Graduate), Library Assistant, Cal Poly '10
Sierra Jahoda (CLA — English, Undergraduate)
Susie Kopecky (CLA — English, Graduate), Library Assistant
Jonathan Mahrt (OCOB — Business), SC3 Representative
Hannah Panno (CLA — Geography, Undergraduate), Secretary
Kelsey Rice (CAFES — AgBus, Undergraduate), ASI Representative, Chair, Cal Poly '10
Laura Sorvetti (CLA — History, Graduate), Library Assistant, Cal Poly '10