The vision of the Student Library Advisory Council (SLAC) is to inspire library improvements through dialog between staff and students. Student input and support are critical to the library's ability to meet student needs. SLAC is a student-run committee that advises the Robert E. Kennedy Library.
What we do
SLAC meets regularly to discuss and advise on issues that affect students. Library faculty advisors consult with the group to develop and seek input on a variety of issues, including:
Library service priorities and non-library services that affect student library users
Design of student spaces in the library
Advocating with decision-makers to secure resources for the library services and programs students need
Assisting the library in raising student awareness of how library programs and services can help them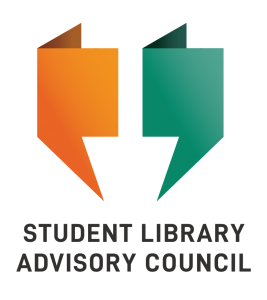 Join SLAC
Interested in learning more or joining the Student Library Advisory Council?
Meeting times
The council meets every Thursday from 12-1pm in room 511 during the Fall, Winter, and Spring quarters. If there are openings on the council, recruitment of new members begins Spring quarter.
Advisor contact information
For more information please contact the SLAC library liaison, Cheryl May, at 756-5785 or ude.yloplacnull@yamsc. Other advisors:
Thank you, students!
Thanks to SLAC and to the hundreds of students who take our surveys and who make hundreds of useful comments. The library loves hearing from students and we appreciate all your input. It will make Kennedy Library an even better place and improve every student's Cal Poly experience!