Each year, the employees of the library have the opportunity to recognize the excellence of their coworkers by nominating them for a staff award.
The three award categories are:
Robert E. Kennedy Staff Award for Individual Excellence
The Robert E. Kennedy Staff Award for Individual Excellence is presented to a staff person who has made outstanding contributions toward fulfilling the Library's institutional purpose or toward achieving a strategic goal. Award recipients have been nominated and selected by their peers for demonstrating their support or service provided to Kennedy Library goes beyond their assigned duties. Their meritorious service inspires others to provide the same level of service of a willingness to go the "extra mile" in service to patrons, faculty, students or co-workers.
Awardees have collaborated positively and effectively with others; contributed innovative or creative ideas that have improved the efficiency, productivity, or quality of work in the library; maintain excellent relations with others; and maintain a consistent record of outstanding performance.
2018-19 recipient
Katherine O'Clair, Academic Services
Katherine is professional, welcoming, helpful, and efficient in her position as CAFES Librarian, and she has taken on so many extras to enrich the library. For example, after she became a Gallup-Certified Strengths Coach, she conducted workshops to help library staff realize and enhance their strengths, and offers private consultations as well. She participated and chaired on multiple search committees, including chairing last year's Consultative Committee for the library Dean recruitment.
With all of her hard work, energy, and organizational skills, it is no surprise that she was chosen to fill the newly created role of Academic Services Department Head. Katherine is not just busy contributing to the well-functioning of the library, she currently is chair of the Campus Parking and Transportation Advisory Committee. Next year, she will be the SLAC faculty advisor. She contributes so much to the library and Cal Poly as a whole.
Past recipients
Year

Recipient

Department

2018-19
Katherine O'Clair
Academic Services
2017-18
Chris Lee
Information Resources & Resource Sharing
2016-17
Cathe Olson
Access Services
2015-16
Sarah Sayeed
Library Information Technology
2014-15
Conny Liegl
Communications and Special Initiatives
2013-14
Laura Sorvetti
Nikki DeMoville
Special Collections & Archives
Information Resources & Resource Sharing
2012-13
Shelly Lucas
Administrative Services
2011-12
Carl Hunt
Library Information Technology
2010-11
n/a
n/a
2009-10
Douglas Gates
Reference
2008-09
Karen Beaton
Acquisitions
2007-08
Tommy DeMoville
Library Information Technology
2006-07
Lynda Alamo
Administration
2005-06
Catherine Trujillo
Special Collections
2004-05
Fran Edwards
Administration
Good Humor Award
Robert E. Kennedy Library recognizes staff members, who, with their unshakable good humor, consistently and reliably lighten the mood, defuse conflicts, and make the library a more fun place to work.
Award recipients make us laugh, but more than that they use humor to get through challenging situations or to make others feel more comfortable; provide a morale boost, a big smile, a helping hand, an optimistic outlook; they can laugh at themselves, and they create a positive environment.
2018-19 recipient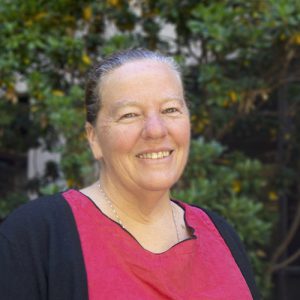 Holly Richmond, Information Resources & Resource Sharing
Holly improves morale in fun ways. She is whimsical and loves to participate. She always joins in on theme days with fun clothes, hats, and costumes. She will bring more than her share to potlucks and special day celebrations. Everyone in Information Resources and Resource Sharing knows about her donut giving spirit.
She is seen as a friend and mentor by her colleagues, and genuinely cares about the wellbeing of her student employees. Holly consistently praises her coworkers and gives them credit for achievements. She is always happy to help staff members and patrons with her patient, welcoming manner.

Past recipients
| | | |
| --- | --- | --- |
| Year | Recipient | Department |
| 2018-19 | Holly Richmond | Information Resources & Resource Sharing |
| 2017-18 | Jeremy Hobbs | Information Resources & Resource Sharing |
| 2016-17 | Linda Daguerre | Access Services |
| 2015-16 | Carole Chapman | Information Resources & Resource Sharing |
| 2014-15 | Michele Wyngard | Special Collections & Archives |
| 2013-14 | Jane Worthy | Library Information Technology |
| 2012-13 | Patrick Kammermeyer | Library Information Technology |
| 2011-12 | Brett Bodemer | Academic Services |
| 2010-11 | n/a | n/a |
| 2009-10 | Michael Price | Library Information Technology |
| 2008-09 | Jeanine Scaramozzino | Academic Services |
| 2007-08 | Marya Figueroa | Library Information Technology |
| 2006-07 | Greg Wilson | Library Information Technology |
| 2005-06 | Denise Wessels | Administration |
| 2004-05 | Johanna Brown | Collection Development |
Outstanding Achievement by a Team Award
Robert E. Kennedy Library recognizes team efforts in fulfilling the library's mission or in achieving its strategic goals. The award is presented to a group that has meritoriously completed a special project, resolved a workflow problem, or responded to a particular library need in the last year.
Team award recipients have demonstrated a willingness and ability to collaborate with their team members and with others to solve a problem, complete a project, and develop a work plan; the team has demonstrated creativity and innovation in the achievement of results and have shown exemplary performance.
2018-19 recipient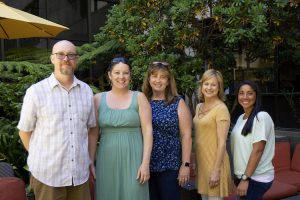 Sunshine Committee: Linda Daguerre, Katy Fluitt, Tricia Kobielusz, Ashley Laguna, Mike Price
The Sunshine Committee has organized such a wide variety of creative, fun and uplifting activities this year. Not only are these activities a fun break for staff, but they have provided opportunities to interact and get to know library staff members in other departments. They were so thoughtful about adding extra touches like trophies as awards for contests and personal delivery of burritos.
The work over the past year of this team to not only put on events that improve staff morale but also engage our thinking around diversity, inclusivity, and equity has been impressive.  This is just a start to their work, but the showcasing of individual hobbies and interests as staff engagement events have been very positive. The team also took initiative to find ways to create opportunities to show gratitude to colleagues which was one of the most well-received events of the year.
Past recipients
Year
Team
Team Members
2018-19
Sunshine Committee
Linda Daguerre
Katy Fluitt
Tricia Kobielusz
Ashley Laguna
Mike Price
2017-18
Dean of Library Consultative Search Committee
Mark Bieraugel
Katherine O'Clair
Cathe Olson
Jeannine Scaramozzino
Jesse Vestermark
2016-17
Access Services
Cathe Olson
Judy Drake
Jia-Jia Wong
Katy Fluitt
Linda Daguerre
Margaret Adeogun
2015-16
CPIG (Cal Poly ULMS Implementation Team)
Carole Chapman
Nikki DeMoville
Sheree Fu
Jeremy Hobbs
Chris Lee
Cyndee McLin
Cathe Olson
Mike Price
2014-15
EGG (Educated Guess Group)
Mark Bieraugel
Andrew Bui
Nikki DeMoville
Jessica Holada
Patrick Kammermeyer
Karen Lauritsen
Cheryl May
2013-14
Stressbusters
Chris Lee
Conny Liegl
Cyndee McLin
Kaila Bussert
Katherine O'Clair
2012-13
Banned Books Week
Patrick Kammermeyer
Karen Lauritsen
Conny Liegl
Kristen Thorp
Michele Wyngard
2011-12
Science Cafe – DIY Physical Computing at Play Team
Carl Hunt
Patrick Kammermeyer
Dale Kohler
Karen Lauritsen
Jane Worthy
2010-11
n/a
n/a
2009-10
Rapid ILL Team
Nikki Demoville
Anna Gold
Linda Hauck
Stephanie Lafferty
Michael Price
Holly Richmond
Janice Stone
2008-09
Library Faculty
Navjit Brar
Lynne Gamble
Wayne Montgomery
Marisa Ramirez
Jeanine Scaramozzino
Frank Vuotto
2007-08
Moving & Shifting Team
Sharon Andresen
Gayle Chipman
Marya Figueroa
Patricia Haberkern
Joan Kennedy
Cynthia McLin
Carol Schuldt
Jia-Xun Wong
2006-07
Birthday Fairies
Judy Drake
Joan Kennedy
2005-06
Dean Selection Committee
Linda Alamo
Navjit Brar
Johanna Brown
Judy Drake
Sharon Fujitani
Nancy Loe
Catherine Trujillo
Frank Vuotto
2004-05
Rise Team
Mary Ellen Baker
Nicolette Bowen
Gayle Chipman
Sharon Fujitani
Douglas Gates
Carole Geile
Patricia Haberkern
Joan Kennedy
Joan Kunkler
Cathleen Matthews
Cynthia McLin
Wayne Montgomery
Carol Schuldt
Jia-Xun Wong