Student spaces
Student Fishbowls
Use our collaboration rooms (aka "fishbowls") for your group meetings. Find the glass-walled collaboration rooms on the 2nd floor, between Julian's Café and Bistro and the exhibit area.
Perks of each room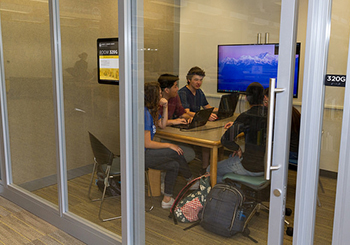 ŸŸ Seats up to eight people
ŸŸ Large white board
ŸŸ Flat screen monitor
Reserve your fishbowl
Other available study rooms
In addition to the fishbowls, the library has another 22 group study rooms available on a first come, first served basis. These rooms are located on the 1st, 3rd, 4th and 5th floors. See our library maps and directories for more information. See our library maps and directories for more information.
Faculty/staff spaces
Faculty Fishbowls
Reserve a Faculty Fishbowl located on the 2nd floor for meetings, consultations, and office hours. Faculty and staff may also reserve any of the 8 large fishbowls which are also available to students.
Reserving Computer Labs
Cal Poly instructors and staff can schedule computer labs for quarter-long courses, ad-hoc classes, and events through University Scheduling.
Go to Cal Poly Space and Event Scheduling and click "Kennedy Library Computer Labs" to check availability first to see if the lab you would like to schedule is available via the University Scheduling calendar.
Use the Schedule Request Form (from the University Scheduling web site) to make your request.
Active Learning Lab
The library's Active Learning Lab in room 216B removes barriers to learning, and inspires both students and instructors to innovate. This space features intuitive technology and spaces that support multiple uses, including testing and evaluation of parallel technologies.
Learn more about the Active Learning Lab.
One academic course per quarter is scheduled in the lab to participate in an assessment of the space. The lab is available for open access when not scheduled.
Video Studio
Our Video Studio (Room 111E) is available to both students and faculty. The room is equipped with lighting, camera and audio equipment. When you check out the Video Studio, you will receive a 32GB SD card, a USB card reader, and a remote for the camera. When you enter the room toggle a switch to turn on the specially designed lighting, put the SD card into the camera, and press Record on the camera. (There is a detailed instruction sheet in the room.)
You have the option to bring your own SD card to use in the Video Studio if you wish.
Video Studio Policies:
Rooms may be reserved by Cal Poly students, staff, and faculty.
Room reservations must be requested 24 hours in advance and there are no same-day reservations.
Room reservations may be requested up to two weeks in advance.
Rooms may be reserved in 60 minute increments, for up to 3 hours, per group per day.
Reservation times start 1 hour after opening until 1 hour prior to closing.
Reservations are void after 20 minutes if the reservation booker is not present and room reverts to "first come, first served."
 Virtual Meeting Room
Our Virtual Meeting Room (Room 111F) is available to both students and faculty. The room is equipped with an HD Webcam, speaker/microphone, a large screen TV, and a table and seating for 4. A laptop equipped with Zoom and Skype is also available for checkout.
Virtual Meeting Room Policies:
Rooms may be reserved by Cal Poly students, staff, and faculty.
Room reservations must be requested 24 hours in advance and there are no same-day reservations.
Room reservations may be requested up to two weeks in advance.
Rooms may be reserved in 60 minute increments, for up to 3 hours, per group per day.
Reservation times start 1 hour after opening until 1 hour prior to closing.
Reservations are void after 20 minutes if the reservation booker is not present and room reverts to "first come, first served."