Kennedy Library's Creative Works department supports alternative approaches to scholarship with a commitment to amplify underrepresented topics and voices. We do this by shaping, sharing, and fueling stories with collaborators in art, exhibits, and digital publishing. We do this on the lands of yak titʸu titʸu yak tiłhini, the Northern Chumash tribe, upon which we are grateful guests.
Linking four programs— art management, the faculty exhibit program, Digital Publishing Pilot, and library community galleries— the Creative Works program at Kennedy Library supports curiosity-based scholarship, creativity, and research at Cal Poly.
The program provides experiential learning opportunities with the university art collection (including an internship program, access to the collection through an online catalog, and course integration); collaborative faculty-driven exhibits; and adaptable gallery spaces for students and faculty to showcase their scholarly and creative work in a variety of ways. The program includes a publishing component through the production of visually rich digital exhibit catalogs.
This combined organization introduces the three programs and their display spaces to a participatory platform model, which reinforces the central tenet that the campus community drives the programming by placing their research, scholarship and creativity as the catalyst for participation. This core principle of the Creative Works Program aligns with the library's mission and values. The intent of these program areas steadfastly considers the focus of Cal Poly students and faculty research areas, enabling the library to offer up-to-date support to the scholarship of our campus community.
Contact:
Catherine J. Trujillo
Curator
805-756-6395 | E-mail | Office: 35-512
Publishing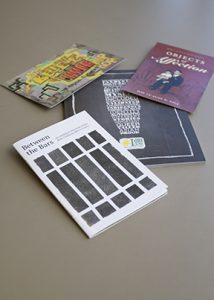 The Creative Works's Digital Publishing pilot program rethinks access to scholarship by transforming immersive on-site exhibits generated by faculty and students and re-imagining them into a new digital publication. With accessibility as the priority, the Digital Publishing Pilot explores how the screen can fully showcase each distinctive project, exemplifying an alternative approach to traditional ways of presenting and disseminating academic scholarship, while also meeting the needs of faculty research and student scholarship throughout all six Cal Poly colleges. The platform will provide a way to measure research impact for all contributors. Aspiring to be inclusive and collaborative, the faculty-driven exhibits extend the exchange of ideas through a variety of curatorial and conceptual approaches.
Stay updated via our Vlog:
Vlog Series 1: Kennedy Library Digital Publishing Project: Meet the Student Assistant
https://www.youtube.com/watch?v=84jrs4k42oQ
Contact: 
Jaime Ding
Digital Publishing Research Fellow
805-756-6215 | E-mail | Office: 35-35-512
Jaime Ding is invested in the intersections of public scholarship and accessibility to collections. Before joining Kennedy Library, Jaime worked in museum education and in private corporate archives. She earned an M.A. in Decorative Arts, Design History, and Material Culture at the Bard Graduate Center, and an A.B. in History and studio art at Princeton University. Throughout her academic career, she has been interested in public history and the history of trash. Her digital Masters thesis can be found at www.nyctrash.info.