Out Loud is a blog that features stories, media and news from Kennedy Library at Cal Poly, San Luis Obispo. Our contributors include students, staff, faculty and retirees.
Don't miss our videos and podcasts, too!
Student contributors include:
Alex Thomas is a student assistant in Special Collections and Archives and a fourth-year history major considering a minor in linguistics. He enjoys the history of photography, with regards to its art movements and the technical developments that made them possible. He loves travel and languages and wants to teach English in Eastern Europe after graduation.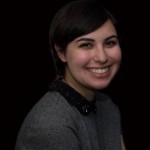 Leona Rajaee is the communications and public programs student assistant. She is a journalism senior with a minor in science, technology and society. This Silicon Valley native is passionate about catalyzing innovation to transform our healthcare industry. She is also interested in the role of journalism in public health education. In her spare time, Leona likes to engage in the sport of dogspotting and the art of crafting handmade zines.
Staff contributors include:
Patrick Kammermeyer, Media Producer and Instructional Designer. He enjoys the exploration of new technologies and is fascinated by the intersection of art and technology. He often roams the halls with a camera of one type or another hoping to catch a perfect moment in time. Before coming to Cal Poly in 1997, Patrick did a gig at The Developmental Studies Center where he worked directly with educators to integrate technology into learning environments. Patrick is recovering from a BS in Philosophy from UC Berkeley.
Jan Kline recently retired from Acquisitions, where she was responsible (among other things) for the Good Reads Collection. She has an addictive relationship with contemporary literary fiction and memoir. Before coming to Cal Poly, she was a cellist in theatre pit orchestras, a bass player in a Western Swing band, and a billing clerk at a ready-mix concrete plant. She has a nicely aged BA in History from UCSB.
Conny Liegl, Web Designer. Working in technology for over ten years, Conny specializes in user-centered design and has a background in web usability and accessibility, social media marketing strategies, as well as e- learning technologies and theories. Conny has a degree in Information Science from Saarland University and a Master of Arts in Information Science. You can see her cruising around San Luis Obispo in her bright red Smart car.


Laura Sorvetti coordinates reference, outreach, and instruction for Special Collections and Archives at Kennedy Library. She assists students, faculty, staff, and the research community at large to access primary sources, and works with university and community classes to support instruction and facilitate research of the department's holdings. Laura is the staff curator of Cal Poly's Shakespeare Press Museum.


Zach Vowell works in Special Collections and Archives, where he manages and develops digitization projects, acquires and processes born-digital archives. He coordinates the long-term preservation of the department's digital collections, all in an effort to promote the online discovery and use of the department's collections.
Previous student contributors include:
Victoria Billings, public programs student assistant and journalism senior, helps Karen cover all the exciting events at the library. When she's not running about with a camera and notepad in hand for the library, she's running about with a camera and notepad in hand for the Mustang Daily, Cal Poly's student-run newspaper. Victoria is a SLOcal through and through, having grown up just a few miles north, in Atascadero. She loves reading, writing, playing piano, and riding her bike all over town. (2012-2013)
Soquel Filice is a student assistant in Special Collections and Archives. She is a third year history student with a minor in communication studies and a minor in Spanish. She is passionate about women's history and fashion history and has an insatiable appetite for reading. In the future, she hopes to change the world by helping others understand the past. (2014-2015)
Jordan Hooper, Student Assistant in her 4th year of studying English Literature. She enjoys hiking, photography, writing, and basking in the sun with a good book in the library's "front yard." Being from Fresno, she greatly appreciates everything the Central Coast has to offer and enjoys advocating for the student voice in the library. Jordan began her work in Interlibrary Services then became further involved with the Student Library Advisory Council (SLAC). She assists with Cal Poly Science Café. (2011-2012)
Vanessa Pham is a gallery student assistant and a third year Communication Studies student. She helps Catherine Trujillo, Kennedy Library Curator, coordinate public use of the library gallery spaces and helps install exhibits. In the future, she wants to do public relations in the arts by promoting the work of creative minds. (2014)
Rachel Scott is the communications and public programs student assistant and a journalism junior from Anaheim, CA. When she's not assisting Karen Lauritsen and Kennedy Library, she spends her free time with her friends, studying until all hours of the night, and catching up on sleep. Since going from SoCal to SloCal, Rachel has had time to develop her hiking skills, improve her farmer's market etiquette and has learned that the haze that covers the Central Coast from time to time is something called fog, not smog. (2013-2015)
Ben Simon, is a student assistant in the archives and a senior English major with a concentration in fiction writing. When this SLO native isn't researching legendary Cal Poly figures from Julian McPhee to "Weird Al" Yankovic, he can either be found contributing poetry, music and movie reviews to various local publications including Swap Magazine and SLO New Times (not to mention his numerous blogs), or acing trivia contests. His other hobbies include reading underground comix and Beat Generation literature, collecting rare novelty records and constantly editing Wikipedia. (2013-2014)
Derrick Usher is a student assistant in Special Collections and Archives. He was born and raised in the foothills of central California, just beneath both Sequoia National Park and Sequoia National Forest. After obtaining an AA degree in communication studies from College of the Sequoias he transferred to Cal Poly for a BA in communication studies. Derrick is currently working on organizing the Jack Family Papers. After graduating from Cal Poly he intends to obtain a Master in Library and Information Science and a Master of Public Policy. (2014-2015)
Lauren Young, 4th year biology major, LibRAT, and SLAC Chair, is thrilled to share her adventures at Kennedy Library. On her off hours from the Research Help Desk, she is most often found in the library studying with friends and sipping a cup of coffee from Julian's. Coming from her small hometown of Clovis, she appreciates the endless opportunities fostered by Cal Poly's Learn by Doing motto. Aside from being a library guru, Lauren loves hunting for restaurants downtown, playing badminton, listening to Broadway showtunes, and drinking a good cup of coffee. (2013-2014)
Previous staff contributors include:
Karen Lauritsen Before joining Cal Poly, she led programs in art and design education at UCLA Extension, access and curriculum development at Stanford University and tried her hand at being a high school English teacher. She has a MA in Education from UC Berkeley with an emphasis in Multicultural Urban Secondary English, a BA in Communication from Humboldt State University and a for fun degree in improvisation from the Second City.
Eileen Akin – You, the student of the 21stcentury, are part of shaping an increasingly virtually visual, digital world and I see myself helping the library connect and communicate with you in that world. I earned a degree in Film and Television from NYU (in days of 16 mm film and Bolex cameras) and spent 10 years as a television and radio producer for the PBS station at Penn State University in State College, PA. One of the highlights of my time there was co-producing a radio show called Chimpin' the Blues with famous underground cartoonist Robert Crumb. I was also responsible for curating and promoting the Fred Waring Collection. (2011)
Michele Wyngard, Digital Repository Assistant by day, Voracious Bookworm by night. After earning a BA in History, Michele began her library career in special collections and has since transitioned to the digital realm, earning her MLIS along the way. Her professional interests lie in the nexus where archival meets digital and the technology that makes it possible. When she's not huddled over her computer nitpicking metadata, you can find her on a campus walkabout, smelling the roses. Literally. Since moving to the Central Coast, Michele has had opportunity to develop her alter egos: Enthusiastic Hiker/Dog Walker, Serial Cat Cuddler, and Sophisticated yet Approachable Wine Drinker. (2012-2014)