The primary purpose of Kennedy Library's collaboration rooms, group study rooms, and computer labs is to provide space for instruction and collaborative study.
Computing
Users of the Robert E. Kennedy Library are subject to Cal Poly's computing policies, including the Responsible Use Policy.
Computer labs/Instruction spaces
There are a total of six computer labs in the Kennedy Library. The PolyConnect lab in 114C is available for open computing 24/7 and cannot be scheduled.  216B (Active Learning Lab) is reserved by library faculty for instructional purposes and cannot be scheduled.
The other four (111B, 216A, 217C, 217D) may be scheduled by faculty for instruction. When not scheduled for instruction, they are available as open computing labs during all Library open hours.
View the current schedule, lab equipment and software, and total number of seats available in each computer lab.
Faculty may schedule labs for quarter-long courses, ad-hoc classes, and events through University Scheduling, using an online form, by phone, or by email.
Faculty are encouraged to reserve rooms only when hands-on computers are essential to the work of the class, as they are a limited resource on campus.
For special needs or when no labs are available through University Scheduling, please email Library Scheduling.
Groups without a Cal Poly log-in (i.e. Extended Education, off-campus groups scheduled through Cal Poly Conference & Event Planning), are required to follow this process to request use of the computer labs.
Collaboration rooms (reservable Fishbowls)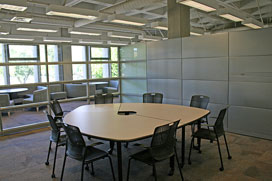 To assure consideration of all library users, all users are asked to observe the following guidelines:
A group may reserve a fishbowl collaboration room for up to 3 hours per day.
Priority is given to use by groups of three or more people.
Vacant rooms may be used by smaller groups with the understanding that they may be asked to vacate the room by a group of three or more.
Please leave rooms ready for the next group: erase white boards, remove books and papers, etc.
Unattended belongings and library materials may be removed.
Questions about the use of the rooms can be referred to staff at the Technology Checkout Desk (805-756-6546).
» Get more information on collaboration fishbowl rooms
Group study rooms (1st – 5th Floors)
In addition to the fishbowls, the library has another 22 group study rooms available on a first come, first served basis. These rooms are located on the 1st, 3rd, 4th and 5th floors. See our library maps and directories for more information.
All of the group study rooms are equipped with whiteboards and large monitors you can use to display your work.
Questions about use may be referred to the staff at the Circulation Desk in person or by phone (805-756-5760).
These rooms are for use by Cal Poly graduate students for quiet or group work. Keys are available at the Circulation Desk.
» Get more information on the graduate study rooms
Other library rooms and spaces
In addition to the rooms described above, the Kennedy Library has a limited number of staff conference rooms that may be available for administrative and staff meetings by arrangement with the Library's Administrative Office.
Use of the open areas in the Library, including the Atrium and the Learning Commons Café, is primarily for Library-sponsored events and at the discretion of the Library Administration.
For more information, please contact the Library Administration Office at 805-756-2345.