Cal Poly has developed a master plan for Kennedy Library, so that we can meet student and faculty needs now. With the Academic Center about a decade away, this plan, developed through close collaboration with campus stakeholders and the architectural firm Shepley Bulfinch, includes areas to support:
24-Hour Peer-to-Peer Learning
24-Hour Peer-to-Peer Learning
Kennedy Library is a pioneer in building peer-to-peer learning programs. Examples include the LibRAT (research help) and Data and GIS peer assistant programs. The master plan provides a space to bring these programs together with other peer-to-peer learning programs offered by campus partners, thereby unifying resources in one central space.
A first floor hub of peer-to-peer learning includes help with:
Writing
Research
Statistics, math and science
Communication and presentations
Technology
Senior project networking
Entrepreneurial ventures
Innovations in Digital Expression, Access and Scholarship (IDEAS)
Innovations in Digital Expression, Access and Scholarship (IDEAS)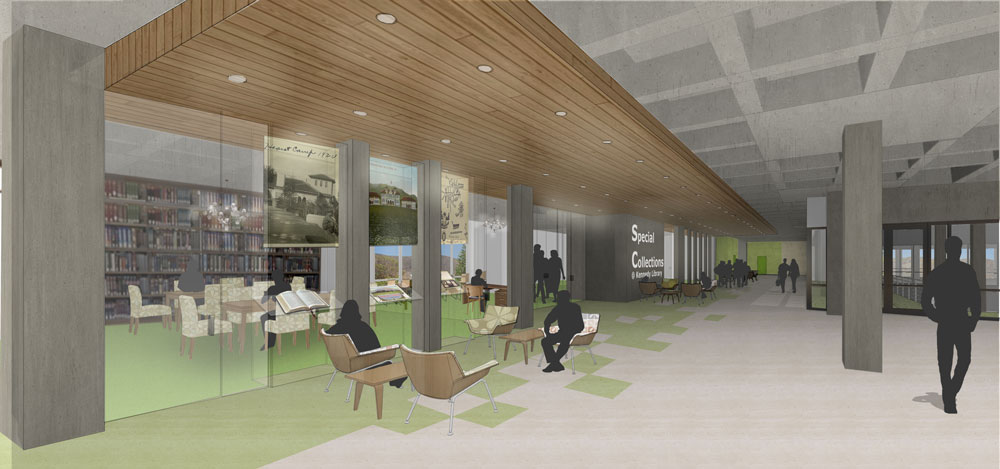 IDEAS is an ongoing initiative to integrate digital technology into all of Kennedy Library's programs. In the new space outlined in the master plan, the library will be able to support students and faculty in diverse areas such as:
Expressive technologies
Data journalism
Bioinformatics
Spatial technologies
Digital humanities
Designed to be a comprehensive resource for the region, the redesigned space features:
Additional square footage and preservation environment for Special Collections and Archives
Tools to create new primary resources
Multi-use classroom
Oral history laboratory
Exhibit areas
Together these spaces support the documentation and sharing of Cal Poly and Central Coast history.
Reading Room in the Sky
Reading Room in the Sky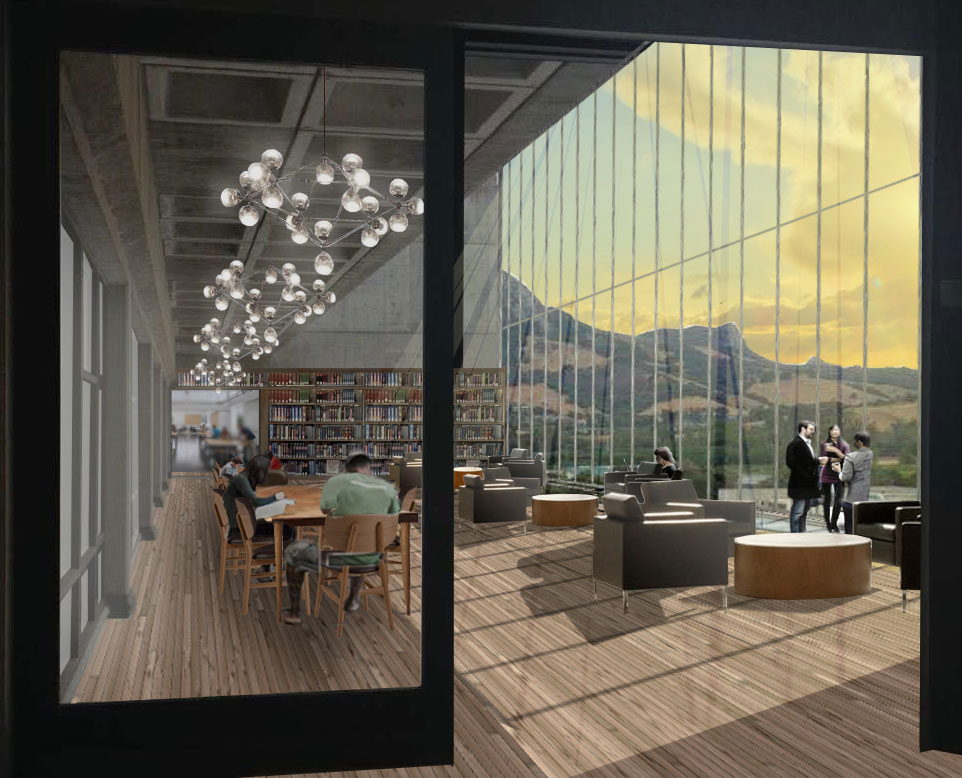 With views of Bishop's Peak, this inspirational quiet study space celebrates Cal Poly's beautiful surroundings while adding 3,000 square feet of new seating. Nearby is space for a graduate student reading room, Cal Poly's president emeritus office, and Special Collections and Archives exhibits and events. It's the perfect place for visitors, special events and alumni.
Summary of benefits
The benefits of the master plan are both structural and programmatic. By upgrading our facility we can provide the services and support Cal Poly students and faculty need to be successful.
Increased capacity
445 additional student seats
16 additional group study rooms
24-hour area expansion
10 years of growth capacity for Special Collections and Archives
Transformed programs and services
Peer-to-peer learning support
Centralized academic services
Digital scholarship infrastructure
Cultural and event amenities
Basic maintenance
Building-wide AC
Fire emergency system upgrades
Elevator replacement
Watch Shepley Bulfinch's final presentation of the master plan and read more about the master planning process on our blog. For more information, please contact Administrative Services at 805-756-2345.
Read more about the future of Kennedy Library.
Get a sense of student needs via the Student Library Advisory Council (SLAC) Survey. It's just one of the ways campus stakeholders inform our progress.
During Shepley Bulfinch's visits, the meetings weren't so much about sitting through presentations as they were about having genuine conversations about what it's like to be the student who stays until 2:00AM and then migrates into the 24 hour study room… and how it feels walking in and knowing that there's at least one friend there who can help you out with that one finance problem. The library is both an area to accomplish learning and a home in which you identify yourself as an integral part of the Cal Poly community. – Andrew Bui, student representative, Building Program Committee
Steering Committee: University Librarian, Anna Gold (Chair), Vice Provost / CIO, Michael D. Miller, who provided funding for the project; Director of Campus Facilities Planning and Capital Projects, Joel Neel; and Dean of College of Architecture and Environmental Design, Christine Theodoropoulos.
Building Program Committee: Senior VP, Student Affairs and Executive Director University Housing, Preston Allen; Program Review Librarian, David Beales (co-chair); Student Library Advisory Council and ASI Representative, Andrew Bui; Associate University Librarian for Academic Services, Sarah F. Cohen; Office of the Provost, Charlie Crabb; Office of the Provost, Chris Dicus; University Librarian, Anna Gold; Special Collections and Archives Director, Jessica Holada; Information Services Advancement, Eileen Joseph; Chief of Staff, Office of the President, Betsy Kinsley; Director, Library Information Technology, Dale Kohler; Communications and Public Programs Coordinator, Karen Lauritsen (co-chair), Associate Vice Provost, Information Technology Services, Johanna Madjedi; Head of Library Administrative Services, Cheryl S. May; Center for Teaching, Learning, and Technology Director, Patrick O'Sullivan; Information Resources and Resource Sharing Director, Tim Strawn; and Digital Archivist, Zach Vowell.