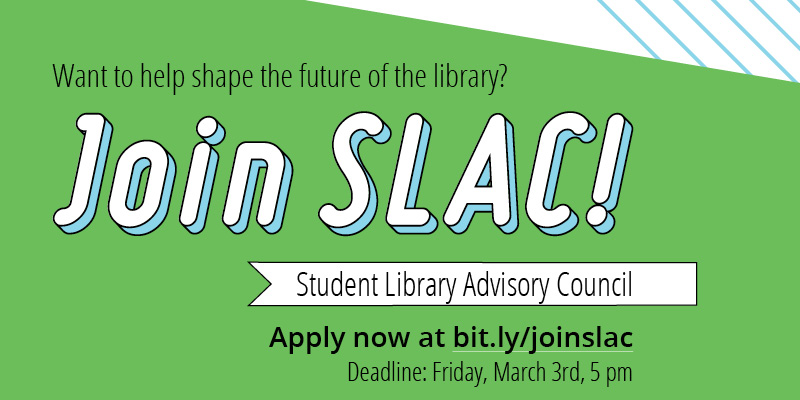 The Student Library Advisory Council (SLAC) is a student run committee that advises the library on matters regarding the Robert E. Kennedy Library, and provides a student voice on library issues to other decision-makers and supporters, such as ASI. As part of SLAC, you will be able to inspire library improvements by engaging in dialog with library staff and administration; advocating on behalf of student needs, both within the library, with other decision-makers, and with students; and promoting the library's integration of student perspectives into its services and priorities.
The online application to join Kennedy Library's Student Library Advisory Council (SLAC) will be open until Friday, March 3rd at 5pm. Please fill out the application at this link in order to apply.

Meetings
The Council meets every Thursday from 12-1pm in room 511 during the Fall, Winter and Spring quarters (except during finals week and academic holidays).
Please see the links for information about the Council's accomplishments last year, their meeting schedule, and opportunities to contribute to the Council.
For more information about the Council please visit the SLAC informational webpage or contact the SLAC Advisors.