Mission
The mission of Robert E. Kennedy Library is to promote open and informed inquiry, foster collaboration and innovation, support the unique needs of every student and scholar at Cal Poly, and contribute to the cultural life of San Luis Obispo.
Values
The library is committed to valuing the scholar in everyone by delivering excellent service, fostering collaboration and innovation, and respecting and nurturing Cal Poly's distinctive sense of community.
Read more about Kennedy Library's values.
Vision
Because people are at the heart of our vision, we aspire to:
Become a nationally recognized university library known for our excellence in delivering value through academically inspired innovation.
Exceed the expectations of Cal Poly students and scholars through our exemplary services and resources.
Advance the exchange of ideas at Cal Poly, fostering a community of scholars that reaches across the professions and disciplines and around the globe.
Because scholarship, communication, and learning are empowered and enhanced by digital systems and applications, and by access to digital content, we aspire to:
Develop an integrated program of digital services across all areas of the library's mission,
Leverage shared and collaborative digital infrastructure to sustain and enhance digital learning and scholarship, and
Prioritize digital strategies and projects based on the unique strengths and needs of the Cal Poly community.
 Strategic plan
Our current Strategic Plan, Library Services Strategic Plan (2010 – 2015), is available to download at DigitalCommons@CalPoly.
Inclusive culture
Inclusive culture and Kennedy Library
"Foster diversity and cultural competency in a global context."
— Cal Poly Strategic Plan, 2011
Like all libraries, the Kennedy Library has a deep commitment to promoting and serving a diverse and inclusive culture.
We collect and preserve diverse perspectives, experiences, and contributions to knowledge, so that they can become part of the common knowledge we build on as human beings. We also work continually to foster diversity in our work together, by valuing the distinctive contributions everyone makes to a culture of excellence. We offer a spirit of welcome and respect that informs all the library's programs, and all our services. Our lively programs, events, and exhibits celebrate and share different experiences and perspectives.
In 2011 President Jeffrey Armstrong shared Cal Poly's new strategic plan, which includes a commitment to "foster diversity and cultural competency in a global context." At Kennedy Library this responsibility is shared by all of our staff and faculty. One way we support this joint commitment is through the Kennedy Inclusive Culture Committee (KICC), formed in 2012 to facilitate and coordinate activities to foster an organizational and service environment that actively welcomes and helps others experience cultural, global, and personal diversity. Each year this committee identifies activities and programs focused on three areas:
outreach to first generation, non-traditional, and underrepresented students;
library recruiting and organizational and personal learning; and
public programs and services that offer visibility, voice, and exposure to culturally diverse and global experiences and perspectives.
Membership in KICC includes library faculty, staff, managers, and students.
Anna Gold, ex officio, University Librarian
Simone Hidds-Narcisse, Student Representative
Cheryl May, Head, Library Administrative Services
Samantha Mora, Library Administrative Services
Katherine O'Clair, chair, College Librarian for CAFES
Holly Richmond, Access Services
Selene Roman, Student Representative
For more information, please contact the committee at ude.yloplacnull@ccik-bil
Related library sites
Quick facts
Comprehensive library statistics
Cal Poly's Kennedy Library annual statistics, including expenditures, staffing, service transactions, and collections, are reported in the California State University Libraries Annual Statistics.
What the students think
#1 —voted best study spot on campus
Logistics and services
1.3 million library visits
908,000 web site visits
4,736 hours of opening/year (excluding 24-hour space)
2,000 seats
1903 —the year the library was founded
321 instructional sessions
100 Library Student Assistants
45 Library staff and librarians
19 group study rooms
Digital Commons
2.1 million annual downloads from DigitalCommons@CalPoly
20,000+ items in DigitalCommons@CalPoly
Computers and labs
766,000 pages printed
2,148 hours of lab classes
300 public computers
40 loaner laptops (30,328 checkouts)
60 loaner iPads
24-hour Poly Connect computer lab
6 computer labs
Collections
$1.6M yearly collections budget
600,000 books
45,000+ online journals
31,800 items borrowed from other libraries
750 print journals
195 article databases
Assessment
Winter 2013 Survey
SLAC survey findings
The Student Library Advisory Council Winter 2013 Student Survey was sent out to 20% of the student body with 693 respondents completing the entire survey and another 275 weighing in on select questions. Here, we're highlighting our findings to show the library's past responses to student demands while addressing new and constantly changing needs.
---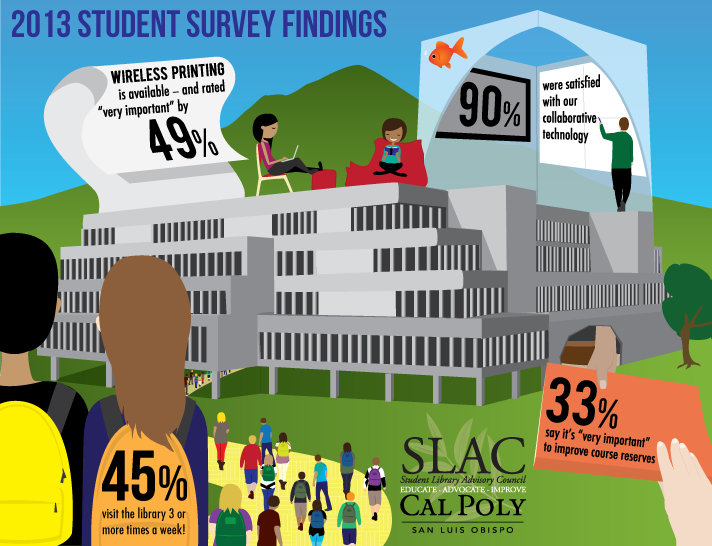 Check out the full results here: SLAC 2013 Survey Summary
45% of the entire student body visits the library three or more times a week.
As the central research hub on campus, Kennedy Library offers a broad range of services Cal Poly students need to further their academic success. An average of 21,000 visitors per week filter in through the library doors. Over the summers of 2011 and 2012 we expanded seating options, made new additions to the Data Studio, and created more collaboration options to make the library your number-one-choice location to work. Among all of the colleges, students in the College of Engineering frequent the library the most, with 27% using Kennedy Library at least 4 or more times a week. Overall, first-year students visit the library the least, utilizing it less than once a week. In contrast, Cal Poly Seniors frequent the library the most–more than 4 times a week! This information supports the statistic that 52% of off campus students use the library more than 3 times a week, whereas only 37% of on-campus students use the library more than 3 times a week.
33% of respondents said it's "very important" to improve course reserves.
Textbooks for free? It's true! Course reserves consist of highly sought out books and electronic class materials held at the circulation desk for specific classes and short-term circulation. With the demand for more affordable quality class materials, the need for course reserves expansion has taken the spotlight. In 2009-20010 alone, our reserves were accessed over 40,000 times! It's no wonder why, in total, 80% of our students rated the improvement of this service as "important" or "very important."
In spring 2012, the library received an increase of $26,000 to help cover publisher inflation in critical digital resources and to improve our course reserves services, and in summer 2012, the library launched our Reserves Redesign team. Among the primary goals of this group is to improve student satisfaction through providing faster access and increasing our supply of affordable resources. This year, the library will be hiring an Open Education Library Fellow to help us, in the words of University Librarian Anna Gold, "put more free, high quality tools for learning into the hands of students of all ages, as well as their teachers."
90% of students were satisfied with the current collaborative technology available to them.
The library is not only a great place to do your independent study, but a place that creates many opportunities to facilitate group collaboration. Our 2013 survey suggests that students were satisfied with the collaborative technology available to them. The most commonly used methods were simple e-mail attachments, flash drives, and Google Drive. Use of library-furnished resources includes dry-erase boards and TV/HDMI projectors. Particularly popular are the "fishbowl" collaboration rooms, with newly improved reservation system. Less than 2% of the respondents said they did not use any form of collaborative technology. In Fall 2012, the new and innovative Data Studio, located in room 111, brought about a revolutionary turn in collaboration at the Kennedy Library. The studio provides TV/HDMI projectors, computer stations, and Geographic Information Systems (GIS) software, giving students a new way to share and present their ideas.
49% say wireless printing is "very important."
Kennedy Library currently provides over 20 different printing locations spread across its five floors. Based on strong support from the Fall 2010 student survey, campus is now a little greener by defaulting print settings to "double-sided." Our recent addition of wireless printing your personal laptop has broadened your ability to utilize printing stations. In addition to printing stations, about 30% of students value accessibility to copy machines, scanners, and specialty printing services from Cal Poly Print & Copy.
Thank you students!
Thanks to SLAC and to the hundreds of students who took the survey and who also made hundreds of useful comments. The Library loves hearing from students and we appreciate all your input. It will make Kennedy an even better library and improve every student's Cal Poly experience!
Learn more about SLAC and how you can participate or support them on the SLAC web site.
History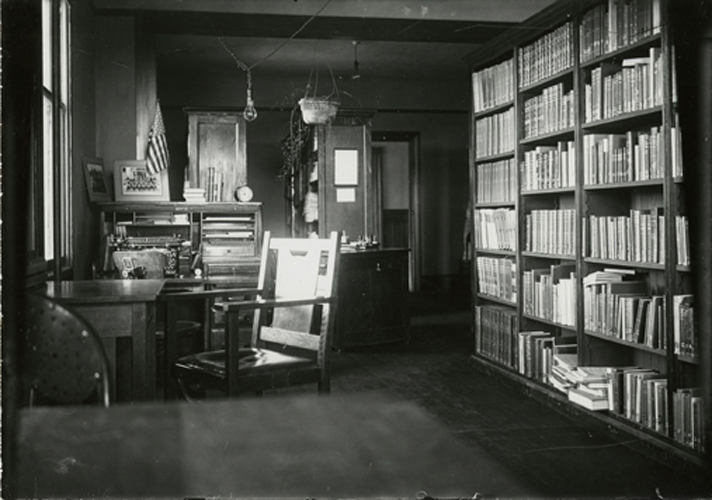 Cal Poly's first library was started in 1903 in one room of the original administration building on campus (now demolished). In 1942, the library made its first move to the newly completed clocktower administration building.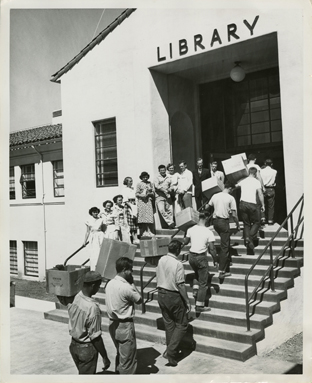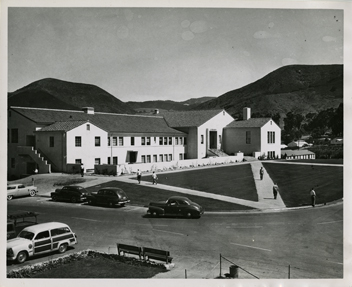 The first building to be completed following World War II was the $700,000 Walter F. Dexter Library. Dedicated in October 1948, the building memorialized the Sacramento administrator who had helped secure collegiate status for Cal Poly eight years before.
In 1980, the library moved to its current building, named in honor of president emeritus Robert E. Kennedy (1966-1979). Construction of the building began in 1977 and was completed in August 1980 at a cost of $11 million.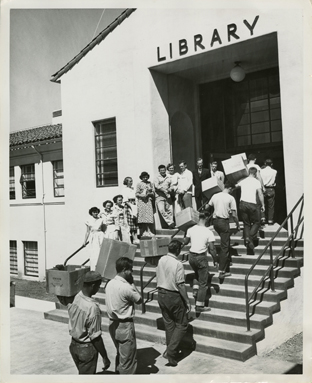 From its origins in one room of the first administration building to the present facility housing a collection of nearly five million items, the library contains rich collections of books, journals, electronic resources, multimedia, K-12 learning resources, and government documents.
Researchers from every state and seven countries have traveled to the Kennedy Library to use our archival collections of manuscripts, rare books, architectural drawings, and photographs. Special Collections materials have been featured on the BBC, CNN, PBS, A&E, and in international print media. As the largest library between Santa Cruz and Santa Barbara, the library also plays a critical role in the surrounding community.
Photographs from University Archives, located in the library's Special Collections and Archives department.
Read more