ArcGIS Pro, SOLIDWORKS, SPSS, and the full Adobe Suite  are currently installed locally on library workstation computers in the HUB 24 space and all library classrooms computers.  Most other software is available via the Virtual Computer Labs (APP Stream).  The computers in classrooms 111B, 216A, 216B, 217C and 217D are open for student, staff, and faculty use when no class is in session.  At this link you can view scheduled class times
PC Desktop Software
Adobe Design Premium CC

Acrobat Distiller
Acrobat Pro
After Effects
Animate
Audition
Bridge
Dreamweaver
Illustrator
InDesign
Photoshop
Photoshop Lightroom
Premiere

Adobe Reader
ArcGIS

ArcCatalog
ArcGlobe
ArcMap
ArcScene

Autodesk

AutoCAD
AutoCAD Civil 3D
Revit

Fire.org

BehavePlus
FARSITE
FireFamily Plus
FlamMap
Fofem
NEXUS

Firefox
Google Chrome
Google Earth
JMP Pro
(Wolfram) Mathematica
MATLAB
Minitab
Microsoft Internet Explorer
Microsoft Office

Access
Excel
OneNote
PowerPoint
Publisher
Word

Microsoft Silverlight
OpenLCA
R
Read & Write
SAS
SolidWorks
SPSS
SSH Secure Shell
7-Zip
Zotero Standalone
Mac Desktop Software
Adobe CC

Bridge
Dreamweaver
Extension Manager
Fireworks
Flash
Illustrator
InDesign
Lightroom
Photoshop
Premiere

Acrobat Pro
AutoCAD 2015 (Mac Version)
BBEdit
Camtasia
Cyberduck
Firefox
GarageBand 10
Google
Graphviz
Handbrake
iBooks Author
ImageJ
iMovie 10
iPhoto 9.5
iTunes
JMP
Keynote
Maple
Mathematica
MATLAB
Microsoft Office 2011

Excel
Powerpoint
Word
Outlook

Microsoft Remote Desktop
Microsoft Silverlight
Numbers
Pages
Photo Booth
QuickTime X
R
Safari
Stuffit Expander
TeX
VLC Media Player
Xcode
Zotero
Public Computer Software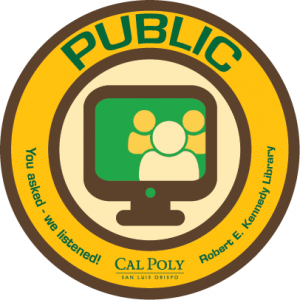 Due to COVID-19, general public computers will not be available until further notice.
Assistive Software
SensusAccess
is a self-service, alternate media solution made available by Kennedy Library to automatically convert files into a range of alternate media including audio books (MP3 and DAISY), e-books (EPUB, EPUB3 and Mobi) and digital Braille. The service can also be used to convert inaccessible files such as image-only PDF files, JPG pictures and Microsoft PowerPoint presentations into more accessible and less tricky formats. This service is available at no charge for all Cal Poly students, faculty, staff and alumni. We call that Inclusive Technology.
All workstations throughout the library are equipped with the following assistive software:
Read & Write GOLD (text-to-speech literary software)
ZoomText
JAWS
There are also several assistive technology workstations equipped with ZoomText large print keyboards and height-adjustable tables. The locations of these workstations can be found on the maps page.
Read more on our assistive technology initiative.
Read more on our accessibility pages.
In addition, Cal Poly's Virtual Computer Labs is a cloud-based application streaming service that enables Cal Poly students, faculty and staff to access specialized academic software previously only available in on-campus labs—using a web browser.
Find more information on the Virtual Computer Labs website.
For tech support with the software, please contact Information Technology Services (ITS).