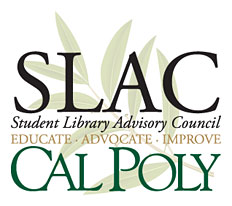 Thank you students!
Thanks to SLAC and to the hundreds of students who take our surveys and who make hundreds of useful comments. The library loves hearing from students and we appreciate all your input. It will make Kennedy Library an even better place and improve every student's Cal Poly experience!
Learn more about SLAC and how you can participate or support them.
2015-2016 Survey
The annual SLAC survey was conducted in February 2016 and it received the highest response rate ever, with over 2600 students taking the survey. A brief analysis of the SLAC survey results over the past four years revealed a few consistent themes in the students' satisfaction and engagement with the library. Below are a few highlights of this analysis:
Visiting the Library
Responses have been consistent for the past 4 years: over 75% of students visit the library at least once per week and nearly 10% of students visit the library every day (though these numbers have just dropped slightly in 2015-2016)
Reasons for not visiting the library
In 2013, 30% of students cited 'Too Crowded' as a reason for not visiting the library more often. That figure has risen to 55% in 2016.
Space Preferences
Group collaboration spaces, quiet study spaces, and reading spaces make up the most requested spaces across the surveys, and consistently across years.
Support
Approximately 65% of students feel the library supports their major (nearly identical for 2015 and 2016 surveys). Nearly 8% feel that the library doesn't support their major (nearly identical for 2015 and 2016 surveys) with the remaining 27% being neutral.
Overall Rating
In 2016 58% of students gave Kennedy Library a score of 8 or higher for overall rating 1-10, same as in 2015.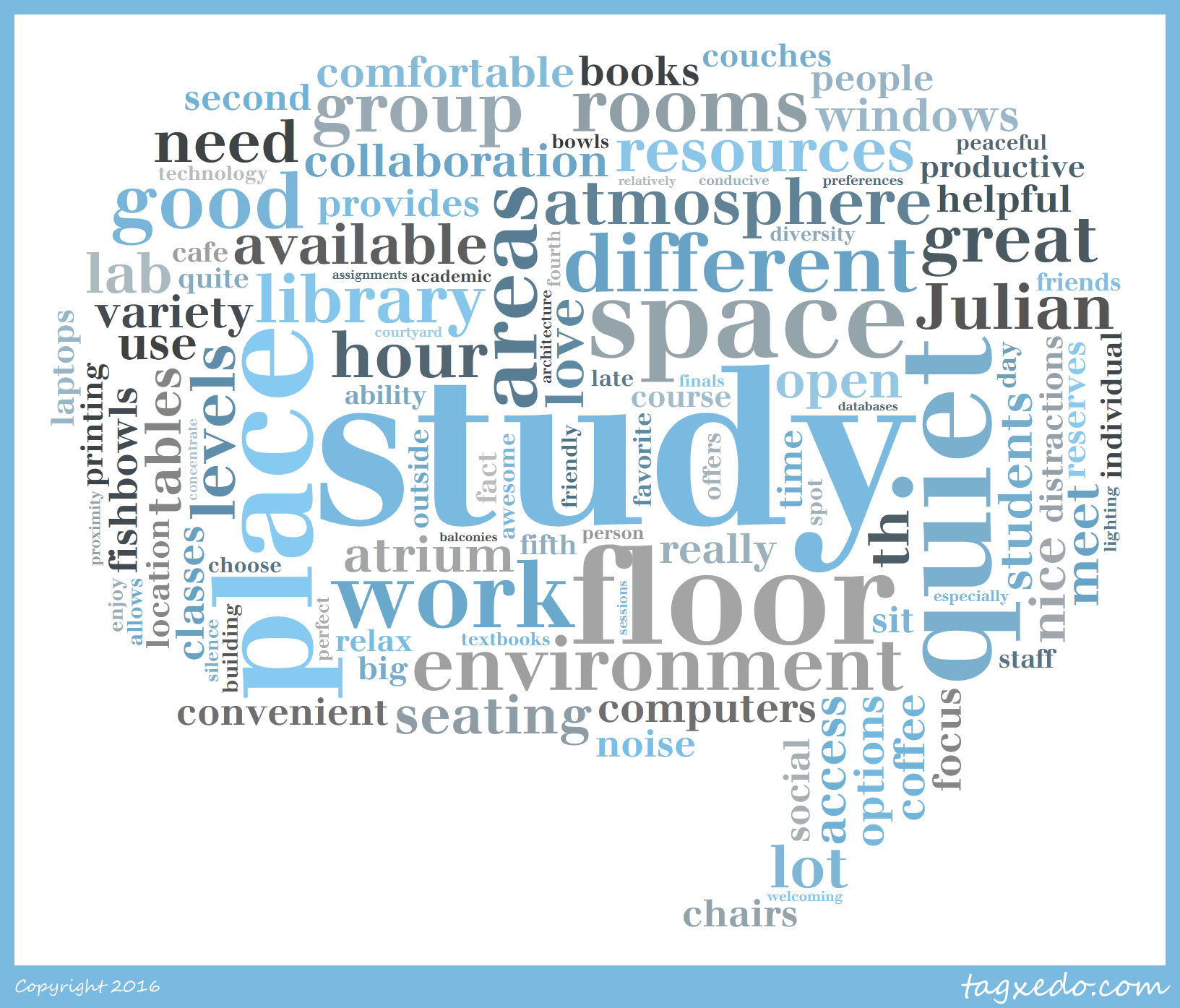 2014-2015 Survey
The 2014-2015 Student Library Advisory Council Student Survey was sent out to 20% of the student body during Winter quarter.

2013-2014 Survey
SLAC Survey Findings
The Student Library Advisory Council Winter 2014 Student Survey was sent out to 20% of the student body with 760 respondents. Here, we're highlighting findings that are related to the library's efforts to address affordable learning as well as highlight ways the library's services and spaces address student's needs.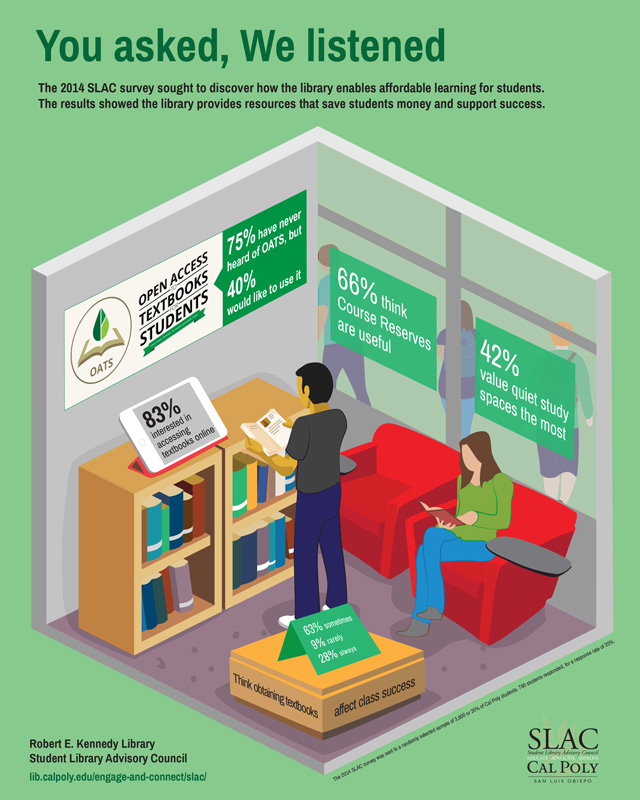 Check out the full survey results using Tableau here.
Learning from your experience
When asked to rank their preferred sources for obtaining course textbooks, students responded with the following:
Fifty-eight percent most often get their textbooks online or at the University Store. The second largest percentage of respondents indicated that they are borrowing or buying textbooks from a friend. But only 12% are getting their textbooks from the library.
DID YOU KNOW? The library provides access to materials but on reserve by your professor at the Checkout desk on the first floor.  Is your textbook on reserve?  Search with your course number or your professor's name to find out what materials are reserved for your class.
While 29% of respondents said that they consider cost when registering for a class but it doesn't affect their selection of classes, 35% told us that they don't know the cost of course materials when they register!
DID YOU KNOW that you can learn what books are required for your course during registration in PASS?
Introducing OATS
A whopping 75% of respondents haven't yet heard of OATS, the library's new collection of free and open-access textbooks intended to provide you with additional course support.  This collection of textbooks and study guides, located in Room 111,  span the gamut of disciplines—there is something there to help everyone!
DID YOU KNOW to find OATS books, you can look them up in our catalog. The library has also added 150 electronic textbooks to OATS that you can access from your computer!  Remember, OATS books aren't necessarily the textbook adopted by your professor so be sure to check your syllabus or the edition.  Our goal is to provide you with high quality materials to support your success in the classroom—we hope these additions to the library do that!
Terrific Technology
The library's computer labs and technology check out have a growing presence and you seem to like it—86% of students are pleased with the technology available at the Kennedy Library.
DID YOU KNOW that there is even more terrific technology to come: with more Mustangs choosing Apple as their computer of choice, the library will be introducing MacBook Airs to the Poly Connect technology checkout later this summer. We will also be adding more Macs into the computer labs around the library.
2012-2013 Survey
SLAC survey findings
The Student Library Advisory Council Winter 2013 Student Survey was sent out to 20% of the student body with 693 respondents completing the entire survey and another 275 weighing in on select questions. Here, we're highlighting our findings to show the library's past responses to student demands while addressing new and constantly changing needs.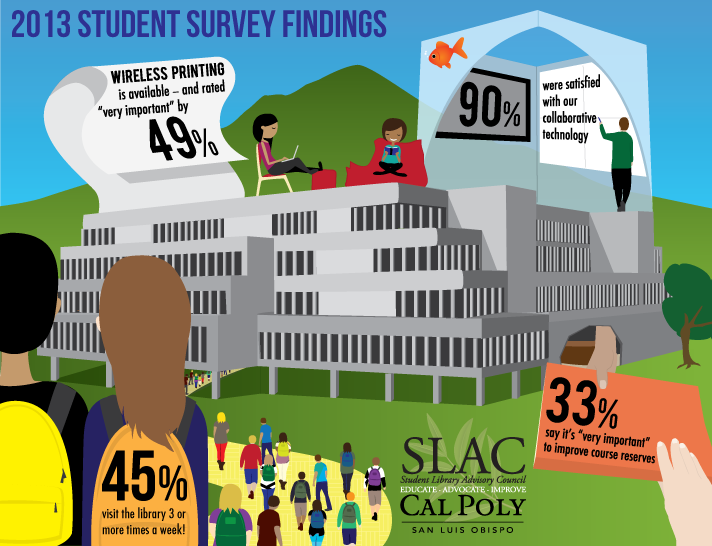 Check out the full results here: SLAC 2013 Survey Summary (PDF)
Improving library services
45% of the entire student body visits the library three or more times a week.
As the central research hub on campus, Kennedy Library offers a broad range of services Cal Poly students need to further their academic success. An average of 21,000 visitors per week filter in through the library doors. Over the summers of 2011 and 2012 we expanded seating options, made new additions to the Data Studio, and created more collaboration options to make the library your number-one-choice location to work. Among all of the colleges, students in the College of Engineering frequent the library the most, with 27% using Kennedy Library at least 4 or more times a week. Overall, first-year students visit the library the least, utilizing it less than once a week. In contrast, Cal Poly Seniors frequent the library the most–more than 4 times a week! This information supports the statistic that 52% of off campus students use the library more than 3 times a week, whereas only 37% of on-campus students use the library more than 3 times a week.
33% of respondents said it's "very important" to improve course reserves.
Textbooks for free? It's true! Course reserves consist of highly sought out books and electronic class materials held at the circulation desk for specific classes and short-term circulation. With the demand for more affordable quality class materials, the need for course reserves expansion has taken the spotlight. In 2009-20010 alone, our reserves were accessed over 40,000 times! It's no wonder why, in total, 80% of our students rated the improvement of this service as "important" or "very important."
In spring 2012, the library received an increase of $26,000 to help cover publisher inflation in critical digital resources and to improve our course reserves services, and in summer 2012, the library launched our Reserves Redesign team. Among the primary goals of this group is to improve student satisfaction through providing faster access and increasing our supply of affordable resources. This year, the library will be hiring an Open Education Library Fellow to help us, in the words of University Librarian Anna Gold, "put more free, high quality tools for learning into the hands of students of all ages, as well as their teachers."
90% of students were satisfied with the current collaborative technology available to them.
The library is not only a great place to do your independent study, but a place that creates many opportunities to facilitate group collaboration. Our 2013 survey suggests that students were satisfied with the collaborative technology available to them. The most commonly used methods were simple e-mail attachments, flash drives, and Google Drive. Use of library-furnished resources includes dry-erase boards and TV/HDMI projectors. Particularly popular are the "fishbowl" collaboration rooms, with newly improved reservation system. Less than 2% of the respondents said they did not use any form of collaborative technology. In Fall 2012, the new and innovative Data Studio, located in room 111, brought about a revolutionary turn in collaboration at the Kennedy Library. The studio provides TV/HDMI projectors, computer stations, and Geographic Information Systems (GIS) software, giving students a new way to share and present their ideas.
49% say wireless printing is "very important."
Kennedy Library currently provides over 20 different printing locations spread across its five floors. Based on strong support from the Fall 2010 student survey, campus is now a little greener by defaulting print settings to "double-sided." Our recent addition of wireless printing your personal laptop has broadened your ability to utilize printing stations. In addition to printing stations, about 30% of students value accessibility to copy machines, scanners, and specialty printing services from Cal Poly Print & Copy.
2011-2012 Survey
Student feedback and SLAC (the Student Library Advisory Council) inform and inspire the library's priorities and improvements. In January 2012, SLAC e-mailed a survey to 20% of the Cal Poly student population asking about what they want from their library. A total of 915 students responded and here are the highlights.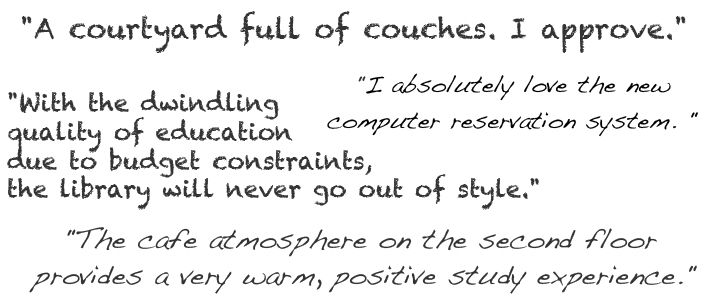 Improving library services
70% want 24-hour access to whole building
The number of students who want 24-hour access to the library is really impressive! Currently, the library's 24-hour spaces log 50,000 visits each year (during fall-spring, an average of about 1,200 students per week), compared with an average of almost 36,000 students who visit the library each week during our main hours.
Present

The main library's current hours are the longest in the CSU system (116 hours per week!). In 2009 we tripled the size of our 24-hour space and in 2011 we added a 5-6 pm hour on Fridays and Saturdays.

Future

The library will continue to research options for longer hours in the coming year. Some libraries have implemented 24-5 open hours (open continuously Sunday through Friday). Going to 24-hour access is expensive though, with the cost estimated at $150,000 – $250,000/year for added staffing and security.
68% want more group/collaboration rooms
Collaboration and group study rooms are another high priority for students. The library's group study spaces are unique at Cal Poly and meet needs of students across all colleges.
Present

Today the library offers eight large "fishbowl" collaboration rooms on the second floor for groups of three or more students. They can be reserved online. We also have two first-come smaller group study rooms on each of the upper levels (total of six). In addition we have two graduate-students-only study rooms: one for quiet study (Room 401), the other for collaboration (Room 301). That's a total of 16.

Future

We're planning a renovation of the third floor that could double the number of collaboration rooms available, creating 16 new fishbowl collaboration rooms on the third floor. This is a big project! The library will be working with SLAC and other student and campus groups to plan a third floor learning commons, possibly in summer 2013.
68% want more individual study spaces
Neck-in-neck with student demand for collaborative space is the request for more private, individual study space. Students need different spaces for different types of work.
Present

The library has space for 2000 chairs, but over time we've lost about 200 to breakage. This spring the library is purchasing 200 new chairs to complete seating at existing desks and tables on the third, fourth, and fifth floors. The library is also adding a long canvas awning outside the second floor windows along the atrium. It will provide shade and protection from the weather that should improve the quality of seating both on the balcony and inside along the window.

Future

This summer the library will add more new furniture on the balconies of the third, fourth, and fifth floors. In addition, the library is exploring opportunities to open up some space for smaller, quiet reading areas for individual users on the fifth floor. Our goal is to add another 50 new individual seats.
59% more stationary computers
Most Cal Poly students own laptops, but they also want access to desktops. Reasons include: carrying a laptop around on your bike is hard; accessing the software ITS installed on library computers is important; working with bigger monitors is great for group work, and printing with ease is convenient.
Present

Today the library offers 260 desktops and 40 laptops. The library can't add desktops because of limitations on the number of network drops, and on the budget that ITS has available for public computers.

Future

ITS and the library will be experimenting next year with some promising technology that may – over time – improve computer login/startup time, and allow us to use existing computers to access campus software. It may even be possible to deploy additional computers wirelessly! It'll take some research and testing before we'll be there. Meanwhile, we'll update another 50+ computers including 20 laptops this spring and summer.
57% want later hours Friday and Saturday nights
Students like the new 5-6 pm hour on Friday and Saturday nights, added in spring 2011. They'd like even later hours… up to 24-hour access! (See 70% want 24-hour access to whole building, above.)
Present

To stay open later on Friday and Saturday, the library estimates it would have to increase staff by at least one position (for back up and other reasons).

Future

As the library researches 24-hour options, we will also look at staffing and service options for Friday and Saturday nights.
53% want more food options at Julian's
Julian's is a great success because of their excellent customer service, long hours, and expanding food options.
Present

This year Julian's added a second register and longer Saturday hours to handle demand.

Future

Expanding food options (grab-and-go meals, hot food) will require building additional space for Julian's. The library and Campus Dining started working on a plan last summer and expect to move forward with detailed planning next year. Project completion is projected for summer 2013.
More improvements on the way
24-hour self-service copy area

To improve service, reduce lines, and save student money, Cal Poly Print & Copy has recommended creating a low-cost, 24-hour self-service print and copy area in the main 24-hour study room. A proposal is under discussion that we hope will be in place by fall!

24-hour self-service vending machine for technology and study supplies

Based on SLAC input, the library is working with the campus bookstore to install a self-service vending machine in the 24-hour study room, to provide easy purchase of flash drives, pens and pencils, Scantrons, earbuds, and other low-cost tech devices. We hope it will be in place by fall!

Fill your water bottles for free!

SLAC suggested we add a filtered water station so that students can fill up their bottles with fresh, cool water. The best location we've found is near Julian's. Stay tuned – we can make it happen in the 2012-2013 year!

Access the grad study rooms with your PolyCard!

No more borrowing a key from the first floor and then having to go back two flights of stairs to return it…the 21st century is arriving this summer to the grad study rooms, with swipe card access for any graduate student to our two grad study rooms, 301 and 401.

More comfy seating, more places

SLAC is working with the library to pick out some soft furniture for the quiet 24-hour study room and a few other places. We want to liven things up with color and create a cozier atmosphere to help you study.
More of what the survey taught us
Typical visits during the quarter
For the vast majority of our respondents, the library is a part of their weekly experience. Our sample suggests that over two-thirds of Cal Poly students pass through our doors at least once a week! At least 1000 of them use the library an average of once a day.
Duration of Visits
During the quarter, the vast majority of our students aren't simply passing through for a quick cup of coffee. In fact, 81% of our respondents stay for over an hour, and 53% spend more than two hours per visit.
Finals Week Visits
Kennedy Library is visited by a whopping 83% of survey respondents during a typical finals week. Naturally, the most common complaint of students who avoid the library at this time is that it's just too crowded. When those who stay away were asked why, one responded, "Ask the 10,000 people in the library during finals." This is no real exaggeration. While they don't all study at the same time, 83% of our student population calculates to well over 16,000 students!
2010-2011 Survey
946 students took the library services survey
SLAC (the Student Library Advisory Council) surveyed a 25% random sample of all Cal Poly students during fall quarter 2010. A total of 946 students responded — more than 20% of the students surveyed. Their answers and comments are being used by SLAC and the library to prioritize and plan improvements both now and in the future.
Overall library usage statistics
Who uses the library?
The answer is almost everybody. In fact, 83% of Cal Poly students use the library at least weekly. Only 3% have never used the library because they "have not had to yet." We know that the library had over 1.2 million visits last year, which works out to about 665 visits per student, per year!
28% use the library daily.
64% use the library regularly (weekly or monthly).
5% use the library only during finals.
3% never use the library.
How do students use the library?
The library is a social hub on campus, with coffee and comfortable seating and other amenities. But a lot of serious studying happens at the library. In fact 87% of respondents use the library … to study! Almost 68% use the library to work on group projects. Over 50% use the library's laptops or computers and more than 45% are doing research. What was rated the next highest activity? In a word, coffee.
87% use the library for studying
68% use the library for group projects
50% use the library's laptops and computers
45% use the library to do research
1% are getting coffee, chilling, relaxing, and resting
How long do students stay in the library?
With all the studying that is going on students tend to use the library for several hours at a time. In fact, 90% of students use the library for an hour or more at a time. And of those students 18% spend an average of 3 or more hours per visit, 33% stay for 2-3 hours, and 39% for 1-2 hours. Someone's doing their 25-35!
10% 1 hour or less
39% 1-2 hours
33% 2-3 hours
18% 3 or more hours
Improving library services
With so many students spending this much time in the library, Cal Poly students have lots of ideas about improvements to make the library a wonderful student environment with great services. Students identified five major issues that SLAC is now working on with the library.
Students need additional outlets available for laptops and other electronic devices.
This was the single biggest issue for students. Almost 50% of students said working on this issue was "very important" and another 30% said it was "somewhat important."

What we're doing

In the last three years the library has added nearly 500 power outlets in the form of power strips on walls, along windows, and even in the floors (check out 111H!).

What we could do with additional funding

With $12,000, another 600 outlets could be added along the windows overlooking the atrium on the 3rd, 4th, and 5th floors of the library. That is $20 an outlet!

What we will do with a new building

Plans for the library addition (Academic Center and Library) call for state-of-the-art spaces for study and collaboration that will support ubiquitous power as well as network access. The new building will help accommodate the growing demand for ways to keep mobile devices powered up for student use, wherever they are in the library.
Students want to know where to find an open computer … and they want more computers (not more laptops).
The library offers nearly 300 computers today, including 40 laptops available for wireless use anywhere in the library. Many of the computers are located in labs that are sometimes scheduled for classes. Imagine if you could walk in the front door and see a map showing you exactly which computers are in use, and which labs have classes in them!

What we are doing

By asking computer users to log in to the Cal Poly network ("Pharos sign-up"), we now have the ability to create digital maps showing which computers are occupied and which computers are available … lab by lab, and floor by floor. This system is in early beta now and will be operational by Fall 2011. We are also adding 30 new computer workstations, distributed on the 3rd and 4th floors of the library — wherever there's space, and access to the network.

What we could do with additional funding

With additional funding the library could update and increase the number of workstations in and around Room 111 (the GIS/Research Help room) to add more workstations with improved seating and workspaces.

What we will do with a new building

Plans for the new Academic Center and library building call for expanded access to computing, including labs that will support specialized access to data and statistics; spaces for using and creating multimedia, classrooms, and small group spaces suitable for collaboration and presentation practice.
Students want the Library to stay open later on Friday and Saturday.

Almost 60% of students said it was important to keep the library open later than 5 pm on Friday and Saturday nights. In response to this overwhelming number a follow-up questionnaire was sent to the initial survey's respondents. We asked them how late they would personally use the main library if it were open on Friday and Saturday, and between 30 and 35% said they would personally stay till at least 10 pm!
What we are doing

A pilot program in Spring 2011 using existing staff is keeping the library open an hour later on Friday and Saturday, till 6 pm. We've done some counting and learned that between 150 and 250 students are staying to study till 6 pm, so we will continue these expanded hours next academic year!

What we could do with additional funding

With funding for additional staff and students, we could keep the library open until 10pm on Fridays and Saturdays. To keep the whole library open 24/7 the library would need funding for three to four more additional staff.

What we will do with a new building

A new building will offer even more options for late night group and individual study spaces, some of which like the current 24-hour spaces may not require staffing.
Students would like to see the atrium space improved for studying.

What we are doing today

In Fall 2010 an interdisciplinary class from the College of Architecture and Environmental Design consisting of ornamental horticulture, construction management, and architecture students, developed some very creative proposals for improving the atrium using sustainable design ideas. The library is evaluating their ideas now, and working with campus facilities to create a final design and phased implementation. A generous recent gift of a Kennedy Library donor will give us an opportunity to begin this work as soon as summer 2011. Several ideas include adding power and more comfortable seating to the atrium area; "greening" the upper balconies to soften and add color to the cement; and adding features that will protect atrium seating both indoor and out of doors from direct sun in the warmer months.
Students would like the library to feel more welcoming and inviting (more student artwork, soft, comfortable seating, etc.).

It's no wonder students want to feel more comfortable when they're spending so many hours at the library!
What we are doing

SLAC and the library are working to identify a range of fundable improvements that could include adding art display space for student art, creating small niches of soft beanbag-style seating on the upper levels, and adding more plants.

What we could do with additional funding

With more funding there are many things we could do to refresh and brighten the environment, with colorful relaxing seating for individual readers, comfortable group study chairs and tables equipped with power; new carpeting; big white boards in study areas on the third floor; updated group study rooms with monitors, white boards, and fresh paint. And much more! We are also looking at creating more group study spaces and a quiet reading room on the upper level with comfortable seating and great views.

What we will do with a new building

The new building will include a broad, transparent concourse between the old and new libraries; covered outdoor seating, additional exhibit space, and much more. With many student-focused offices and groups sharing space in the new Academic Center and library, there will be many ways that student work and student life can be shared and enjoyed.
Ten more great ideas and comments we heard from you
Add the library to the free GoExplore Cal Poly app! (GPS video tours of Cal Poly) – Give us some time to talk to the creator … Making the library accessible from your mobile devices is one of our highest priorities next year!
Make it easier to figure out the location of books in the library! – We are investigating enabling PolyCat, the Library catalog, to show the call number and floor location of the book. Meanwhile we've added 3D maps at our service desks, showing book locations.
Keep the research help desk open longer. – We've added skilled assistance from our LibRAT (Library Research Assistance Technicians) — friendly, highly-trained students — till 11 pm Monday through Thursday nights. Help is also available via online chat 24 hours a day.
Please, make some printers coin-operated. – Sorry, we do not control the library printers, these are managed by ITS, not by the library. You can always get prints made by Cal Poly Print and Copy if they are open.
Provide scratch paper and additional hole-punchers and staplers. – Great idea. We'll review what we have in various locations including the 1st and 2nd floors, and near the elevators, and work to keep them stocked.
I need a computer that that has a 10-minute limit, with no login, so I can quickly check email, and print a paper. – We are investigating options now. Campus security policies require logins to our computers; but we may be able to find a way to reduce login time on selected machines and also enforce a 10-15 minute limit.
I want to study at the library between 6 and 10 pm but there's nowhere to park without paying for a parking pass. – This is a tough one. Unfortunately, the State requires the universities to charge for parking and the campus decides how to enforce this. But maybe there's a way students could organize a library shuttle service?
Can Julian's stay open later, and also have more food options, plus additional options in the vending machines? – The Cal Poly Corporation owns Julian's and coordinates the vending machines. The SLAC ASI representative and library administration are discussing this issue and looking into options that will meet these needs.
We need microwaves where we can heat food in the 24-hour room … and maybe elsewhere too.  We'll look into possible locations, and how they might be maintained.
Can you reduce the number of classes taught in the computer labs? – University Scheduling depends on the library to provide the only computer lab space on campus not owned by a college department. We try to balance the campus need for instructional spaces equipped with the latest technology, with students' needs for open access to computers. Bottom line: we know your need for access to technology is growing and we'll do our best to expand your access. Meanwhile, we are creating real-time maps of which labs are scheduled, and where there are free computers: that should help.