The year 2011 marked the 30th anniversary of the Robert E. Kennedy Library. The Cal Poly campus changed dramatically in 1981 with the addition of the five-story building, which replaced the older and smaller Dexter Library (1949-1980).
On Friday, April 8th 2011 at 2:00pm, the library celebrated this auspicious occasion with a rededication ceremony, reception and special tours.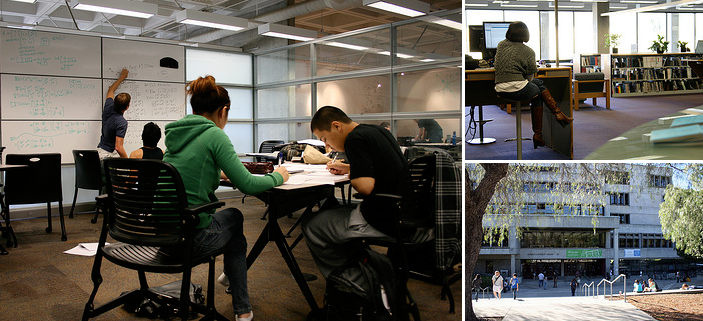 1981 Dedication Ceremony
The new library was named after Cal Poly President-Emeritus Robert E. Kennedy, who spearheaded the effort to bring a new library to the Cal Poly campus. Having held library administrative responsibilities from 1943-1947, President Kennedy recognized the importance of a larger and more comprehensive library.
At the library dedication ceremony on Thursday, April 2, 1981, past and present Cal Poly presidents Robert E. Kennedy and Warren J. Baker spoke in front of a crowd of Cal Poly students, faculty, staff, and visitors.

Kennedy remarked that the dedication day was "a special day to recognize the essential function of a library in the educational process, whether it be a little struggling school as Cal Poly was in 1940 or a university with a great reputation—as Cal Poly is today."
Rededication Ceremony, April 8th 2011
At the rededication ceremony on Friday, April 8th, Dean of Library Services Michael D. Miller reaffirmed the library's commitment to helping Cal Poly students of all ages succeed in their quest for knowledge. According to Dean Miller, "It is remarkable how in a digital age the Kennedy Library is more important than ever in supporting student success through discovery, collaboration, research, instruction, and by creating an environment that is both supportive and welcoming."
Many members of the Cal Poly and San Luis Obispo communities attended the rededication ceremony and reception on April 8th 2011.
About the event
We rededicated the library, provided tours, and honored the late Robert E. Kennedy and Dale W. Andrews for their dedicated service to the university.
Entertainment was provided by a capella group Take It SLO.