PC Desktop Software
Standard PC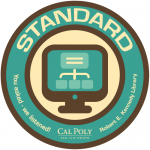 Adobe Design Premium CC

Acrobat Distiller
Acrobat Pro
After Effects
Audition
Dreamweaver
EdgeAnimate
Extension Manager
Fireworks
Flash Professional
Forms Central
Illustrator
InCopy
InDesign
MediaEncoder
Photoshop
Prelude
Premiere
Speedgrade

Adobe Reader
Business Plan Pro
Fire.org

BehavePlus
FARSITE
FireFamily Plus
FlamMap
Fofem
NEXUS
POV-Ray

Firefox
Google Chrome
Google Earth
JMP Pro
Maple
(Wolfram) Mathematica
MATLAB
Minitab
Microsoft Internet Explorer
Microsoft Office

Access
Excel
Lync
OneDrive
OneNote
PowerPoint
Publisher
Word

Microsoft Silverlight
Microsoft SQL Server
Microsoft Visual Studio
Notepad ++
Picasa
Python
R
Read & Write Gold
SAS
7-Zip
SketchUp Make
SPSS
SSH Secure Shell
Symantec Endpoint Protection
Video LAN
Zotero Standalone
GIS-CAD PC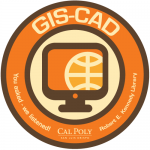 Click on a floor to find a computer with GIS-CAD software (orange areas)
1st Floor
/
2nd Floor
/
3rd Floor
/
4th Floor
Adobe Design Premium CC

Acrobat Distiller
Acrobat Pro
After Effects
Audition
Dreamweaver
EdgeAnimate
Extension Manager
Fireworks
Flash Professional
Forms Central
Illustrator
InCopy
InDesign
MediaEncoder
Photoshop
Prelude
Premiere
Speedgrade

Adobe Reader
ArcGIS

ArcCatalog
ArcGlobe
ArcMap
ArcScene

Autodesk

Alias Design
AutoCAD
AutoCAD 3ds Max Design
AutoCAD Architecture
AutoCAD Civil 3D
AutoCAD Electrical
AutoCAD Mechanical
AutoCAD MEP
AutoCAD Plant 3D
AutoCAD Raster Design
AutoCAD Structural Design
AutoCAD Utility Design
Autodesk 360
Autodesk AutoCAD Map 3D
Autodesk Backburner
Autodesk Data Management
Autodesk Design Review
Autodesk Factory Design
Autodesk Inventor View
Autodesk Mudbox
Autodesk ReCap
Autodesk Robot Structural Analysis
Autodesk Simulation Mechanical
Autodesk Simulation Moldflow Advisor
Autodesk Simulation Moldflow Communicator
Autodesk SketchBook Designer
DWG TrueView
Navisworks Exporters
Navisworks Freedom
Navisworks Manage
Revit
Simulation CFD
SubAssembly Composer

Business Plan Pro
ESRI City Engine
Fire.org

BehavePlus
FARSITE
FireFamily Plus
FlamMap
Fofem
NEXUS

Firefox
FLV Media Player
Google Chrome
Google Earth
JMP Pro 11
Maple 17
(Wolfram) Mathematica
MATLAB
Minitab
Microsoft Internet Explorer
Microsoft Office

Access
Excel
OneNote
PowerPoint
Publisher
Word

Microsoft Silverlight
Microsoft SQL Server
Microsoft Visual Studio
Notepad ++
POV-Ray
Picasa
Python
Quicktime
R
Read & Write
SAS
SketchUp
SolidWorks
SPSS
SSH Secure Shell
Symantec Endpoint Protection
Video LAN VLC
7-Zip
Zotero Standalone
Mac Desktop Software
Adobe CC

Bridge
Dreamweaver
Extension Manager
Fireworks
Flash
Illustrator
InDesign
Lightroom
Photoshop
Premiere

Acrobat Pro
AutoCAD 2015 (Mac Version)
Camtasia
Cyberduck
Firefox
GarageBand 10
Google
Graphviz
Handbrake
iBooks Author
ImageJ
iMovie 10
iPhoto 9.5
iTunes
JMP
Keynote
Maple
Mathematica
MATLAB
Microsoft Office 2011

Excel
Powerpoint
Word
Outlook

Microsoft Remote Desktop
Microsoft Silverlight
Numbers
Pages
Photo Booth
QuickTime X
R
Safari
SketchUp Make
Stuffit Expander
TeX
TextWrangler
VLC Media Player
Xcode
Zotero
PC Laptop Software
Adobe Design Premium CC
Acrobat Distiller
Acrobat Pro

After Effects
Audition
Dreamweaver
EdgeAnimate
Extension Manager
Fireworks
Flash Professional
Forms Central
Illustrator
InCopy
InDesign
MediaEncoder
Photoshop
Prelude
Premiere
Speedgrade

Adobe Reader
Business Plan Pro
Fire.org

BehavePlus
FARSITE
FireFamily Plus
FlamMap
Fofem
NEXUS

Firefox
Google Chrome
Google Earth
JMP Pro
Maple
(Wolfram) Mathematica
MATLAB
Minitab
Microsoft Internet Explorer
Microsoft Office

Access
Excel
OneDrive
OneNote
PowerPoint
Publisher
Word

Microsoft Silverlight
Microsoft SQL Server
Microsoft Visual Studio
Notepad ++
Picasa
Python
R
Read & Write Gold
SAS
7-Zip
SketchUp Make
SPSS
Symantec Endpoint Protection
Video LAN
Zotero Standalone
MacBook Pro Laptop Software
Adobe CC

Bridge
Dreamweaver
Extension Manager
Fireworks
Flash
Illustrator
InDesign
Lightroom
Photoshop
Premiere

Acrobat Pro
AutoCAD 2015 (Mac Version)
Camtasia
Cyberduck
Firefox
GarageBand 10
Google
Graphviz
Handbrake
iBooks Author
ImageJ
iMovie 10
iPhoto 9.5
iTunes
JMP
Keynote
Maple
Mathematica
MATLAB
Microsoft Office 2011

Excel
Powerpoint
Word
Outlook

Microsoft Remote Desktop
Microsoft Silverlight
Numbers
Pages
Photo Booth
QuickTime X
R
Safari
SketchUp Make
Stuffit Expander
TeX
TextWrangler
VLC Media Player
Xcode
Zotero
Public Computer Software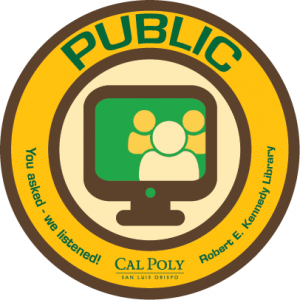 The general public can access 13 library computers located on the 1st, 3rd, 4th and 5th floors.  See map for computer locations. These computers have access to the PolyCard printers and the ability to save to a USB drive. Use may be limited to 2 hours and all files are erased when the computers restart. Installed software:
Internet Explorer
Microsoft Office (Word, Excel, PowerPoint)
Adobe Acrobat Reader
Assistive software
A number of workstations throughout the library are equipped with assistive software. Maps locating these workstations can be found on the
assistive technology
page.
ZoomText (screen magnification software)
Read & Write GOLD (text-to-speech literary software)
ZoomText Large Print Keyboard
Dragon Naturally Speaking (TV Room 2nd floor only)