I recently read two very different novels centered in the world of visual art. Tom Rachman's The Italian Teacher begins in 1950s Rome, and at first focuses on a bigger-than-life artist, Bear Bavinsky. Bear personifies the worst of the egotistical artist stereotype: he's utterly convinced of his genius, and barely able to admit that anyone else might have any talent at all; he's a serial adulterer, leaving behind multiple ex-girlfriends and ex-wives and many children, and he's so concerned about his legacy that he burns a significant number of his paintings to keep them from damaging his reputation. Bear's son Pinch worships him, and also wants to paint. Here, Pinch finally gets him to take a look at one of his paintings:
Pinch unrolls the canvas and swallows. "Remember you told me in Rome to 'paint close, but look far'? I always do that."

Bear's gaze flits expertly across the painting, absorbing a hundred details an instant. "Tell you what Charlie. I will tell you what." Bear packs his pipe, shaking his head. He looks up. "You did that, son of mine?"

Swelling with pride, Pinch nods…

"Young artists show me their work all the time. I can tell right away if a guy's got something."…He grabs Pinch's arm. "Son of mine, I think the world of you. You know that." He nods toward his son's painting. "So I got to tell you, kiddo. You're not an artist. And you never will be."
And since Pinch worships his dad, he accepts this, at least for now. Watching him put together a life for himself out of the shards is heartbreaking and riveting. But he does eventually find a very satisfying way back in. Along the way, Rachman plays with big questions about identity, parenthood, and the ratio of ego to talent inherent in the making of a successful artist.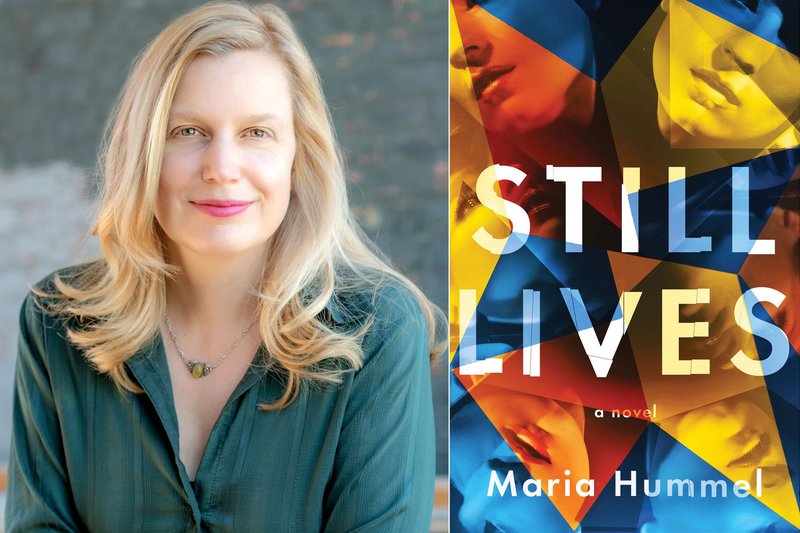 In Maria Hummel's Still Lives the artist, Kim Lord, is the absent center of the story. A painter whose current work consists of inserting her face into manipulated photos of famously murdered women (Black Dahlia, Nicole Brown Simpson, etc.), she is a no-show for her opening gala at the fictional Rocque Museum in LA. The story is told through the eyes of Maggie Richter, the museum's editor. Further complicating the plot, Maggie's ex Greg is now in a relationship with Kim, making him a prime suspect in her disappearance. Here, she describes the gala shuddering to an end:
Something is wrong tonight. I know it with a certainty so strong that it makes my skin prick… The light down here has darkened to orange-black. Stained napkins, empty cups, crackers smashed to circles of crumbs — everything that was laid out to delight us two hours ago has been violated by human touch. The caterers have hauled back the tables to create a dance floor, but hardly anyone is here to dance. They're still upstairs, or possibly they've already left, discomfited by a party that is still without its guest of honor. The DJ slowly turns up the beats. The music sounds thin and anxious.
Hummel creates an atmosphere of increasing tension, with numerous twists, false turns, and characters who alternate between seeming suspicious and benign. It was a wild ride — the ending, in which a large art piece almost becomes a menacing character, took me completely by surprise.
author photos, from top:
Rasmus Kramer Shou
Karen Pike