Francine Prose has written everything from a study of the impact of Anne Frank's diary, to a guide to reading like a writer, to a wildly varied stack of novels. A former president of PEN, a finalist for the National Book Award, and a member of the American Academy of Arts and Letters, she is also one of the most reliably satisfying novelists I've read. Reading Mister Monkey made me look at her backlist and resolve to go back to the ones I've missed over the years.
Mister Monkey centers on the production of a children's musical about a family and their pet rescue chimpanzee, based on a popular kids' book. Each chapter is narrated by a character with some connection to the play, from an actress on the downhill slope of her aging career, to an audience member hoping to entertain his grandson, to the tortured adolescent actor dealing with the urgent stirrings of his sexuality while wearing a chimpanzee costume made out of a ratty old bedspread.
Here, Margot, the fading actress, mourning the days when she was playing Chekhov characters, finds herself on the receiving end of Adam/Mister Monkey's teenage urges. Onstage.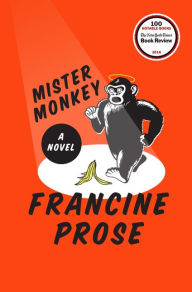 Right on cue, Mister Monkey bounds onstage and races across the courtroom. In a burst of high spirits, he leaps into his lawyer's arms and clamps his legs around her. Adam is small, but in the weeks since rehearsals began, he has grown taller and heavier, making the "spontaneous" lift and hug more of a challenge for Margot.

This afternoon, just when Margot least expects it, just after her moment of spiritual connection, of quasi-transcendence, that's when she realizes that Adam is pressing his groin into her hip, grinding hard, and — can this be true?– she feels the hummock of a hard-on under his fuzzy monkey suit.

That filthy little pervert! What does he think he's doing?

She drops him. Boom. Adam's a gymnast. He bounces onto his feet. He looks up at her. A glint of triumph flashes inside the frayed eyeholes of his costume.

Margot has been molested by a boy in a monkey suit! And she kept on acting right through it. Somehow she stayed in character. How professional is that?
I loved this book. Watching Prose weave the different characters together, as well as incorporating an unsigned fan note to Margo into the mix, was one of my most enjoyable reads yet this year.
author photo: Stephanie Berger