Kennedy library is a place for students, faculty and staff to come together and learn new skills. Data and GIS Specialist, Russ White's "Data and Text Visualization" workshop at the library provided an opportunity for active learning and data exploration.
"These tools are pretty general so you can bring your own information in and try a new way of asking questions based on what you see," he said.
Programs explored in the workshop included: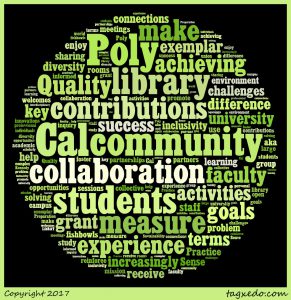 Tagxedo– a site that creates a word cloud summary using a variety of shapes, colors, fonts, and importable images
Tagxedo is great for students who want to emphasize which words are most commonly used across a variety of materials. Students can utilize Tagxedo for projects, powerpoints or simply to explore the possibilities of portraying one set of words.

Google Ngram Viewer– an interactive data visualization site that allows users to view text over time, specifically relating to terminology and language
Google's Ngram Viewer is a helpful tool in visualizing trends over time. Students can best use Ngram Viewer for research and comparisons between the frequency of words over time.
The advantages to Ngram include:
Comparing multiple words' usage over time
Choosing the time period (example: 1800- 2000)
Searching based on language (example: German, Arabic)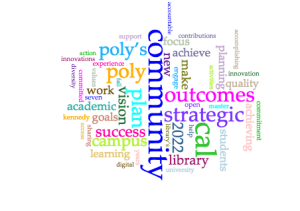 Voyant Tools– a site that visualizes text in multiple ways, providing  Ngram views, word clouds and embeddable graphics
Kennedy Library encourages students to Learn by Doing — in creating these data visualizations, students gain experience working with data in a new and exciting way.
"The most valuable thing in this case is that there's a way of making text visual," White said. "So you can make the kind of arguments or explanations that could be easy to communicate visually."
Kennedy Library actively seeks to provide visitors with opportunities to explore new methods of learning, such as this ongoing workshop series.
Join us for the next Data Visualization Workshop on March 8 from 11 a.m. to 12:30 p.m.
Megan Schellong is a fourth-year journalism major with a concentration in news and editing at Cal Poly, and works as a communications student assistant for Kennedy Library.  As both a student and a library employee, she brings a unique perspective to sharing stories with the library's friends and neighbors. Originally from Connecticut, Megan enjoys the abundance of sun and Mexican food in California. She is on a mission to find the best place to eat tacos.