Amy Strickland is a Mechanical Engineering graduate (Congrats, Class of Winter 2016!) who worked as a student assistant in Special Collections and Archives. In this article she sifts through records in the University Archives to uncover historical research on the College of Engineering. 
Over the past few years, the percentage of women in engineering at Cal Poly steadily increased. According to the Cal Poly Fact Book for the 2015-2016 school year, the College of Engineering had the highest female-to-male undergraduate enrollment so far, with 22.6% undergraduate women admitted to the College of Engineering. But how do these numbers compare to Cal Poly engineering fifty years ago and what was it like for women in engineering back in 1966?
The Numbers

According to 1965-1966 enrollment records from Cal Poly's Special Collections and Archives, only 1.21% of all engineering students were female. The overwhelming majority of those women were enrolled in architecture, which was part of the College of Engineering at the time. If architecture is excluded, only 5 of 1,469 (0.34%) engineering students were women.
The 1960s Experience
A June 1967 Mustang Daily article, co-written by student journalists Judy Behrendt and Mary Weigand, titled "Miniskirts 'n' Sliderules: Do They Go Together?" explored the world of women in engineering.¹ From student interviews, the article pieced together the struggle that women in engineering majors at Cal Poly experienced. They covered everything from not being taken seriously by their peers, to hostility from one particular unnamed faculty member. While the women were confident about mastering the subject matter, they still felt high pressure to be better and prove their worth. The Society of Women Engineers remarked on this shared experience by saying, "A woman appears to need more patience and endurance in the field because she's in the limelight and is constantly forced to prove herself." Though Behrendt and Weigand did not remark on their experiences, they spotlighted two female professors: Marion Tournon Branly, a practicing architect from Paris, France and Barbara Brown, who taught in the Electrical Engineering department.
Fifty years ago, a woman was likely to be discouraged from pursuing a career in engineering because she was expected to fulfill a more domestic role in a family, whether she was married already or not. As the two authors stated, "Many women do not prepare for such a demanding career because they believe they must make a choice between marriage and work. This problem is a social concern — until the changing role of a woman is clearly defined, the choice between marriage and career will continue to be crucial."
The article also gives a glimpse into expectations about a woman's appearance and how it affected female engineering students in the 1960s. The authors wrote: "Still another problem is that women engineers have a largely undeserved image. A woman engineer is assumed to be cold, over-intelligent and aggressive. She is pictured by many as a person who trudges around in mannish suits and flat shoes with no interest in beauty, clothing or other traditionally feminine arts." These women followed their passions and were criticized by their male colleagues for being too feminine and by the rest of their peers for not being feminine enough.
The opposition these students faced at Cal Poly was not a new experience for them. Joana Merrick, an architecture student, told Mustang Daily journalists that she "was not allowed to take a wood shop course in high school because she was a girl." She later described her inspiration to stay in the architecture field when she helped remodel a home with her family.
Behrendi and Weigand accurately predicted, "Apparently, then, the mini-skirt madams are here to stay in engineering. Anytime men want to measure up to them, they'd better be ready to read a slide rule accurately." Though the slide rule is a technology of the past, women in engineering will continue to be an integral part of Cal Poly's future.
Engineering: Women Wanted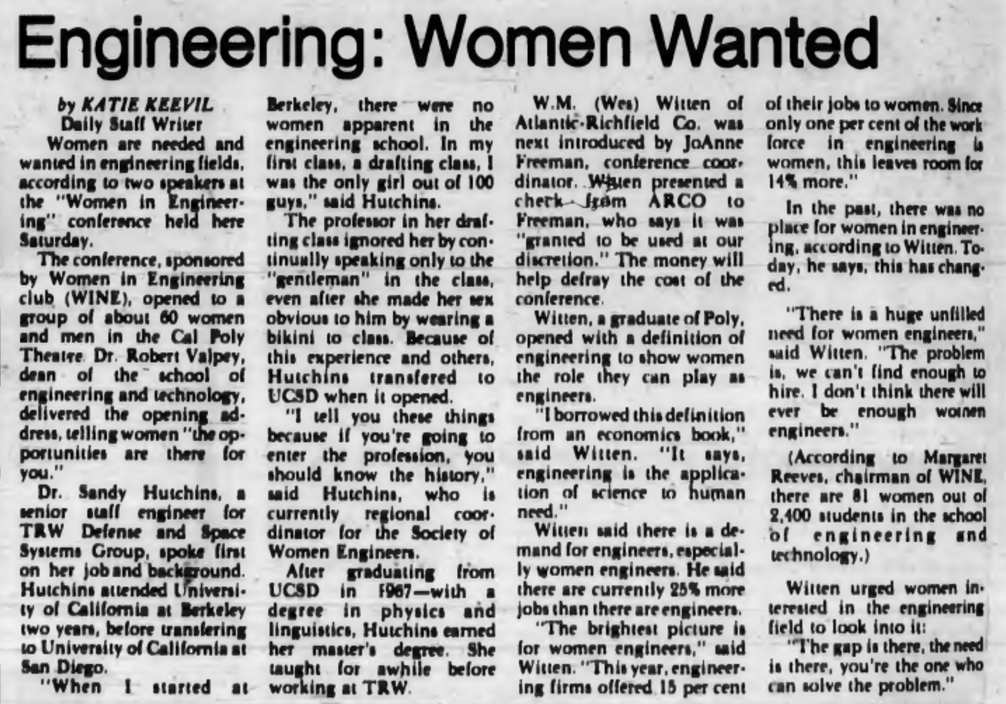 In 1976, roughly ten years later, Cal Poly hosted the Women in Engineering conference. Dr. Sandy Hutchins, senior staff engineer at TRW Defense and Space Systems Group and regional coordinator for the Society of Women Engineers, was one of the key speakers at the conference.² While women in engineering were gradually receiving more awareness and acceptance, the College of Engineering still hosted its annual "Miss Engineering Week" contests. One Miss Engineering Week winner, Patty Hesick, a history major, "was picked from a field of 12 attractive coeds [by] a panel of six judges made up of students and faculty members of the school of Engineering."³
The last mention of Miss Engineering Week was in 1976 (perhaps the Women in Engineering conference made an impact on the Engineering Department?) until 2010 when the Cal Poly Society of Women Engineers revived it, with a twist.4  The new contest was a fashion show open to any woman in engineering. It intended to embrace their femininity, while uniting around a common passion for engineering.
¹ Behrendt, Judy and Mary Wiegand, "Miniskirts 'n' Sliderulers: Do They Go Together?," Poly Viewpoint, June 2, 1967: 2, http://digitalcommons.calpoly.edu/studentnewspaper/1220/.
² Keevil, Katie, "Engineering: Women Wanted," Mustang Daily, May 25, 1976: 6, http://digitalcommons.calpoly.edu/studentnewspaper/2349/.
³ "Miss Engineering winner announced," Mustang Daily, February 10, 1970: 3, http://digitalcommons.calpoly.edu/studentnewspaper/1420.
4 "Students to host events for National Engineers Week, Mustang Daily, February 16, 2010: 1, http://digitalcommons.calpoly.edu/cgi/viewcontent.cgi?article=8018&context=studentnewspaper.