Prospective employers consider graduates' workplace skills developed while in higher education as significant factors in their employability. Cal Poly is embedding purposeful out-of-class support programs to boost students' learning experiences and enhance their acquisition of transferable skills, and Kennedy Library supports this initiative through our student assistant program.
---
The library employs many students, providing them with many diverse opportunities in positions such as IT assistants, reference assistants, service desk assistants, and digital collection assistants. As part of their job duties, students perform a wide range of tasks including checking materials in/out, processing reserves, maintaining the stacks, and helping the library acquire new materials. Experience performing a broad array of structured, integrated job duties fosters students' development of the lifelong skills that employers seek in new employees.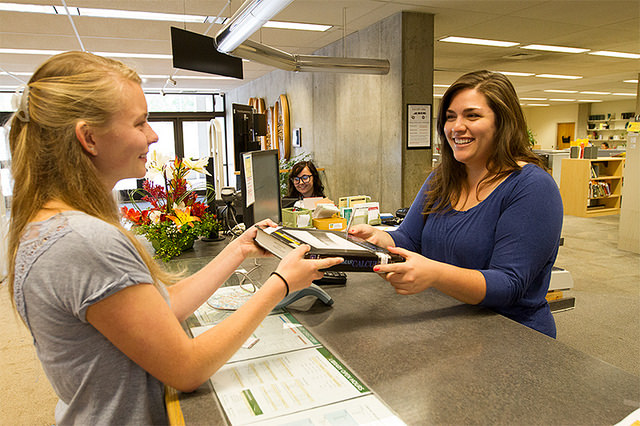 These findings, based on research by Dr. Margaret Adeogun, Head of the Kennedy Library's Access Services team, have recently been published in Public Services Quarterly ("Learn by Doing: An Assessment of the Impact of Access Services in Fostering Skills Development of Access Services Student Staff at Kennedy Library.") Adeogun found that as students work at the library's service desks, they develop networking, communication, and interpersonal skills through interactions with patrons. As they provide IT support, students develop customer service skills and sharpen their technical and troubleshooting knowledge base. As they attend to resource sharing duties, students learn the value of cross-institutional cooperation, teamwork and communication. Stacks maintenance and cataloging teach them the importance of positive working relationships.
Our diverse student assistants learn from each other and acquire multicultural awareness, preparing them for work in a global market. In all, students acquire a broad range of skills including information retrieval and processing, communication, problem solving, teamwork and critical thinking. They develop the interpersonal skills that are critical for success in the workplace and crucial for classroom integration.
In an age when the academic library must demonstrate its value to student success, Kennedy Library provides student staff with a platform for transformational and experiential learning.