Kennedy Library hosted Keith Webster, Dean of Libraries at Carnegie Mellon University, as part of a colloquium on the future of academic libraries. Webster gave a keynote presentation on recent shifts in library roles, current trends, and how future libraries are likely to impact academic institutions.
---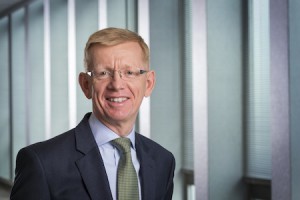 Webster described the current challenges faced by libraries, what they can do to stay relevant in a changing environment, and how they can take advantage of new roles – and freedom from former constraints – to better serve their communities.
Every library must tailor its evolution to the particular needs, resources, and goals of its parent institution, said Webster, becoming a sandbox for new ideas and reflecting its community's strengths. Libraries now have the opportunity to create knowledge through hands-on learning in addition to providing access to established knowledge. Successful academic libraries are engaging their communities by facilitating maker spaces, providing collaboration spaces, and developing new education programs for emerging cross-disciplinary fields.
Before Webster's keynote, Kennedy Library showcased several Initiatives in Digital IDEAS – Innovations in Digital Expression, Access, and Scholarship (iDi) for the campus community. Among them were library innovations with new software and virtual scholarship platforms, the digitization of 100 years of Mustang News, and a collaborative platform for managing digital images for teaching and research.
The colloquium ended with a cross-campus leadership discussion on how Kennedy Library can continue its work of bridging, connecting, sustaining, creating, and curating, through programs and initiatives that will keep moving Cal Poly's library into the future.