The holidays have a way of reminding us about family: the ones we are born into (and sometimes flee from), and the ones we choose. I've recently read two very different first novels that center around this theme.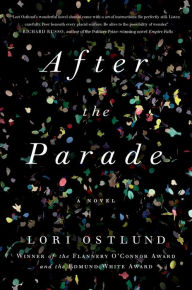 Aaron Englund, the main character in After the Parade, has escaped his family, at least in the sense of removing himself physically from them — although his mother abandoned him before he had a chance to grow up and leave. Naturally, this has left some deep scars, though he manages to remain an open-hearted person. He's formed a relationship with an older man that, while not entirely satisfying to him, has been stable for twenty years. Ultimately, though, he decides that he needs to get away, start over, and finally deal with the emotional fallout of his broken childhood. Through an acquaintance, he gets a job as an ESL teacher at a barely functional school for adult immigrants in San Francisco. He rents a garage apartment — closer to a garage than an apartment — from a married couple whose arguments become the soundtrack to his home life. Here, he takes one last walk around the neighborhood where he lives with his soon-to-be ex-boyfriend:
He passed the house of the old woman who, on many nights, though not this one, watched for him from her kitchen window and then hurried out with a jar that she could not open. She called him by his first name and he called her Mrs. Trujillo, since she was surely twice his age, and as he twisted the lid off a jar of honey or instant coffee, they engaged in pleasantries, establishing that they were both fine, that they had enjoyed peaceful, ordinary days, saying the sorts of things that Aaron had grown up in his mother's café hearing people say to one another. As a boy, he had dreaded such talk, for he had been shy and no good at it, but as he grew older, he had come to appreciate these small nods at civility.
Aaron meets a variety of unlikely characters on his way to becoming his own person: an overweight baker, a sardonic private investigator, a man with tusks. I found his story involving and his character memorable.
The Sleepwalker's Guide to Dancing is about a very different family, the nucleus of which is much more tightly connected. The Eapens are Indian Americans: Thomas, the father, is a brain surgeon who may or may not have chosen the only possible medical specialty which requires him to leave India — and his extended family — to practice. His wife, Kamala, still has one foot in her life in India, though she's so poorly treated by her in-laws that it's hard to imagine why she'd want to be anywhere near them. Their two children, Amina and Akhil, have their struggles with 1970s New Mexico growing up, but are more American than Indian. There's enough disaster, heartbreak, and medical misfortune (brain tumor, narcolepsy, depression) in this story to supply several novels, but because of the uniquely well-drawn characters and touches of humor, it avoids melodrama.The story shifts between 1970s India, 1980s suburban New Mexico, and Seattle during the dot.com boom, and features a chosen extended family of Indian Americans who live near the Eapans. Here, Chacko Kurian, who functions as an uncle, passes judgement on Amina:
"Too old for marrying anyway — why worry about it now?"

"Chackoji, don't start," Sanji warned.

"What start? It's not a conversation, just the plain truth."

Delivered at least twelve times in every get-together, Chacko Kurian's plain truths could have stamped the joy out of any festivity if anyone were to take him seriously. Springing from lost dreams (to pioneer heart surgery with a fleet of like-minded sons) and found realities (a daughter who was as uninterested in his line of work as she was in trying to make him happy), his edicts were always promptly dismessed by the others, giving him the air of a king ruling the wrong kingdom.
I'd love to see Mira Nair adapt Sleepwalker's Guide as a film, but in the meantime, I loved both of these books, and was sorry to see them end.
Author photos:
Ostlund: Franchon Smith, The Chronicle
Jacob: Bloomsbury India