Jonathan Franzen has a way of pissing some people off. Popular author Jennifer Weiner, for example, has been in a feud with him for years, and invented the term "Franzenfreude," defined as "the frustration with literary critics' apparent preference for works by white male authors, such as Jonathan Franzen" (according to Schott's Vocab blog in the New York Times.) He got a little queasy when one of his books was selected for Oprah's Book Club, putting him on the same list as less "serious" works by other authors. His book stayed on Oprah's list, though, and the two of them have since patched things up.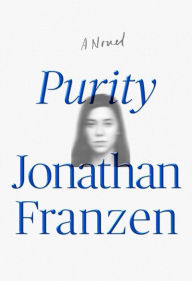 Say what you want about his ability to annoy: he's a great writer. His latest, Purity, is no exception. Set in Oakland and Felton, California, Bolivia, East Germany, and Philadelphia, and full of seemingly unrelated, one-of-a-kind characters, it has a plot (including a long-buried body in the yard of someone's parents' vacation home) to keep you turning pages, all 500+ of them. It also has multiple Big Issues to sink your teeth into: feminism, the wages of fame, the nature of morality, and the effect of the internet and social media on all of the above.
Two of the most central characters are Purity "Pip" Tyler, a recent college graduate with an eccentric but devoted single mother and a pile of student loan debt, and Andreas Wolf, a Julian Assange-like leaker of government and corporate secrets via his group, TSP, The Sunshine Project. Pip is being recruited for TSP by one of Wolf's admirers.
Here, Pip takes matters into her own hands and cockily emails Wolf directly:
Dear Andreas Wolf, what's your deal? A person named Annagret who I hardly know tells me I can be a paid intern with your project. Is this like a sex opportunity for you, or what? Do you guys have a keg of Kool-Aid? The whole thing frankly sounds deeply creepy to me. I don't care very much about the work you're doing down there in the jungle or whatever, but Annagret doesn't seem to think it even matters if I do. Which really makes me wonder. Yours, Pip Tyler, Oakland, California, USA.
Despite her wariness, Pip does join the Project when Wolf promises her that it can also unlock a very personal secret for her. There are many more characters and complications, central and otherwise. Franzen skilfully weaves it all together, and comes up with one of the most satisfying yet realistic endings that I've seen in a long time.
author photograph: Chris Buck for the Guardian