The One Button Studio helps fulfill Kennedy Library's goal to provide access to technology and innovative spaces for the Cal Poly community.
Opened October 1, 2015, Cal Poly students, faculty and staff now have access to advanced video production tools at just the push of a button.
What is the One Button Studio?
Modeled after Penn State's original space, the Kennedy Library One Button Studio in room 304 is a simplified video recording system that requires no technical knowledge or previous video production experience.
How to use it
Users simply insert a USB drive and push a button to begin recording a video. The One Button Studio automates lighting, microphone and camera settings, then compresses and renders the completed video into a .mp4 file that is saved onto a drive. The system resets itself when the drive is unplugged, ready for the next person.
The finished product is a polished video recording that requires little time and effort to produce.
"When I walked into the studio for the first time I was surprised at how simple everything was laid out," said Robert Torres (AERO '16). "Since everything is automatic, you can focus on your video and not have to worry about how you are going to make it."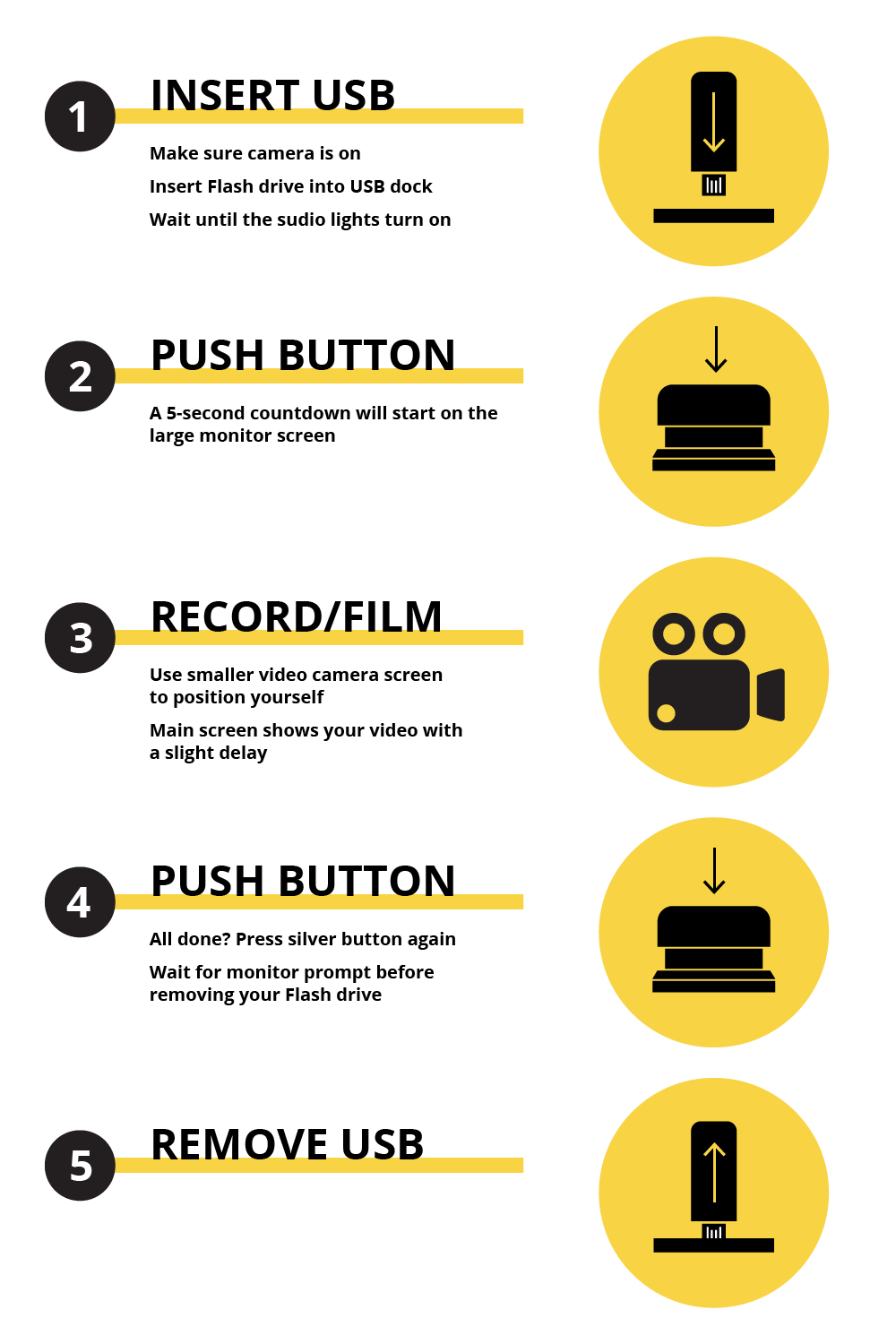 Faculty can utilize the studio to record their lectures, research papers, or to produce video introductions to online courses.
"I think it's great that the Kennedy Library is experimenting with new technologies. Libraries need to make not only information, but also tools accessible," said Sheree Fu, College of Engineering librarian.
For students, the One Button Studio could be useful for practicing a presentation for a class, producing studio components of larger video assignments and creating e-portfolio introductions or content.
"At Cal Poly, a lot of our classes include video assignments. Now that we have the One Button Studio, we have an easier way to complete those projects," said Robert Torres (AERO '16).
Students can also take advantage of the One Button Studio for the upcoming Elevator Pitch Competition sponsored by the Kennedy Library in partnership with the Center for Innovation and Entrepreneurship and Cal Poly Entrepreneurs. With prizes up to $1000 for the perfect pitch, students should hurry to make a reservation for the studio before the October 14th deadline.
Kennedy Library thanks the Orfalea College of Business and Dean Scott Dawson for generously providing funding for Cal Poly's first One Button Studio.