This post is written by Soquel Filice (HIST '15), a Student Assistant in Special Collections and Archives who is investigating the experiences of women at Cal Poly through the decades. Want to know more about the history of women at Cal Poly? Read Soquel's posts for Women's History Month.
In my last post, I discussed the beginnings of the Home Economics Department at Cal Poly and its influence on women's roles on campus. This is a  continuation of this post and a case study of women from the Home Economics Club in the 1960s and 1970s because my initial research started when I found the 1968-1973 Home Economics Club Scrapbook. Women in the Home Economics department and the Home Economics Club were very involved on campus, and also in the community. Other than home-making, women in the Home Economics Club participated in Operation Handclasp, a program sponsored by the Marine Corps that provided toys for Southern Vietnamese Children at Christmastime during the Vietnam War. Home Economics Club members and the Agricultural Engineering society collected over $1200 worth, or 300 pounds of toys, candies, and clothing to deliver to these children. The load of boxes supposedly shipped on December 5, 1968 and landed in Da Nang around December 20,1968. Although there is not any evidence if the toys actually made it to their destination, the San Luis Obispo Mayor and President of the Vietnamese Student Association lauded their efforts. Operation Handclasp allowed women in the Home Economics Club to have agency at an international level, although they were still defined by their gender roles at Cal Poly.
Another interesting aspect of the Home Economics Department is how they influenced high school girls in San Luis Obispo County. They "played host" to 520 high school students on April 9, 1969 for a College Career Day at Cal Poly. Any high school girls interested in General Home Economics, Dietetics, or Child Development could have attended.[1] Home Economics students taught these girls how to have the "natural" look like Elizabeth Taylor and Grace Kelly. They hosted workshops on how to enhance their beauty through hair care and make-up. Additionally, Home Economics majors encouraged high school girls to wear medicated make-up over their blemishes and acne and discouraged them from having long hair because it is hard to "keep attractive." By encouraging high school girls to put an emphasis on beauty and hygiene as well as a career in Home Economics, this program sent messages to women that gave beauty a high importance in a woman's life.
The implications of the Home Economics major allude to the historical background of why women who go to college now joke about receiving their "Mrs. Degree." Marriage was highly encouraged for Home Economics students at Cal Poly, and many fulfilled this, as shown in my last post. By 1994, when the program ended, the Home Economics department still focused on home management, but it had also expanded to include child development classes and concentrations in interior design, textiles, and clothing merchandising. Although this major doesn't exist today, it provides a glimpse into the ways that Cal Poly influenced women to be well-rounded. In fact, all of your responses to my first post prove this! Even the Home Economics Department was influenced by Cal Poly's "Learn By Doing" philosophy. Thank you so much for your comments and insight about the Home Economics Department. Keep sharing this with your friends and family who were Home Economics Majors at Cal Poly. We'd love to hear more of your stories.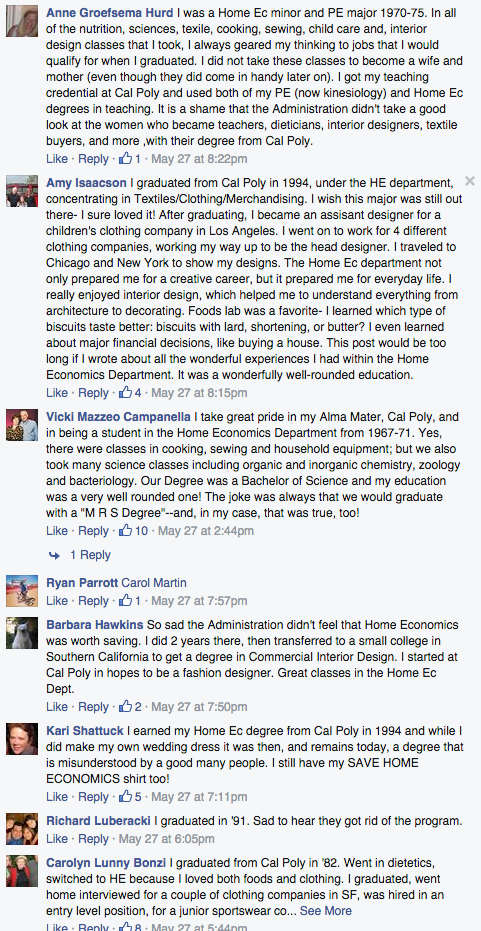 [1] "Second Annual College Career Day," Home Economics Department, California State Polytechnic College, April 9, 1969, in Home Economics Club Scrapbook: 1968-1973, University Archives, California Polytechnic State University San Luis Obispo.