Kennedy Library has teamed up with the Orfelea College of Business to put on its 7th annual Pitch Perfect Competition open to students from every college. In this competition, you have to opportunity to create a 60-second video pitch about how the library can foster interdisciplinary collaboration.
In other words, your video should present a way that students, faculty and staff from all over campus can come together to work on cool, innovative projects. It can be an idea for a new app, website, physical space in Kennedy Library or something else from your imagination. And for the first time this year, the winner will have a budget of $20,000 to bring their idea to life!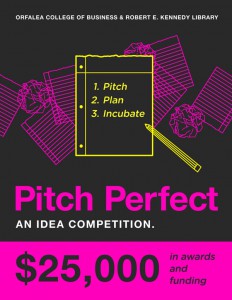 This competition has many benefits that carry on long after the competition is over:
A great way to build your resume and portfolio
This competition is a way to show future employers that you not only know how to make a successful video, but that you have the initiative to follow through with your great idea.
Also, short videos are a great way to communicate because they are visual and engaging.  So by making a video, you can show future employers that you can communicate your ideas effectively.
Get experience, gain new skills
Never made a video before? Or maybe you have but are looking for a chance to practice this skill? In either case, this competition is a great way to work on your video-making skills.
There are some easy to use programs, like iMovie, Final Cut Pro and Premiere, that can help you create a polished, professional video (and if you need access to programs like these, most computers in the library have the programs installed).
The chance to make some money
By entering into this competition, you can to win money for yourself, and even $20,000 to fund your idea. In the first round of the competition, your video will be judged in the following categories, with the chance to win between $700-$1,000:
Best Overall: $1,000
President's Pick: $850
Best of Orfalea: $750
Most Creative: $700
Fan Fave: $700
From those videos, the winners be asked to write a 1 page business plan, and a final winner will then be selected. That person will win another $1,000 for the business plan and $20,000 in funding for their idea.
So what great idea do you have to share? Click here for more information about the competition, find out how to enter and watch winning videos from previous years.