These two books could put you off marriage altogether. Every married person has the occasional "who ARE you??" moment with their spouse, but both of these books take it to extremes.
Maybe it's because I do a lot of my reading before I go to sleep at night — and sleep is almost a sacrament to me — that I don't read many books in the category of psychological thriller. And if there's a significant gore factor, I'm even less inclined to go there. But Gone Girl (book and movie) got such raves that I set my wimpiness aside and read it. Or rather I read about the first third, and devoured the rest at a gallop. For me, it was equal parts creepy and compelling. When I heard somewhere that Flynn also wrote the screenplay, but that the ending differed from the book, I knew I had to see it. Well, apparently I heard wrong: the movie, not surprisingly, was entirely true to the book. Spoiler alert, in case you're the last person in America who hasn't read it: the ending is equally bleak, both places. My hopes for a main character's escape from his/her psychopathic mate were left on the movie theatre floor, along with the stray popcorn and ancient Jujubes. While saying that I "enjoyed" the book doesn't seem like the right choice of verb exactly, I thought it was very well done, as was the movie.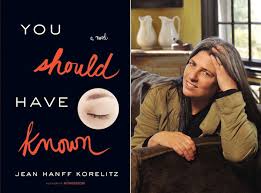 Jean Hanff Korelitz's You Should Have Known also centers on one character's gradual realization that the person she's married isn't who he seemed to be. There are some interesting complications in this plot: Grace, the wife, is a marriage and family therapist who has just published a book warning women not to ignore their early hunches and intuitions about potential mates. The title of her book? You Should Have Known. In a way, it's a self-help book embedded in a novel.
Grace starts out sounding very together, but loses enough credibility as time goes on to become a somewhat unreliable narrator. You THINK your husband is away at a conference? Somewhere in the Midwest, but you're not positive which state, or what the subject of the conference is? It goes downhill from there, with Grace avoiding facing the increasingly damning facts or suspicions emerging about her husband. On one hand, it strained credibility at times, how little she knew — but on the other hand, it had a completely believable nightmare quality. Since Korelitz's earlier book, Admission, was made into a movie, I'm hopeful this one might be adapted some day, too.
author photos:
Flynn: Vince Maher/WENN
Korelitz: Mark Czajkowski