Ever notice those huge, life-size photos posted on the windows of the University Store showing student life at Cal Poly in the olden days?  The 100″ by 100″ photos are definitely hard to miss. The unique, blown-up images are part of a collaborative partnership between Kennedy Library and the Cal Poly Corporation.
"These images connect students to their shared history," said Laura Sorvetti, special collections assistant at Kennedy Library. Students can literally walk into their history if they are not paying attention!"
A special collection of photographs
The images, which begin as 8″ x 10″ photos, come from a collection of university photographs dating all the way back to 1901. This collection of images, housed in the Special Collections and Archives in Kennedy Library, is a great resource where students and faculty can get a feel for the history of Cal Poly. One of the goals of putting up the huge images in the UU is to make Cal Poly's history more visible to students in the high traffic area of the UU.
About the current UU images
The images at the University Union are refreshed twice a year. The current photos show what Cal Poly life was like in the 1940s and 50s.
An aerial view of Cal Poly in 1958 captures the expansion of the built campus post World War II. Enrollment at Cal Poly skyrocketed after the GI Bill passed and many veterans brought their families to college. In this photo, you can see the student housing that was used to accommodate students and their families, including Silver City, student housing made up of silver trailers, and Poly Vue, cottages where Yosemite and Sierra Madre currently stand.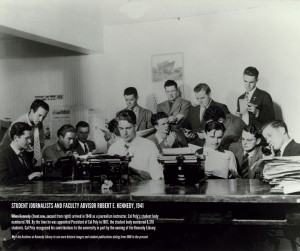 The second image shows journalism students in 1941. In this shot, Robert E. Kennedy, who the library is named after, sits with students at their typewriters as they smoke their pipes and write their stories. Robert Kennedy started his time at Cal Poly as a journalism professor in the 1940s, and concluded his career as president of the university (1967-1979).
"These photos share our community and past," Sorvetti said. "These images help us step back and remember our long history, and how we fit into that history."
See more images of Cal Poly history online or in Special Collections and Archives, in Room 409 of the Kennedy Library.