April 5, 2012 — The Kennedy Library invites the community to celebrate the opening of its new Data Studio. In this collaboration space, Cal Poly students, faculty and staff can access and explore a wide variety of data resources and tools, get hands-on experience with data, and participate in informal instruction.
Data explosion is transforming science, business, culture
"Libraries, like businesses, artists, and scientists, are exploring the growing role of data in recording, sharing, creating, and communicating knowledge," said University Librarian Anna Gold. "The Data Studio is not only a home for our new data services program, but is also a gathering place for students and researchers interested in working with data in new ways."
Opening celebration
The Data Studio's formal opening celebration will begin at 10am on Thursday, April 26, with a ribbon-cutting and recognition by campus leaders of Peter Booth Wiley, Chairman of the Board, John Wiley & Sons, for his generous gift in support of the Data Studio program.
Following the opening ceremony, Quentin Hardy, Deputy Technology Editor for The New York Timesand formerly Bureau Chief for the Silicon Valley at Forbes, will speak at 10:30am in Room 111H, adjacent to the Data Studio. His talk, Fact as Verb: How data is changing nouns into verbs, will address the implications of big data in science, politics, society and more, as well as include an overview of the new uses of data in these areas.
Immediately after Hardy's talk, Cal Poly students in the Data Studio will demonstrate how they are working with data. Student projects will include Twitter-tracking tools to help Netflix identify service outages, and applications of spatial data in architecture and wildlife biology.
Discover, explore, create, share
In the Data Studio, students and faculty can experiment with data software to find and use data in business, science, landscape and urban planning, humanities, engineering and other disciplines. The studio will also offer new programs and tools used to create data visualizations.
Anchored by the library's existing geographic information systems (GIS) and spatial data services program, the Data Studio addresses the growing need for graduates who have strong data skills and knowledge. The Data Studio provides students with a hands-on opportunity to work with data while encouraging whole systems thinking.
Collaborative technology space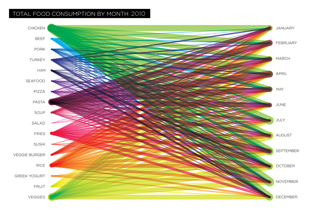 The studio, located on the first floor of the library (Room 111C) is equipped to support collaborative data use and analysis, with ten configurable desks; thirteen dual display computers; four mobile 46″ display monitors; as well as on-site support from peer student assistants specializing in GIS and Data Studio resources.
For more information, please see the library's online guide to data services.
Image credits
Top and middle images are courtesy of Carol Schuldt. The bottom image is courtesy of Lauren Manning, via Creative Commons.