---
Event Details
WHEN:
November 4 - December 5, 2003, all day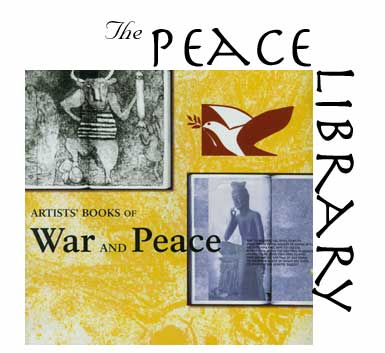 Where: Special Collections area of the Kennedy Library at Cal Poly
When: Nov. 4-Dec. 5, 2003 10am-2pm M-F room 409
Where: Paso Robles Public Library
1000 Spring St.
When: M-F 10 a.m.-8 p.m.
and Sat. 10 a.m.-5 p.m.
11 a.m. Nov. 6, 2003
A panel of local artists will gather in the Special Collections area of the Kennedy Library to discuss the creative process. A question-and-answer session will follow.
Guests are invited to view the exhibit prior to the panel discussion.
Call 805-756-2305 to reserve a seat.
To book the exhibit:
call (805) 756-2305
or email ude.yloplacnull@llijurtc
A Traveling Exhibition of Handmade Books Focusing on the Topics of War and Peace
Comprised of the work of local artists, community members, and artists across California and beyond- the purpose is to provide a venue for dialogue at the same time illustrating the passionate issues of war and peace throughout history. Additional books will be added to the exhibition as it travels as a reflection of the community it is visiting.
Call for Entries
Artists and community members are invited to submit entries through Oct. 10 for the second phase of the traveling exhibition. For information on submitting entries, call Cate Trujillo at 756-2305 or Melinda Forbes at 438-5077.
Committee Statement
The Peace Library is a forum for a community dialogue about the concepts of war and peace.
The format of handmade books was chosen for the intimacy that develops between artist and viewer. The emotions connected with war and peace are charged and often cause defensive and angry discussion. The very nature of the book form is comfortable, and hopefully a means of expression that allows for an understanding of artists' ideas inviting the viewer to "listen" to the work.
The hope is that the books will ask questions or present answers, express frustration, provide new thought, new emotional responses to conflict resolution, and to create a community dialogue that is presented in a body of work.
We offer an open invitation to book artists and community members to take part in this dialogue in the hopes that the concept will travel and widen the discussion of these contemporary issues.
In an effort to preserve the essence of each show an expandable catalog of work has been created for the Library. A handmade collection of all entries, the catalog offers a record of the work and a means of supporting the project to travel through sales of limited editions.
---