---
Event Details
WHEN:
September 19 - October 4, 2019, all day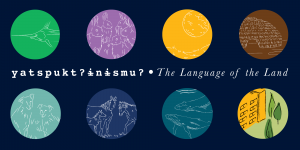 yatspuktʔɨnɨsmuʔ
The Language of the Land
The interactive exhibit locates visitors in yatspu (the land) and yaktʔɨnɨsmuʔ (the language) of yak tityu tityu yak tiłhini, Northern Chumash Tribe of San Luis Obispo County and Region.
With the tribe, Cal Poly named its new residential complex yakʔityutyu (our community) and its seven buildings after seven villages, sparking interest in the Chumash languages.
Come learn more about the language and relations of yak tityu tityu yak tiłhini, starting with these seven locations: where they are, what they mean, and how to say and write them.
Exhibit run
: September 19, 2019 to October 4, 2019
Where:
 1st floor gallery, Kennedy Library
LEARN MORE:Cal Poly Housing
 educational site on the residential community, yakʔitʸutʸu.
http://www.housing.calpoly.edu/ytt
---