---
Event Details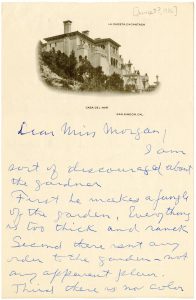 Join us for a demo of an exciting new digital humanities project based on the correspondence of architect Julia Morgan and her client William Randolph Hearst. Over 2,500 documents (letters, telegrams, notes, and other documents), written as Morgan designed and supervised the construction of Hearst Castle, were recently digitized in the library's Special Collections and Archives (SCA) department. For the past 2 quarters four students in a Computer Engineering Capstone course have been working on a way to provide better online access to the correspondence and the rest of the Julia Morgan Papers that have been digitized. Employing the API for SCA's Online Archive, natural language processing libraries, a timeline web application, a Google maps integration, and their own coding to pull it altogether, the new resource, morganpapers.org, offers new and interesting ways to interact with and explore the collection.
Free and open to all, limited seating.
Part of the library's Spark Talks series.
---