---
Event Details
WHEN:
November 3, 2010 @ 3:30 pm - 4:30 pm

Details
Date: Wednesday, November 3rd, 2010 3:30pm
Speakers: Liana Forest, Consultant for Creative Change & Pam Stein, Social Ecologist and Psychologist
Location: Kennedy Library, second floor café lounge
About this Event
Download: Event Poster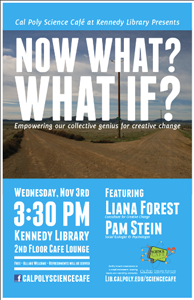 Change is central to modern society, evidenced by these common sayings:
"The only constant is change, continuing change, inevitable change, that is the dominant factor in society today. No sensible decision can be made any longer without taking into account not only the world as it is, but the world as it will be." Isaac Asimov
"You must be the change you want to see in the world" Mahatma Gandhi
"The key to change is to let go of fear" Roseanne Cash
"Life can either be accepted or changed. If it is not accepted, it must be changed. If it cannot be changed, then it must be accepted." Author unknown
"It is not the strongest of the species that survive, nor the most intelligent, but the one most responsive to change." Author unknown
Addressing modern society's complex problems requires creativity, collective vision from diverse perspectives, time, and a lot of work. New communication strategies can collectively generate possibilities and identify collaborative and realistic pathways for co-creating change. Transition Towns Initiatives, a world-wide effort to come together on a grassroots level to address the challenges from climate crises, economic instability and the need for energy efficiency, proposes that we need to hold conversations that unleash our collective creative genius.
About the Speakers
Liana Forest Liana Forest believes in the inherent human capacity to create and cooperate. She is certified in Person-Centered Expressive Arts, has a B.A. in art, and an M.A. and Ph.D. in the anthropology of social change. Her mentors in the psychology of change are Natalie Rogers, Joanna Macy, and Coeleen Kiebert, and she has facilitated cooperation in creative community change for over 30 years. In her Wingéd Bear Studio in Los Osos she holds workshops in "Planting Possibilities for Creative Change." Her work as a member of the Transition Towns initiating teams for San Luis Obispo County and Transition Towns Coastal focuses on individual and group change for building sustainable and resilient communities.
Pam Stein has a life-long interest in facilitating personal growth and cultural change. While working on her MA in Social Ecology and her Marriage and Family Therapist license, she developed a passion for working with teenagers and their families. She ran programs in Orange and San Luis Obispo Counties that were collaborative efforts between the probation departments and community benefit organizations. Although Pam's more recent studies for a PhD in Depth Psychology deepened her knowledge about facilitating change, her work as a member of the Transition Towns initiating teams for the County of San Luis Obispo and the City of San Luis Obispo is what drives her passion for co-creating a more sustainable and connected future.
---