---
Event Details
WHEN:
January 25, 2013 @ 10:00 am - 11:30 am
Faculty Author
Craig Russell — Professor, Music Department
About the Conversation
From Serra to Sancho: Music and Pageantry in the California Missions is a book by Craig Russell, released in the summer of 2009 by Oxford University Press.
We'll begin our conversation with Craig, who will talk informally about his work and process. Then, he and Dan Krieger will engage in conversation inspired by a series of Dan's questions, leaving time for Q&A with the audience.
Listen to the Podcast
Hear it on Kennedy Library Out Loud
About the Author
Craig Russell is a professor in the music department at Cal Poly, San Luis Obispo. His interests include music appreciation and music history.
Professor Russell has received major grants from the National Endowment for the Humanities, Fulbright Commission, Spain's Ministry of Culture, Program for Cultural Cooperation, California Council for the Humanities, and Edmund Cabot Memorial Fund.
His two-volume book, Santiago de Murcia's "Codice Saldivar No.4": A Treasury of Secular Guitar Music From Baroque Mexico was published in the summer of 1995 by the University of Illinois Press.
Special Guest
Dan Krieger is a professor emeritus in the history department at Cal Poly, San Luis Obispo, and past president of the California Mission Studies Association.
Professor Krieger's early research and writing focused on the legacies of imperialism and racism in California in the 1950s. His interests expanded to include those legacies in Africa, Southern and Eastern Asia and Europe in the 1960s. He has also written about the ethno history of California and the Central Coast.
Read an Excerpt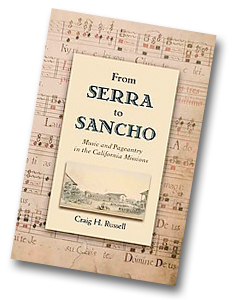 Introduction, (Oxford University Press)
---