---
Event Details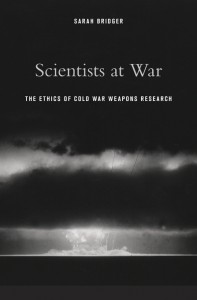 Join us to discuss Scientists at War: The Ethics of Cold War Weapons Research, a book by Sarah Bridger, published by Harvard University Press. Shelley Hurt will join the author in conversation. There will be time for audience questions; light refreshments will be served. The University Store will offer copies of the book for sale.
About the author
Sarah Bridger is an assistant professor in the history department at Cal Poly. Her teaching and research interests include 20th-century U.S. history; Cold War politics, culture, and foreign relations; the 1960s and 1970s; labor in the 19th and 20th centuries; and the history of postwar science. She's interested in competing visions of politics, economics, and ethics in times of social upheaval.
About the guest
Shelley Hurt is an associate professor of political science at Cal Poly. She specializes in International Relations, Science & Technology Policy, and American Political Development. Hurt's scholarship aims to bring the study of science and technology policy back into the center of political science scholarship.
About the book
Scientists at War examines the ethical debates that severely tested the American scientific community during the Cold War. Sarah Bridger highlights the contributions of scientists to military technologies and strategic policymaking, from the dawning atomic age in the 1940s through the Strategic Defense Initiative ("Star Wars") in the 1980s, which sparked a cross-generational opposition among scientists.

The Manhattan Project in the early 1940s and the crisis provoked by the launch of Sputnik in 1957 greatly enhanced the political clout of American scientists. Yet many who took up government roles felt a duty to advocate arms control. Bridger investigates the internal debate over nuclear weapons policy during the Eisenhower and Kennedy administrations, when scientific advisors did not restrict themselves to technical assessments but made an impassioned moral case for a nuclear test ban. The relationship between government and science began to fray further during the Vietnam War, as younger scientists inside and outside of government questioned the morality of using chemical defoliants, napalm, and other non-nuclear weapons. With campuses erupting in protest over classified weapons research conducted in university labs, many elder statesmen of science, who once believed they could wield influence from within, became alienated. The result was a coalition that opposed "Star Wars" during the 1980s—and a diminished role for scientists as counselors to future presidents. – Harvard University Press
---