---
Event Details
WHEN:
February 4, 2020 @ 6:00 pm - 8:00 pm
CONTACT:
Catherine Trujillo | Phone: (805) 756-6395 |
email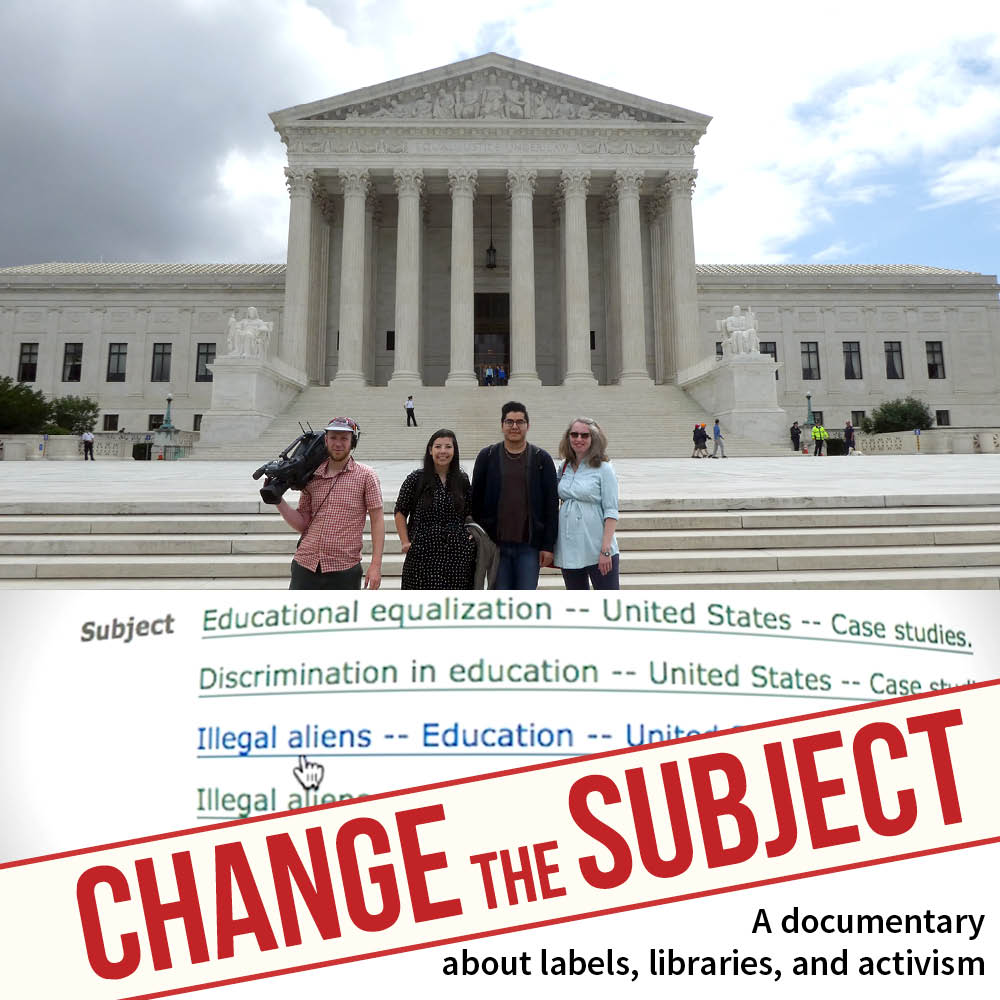 Change the Subject: A documentary about labels, libraries, and activism 
When: Tuesday February 4, 2020 • 6:00 p.m. to 8:00 p.m.
Where: Spanos Theatre, Cal Poly
Free and open to the public.
(Tickets are not required)
Join Kennedy Library for a film screening and a moderated panel discussion with the student activists and librarian featured in the documentary. 
"Change the Subject" tells the story of students committed to advancing the rights and dignity of undocumented people by confronting the use of the Library of Congress subject heading "illegal aliens" in their library. This term became a flashpoint in the immigration debate on Capitol Hill, demonstrating the ways language can be weaponized to divide and dehumanize people. 
Panelists:
– Óscar Rubén Cornejo Cásares a member of the Dartmouth College Class of 2017, double majoring in Sociology and Native American Studies. He is now a sociology Ph.D. student at Northwestern University. His research focuses on the intersections of undocumented migration, race, and social movements.
– Estéfani Marín a member of the Dartmouth College Class of 2017, majoring Sociology modified with Latin American, Latino, and Caribbean Studies. She is now a sociology Ph.D. student at University of California Irvine. Her research focuses on Race, gender, and educational inequalities.
– Jill Baron the librarian for romance languages and Latin American, Latin@ & Caribbean Studies at Dartmouth College. She received her masters in library and information science from Rutgers University, an MFA in Creative Writing from The New School, and her BA in French and comparative literature from Bryn Mawr College.
– Moderator, Adrienne Garcia-Specht (she/her/hers) is a steering committee member of the Central Coast Coalition for Undocumented Student Success. CCC-USS is an all-volunteer organization of education and community members dedicated to educational equity for all students. She is a financial aid counselor and president of the Chicanx Latinx Faculty Staff Association at Cal Poly. Adrienne earned her Master's Degree in English at Syracuse University, where her work focused on media and race, and now lives in her hometown of Arroyo Grande. She has worked in higher education for over eight years.
Parking: Grand Ave. parking structure • $10 (cash or card) or online: https://calpoly.pmreserve.com • $11.50
More info: ude.yloplacnull@llijurtc • (805) 756-6395

News release: https://calpolynews.calpoly.edu/news_releases/2020/january/change-the-subject 
Sponsored by: Robert E. Kennedy Library, Academic Affairs, Office of University Diversity and Inclusion, Chicanx Latinx Faculty Staff Association, School of Education, Career Services Diversity Funding Committee and the Cuesta College Office of Equity
In collaboration with: Dartmouth College Baker-Berry Library , Central Coast Coalition for Undocumented Student Success (CCC-USS), Cal Poly Dream Center, Cuesta College Monarch Center, and the Allan Hancock Aim to Dream Center
---