---
Event Details
WHEN:
September 21 - 27, 2014, all day
CONTACT:
Conny Liegl | Phone: (805) 756-7544 |
email
Banned Books Week is the national book community's annual celebration of the freedom to read. Hundreds of libraries and bookstores around the country draw attention to the problem of censorship by mounting displays of challenged books and hosting a variety of events. The 2014 celebration will be held September 21-27 with a focus on comics and graphic novels.
Dr. Dustin Stegner, professor of English at Cal Poly who teaches a class on graphic narratives, speaks to the issue of censorship of comics in our latest video for Banned Books Week.
Banned Books Week was launched in 1982 in response to a sudden surge in the number of challenges to books in schools, bookstores and libraries. More than 11,300 books have been challenged since 1982 according to the American Library Association. There were 307 challenges reported to the Office of Intellectual Freedom in 2013, and many more go unreported.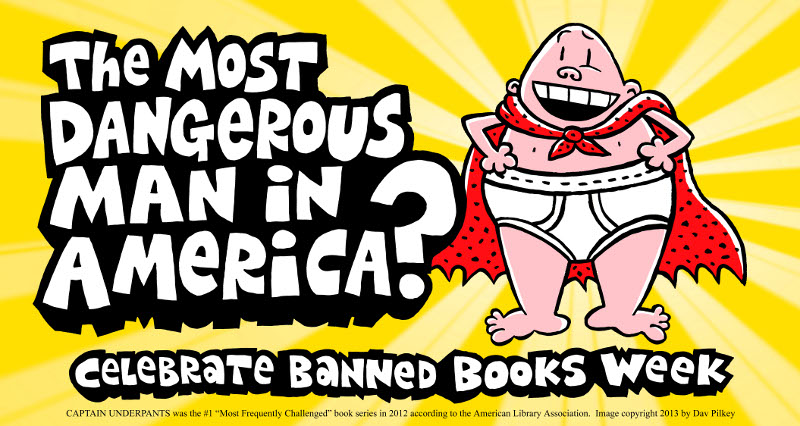 Dav Pilkey via Bannedbooksweek.org (2013)
The 10 most challenged titles of 2013 were:
Captain Underpants (series), by Dav Pilkey
Reasons: Offensive language, unsuited for age group, violence
The Bluest Eye, by Toni Morrison
Reasons: Offensive language, sexually explicit, unsuited to age group, violence
The Absolutely True Diary of a Part-Time Indian, by Sherman Alexie
Reasons: Drugs/alcohol/smoking, offensive language, racism, sexually explicit, unsuited to age group
Fifty Shades of Grey, by E.L. James
Reasons: Nudity, offensive language, religious viewpoint, sexually explicit, unsuited to age group
The Hunger Games, by Suzanne Collins
Reasons: Religious viewpoint, unsuited to age group
A Bad Boy Can Be Good for A Girl, by Tanya Lee Stone
Reasons: Drugs/alcohol/smoking, nudity, offensive language, sexually explicit
Looking for Alaska, by John Green
Reasons: Drugs/alcohol/smoking, sexually explicit, unsuited to age group
The Perks of Being a Wallflower, by Stephen Chbosky
Reasons: drugs/alcohol/smoking, homosexuality, sexually explicit, unsuited to age group
Bless Me Ultima, by Rudolfo Anaya
Reasons: Occult/Satanism, offensive language, religious viewpoint, sexually explicit
Bone (series), by Jeff Smith
Reasons: Political viewpoint, racism, violence
---