---
Event Details
Open Science Cafe 2015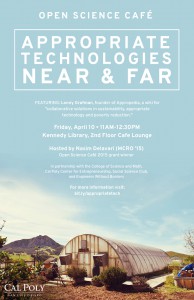 Appropriate technology is technology designed to be appropriate to its context. It is often developed using open source principles and emphasizes choice, people, scale and sustainability, among other considerations. It can be found in both developed and developing countries.
This Open Science Cafe features Lonny Grafman, the founder of Appropedia, a wiki for "collaborative solutions in sustainability, appropriate technology and poverty reduction." He also teaches environmental resources engineering and appropriate technology at Humboldt State University.
This event is hosted by Nasim Delavari (MCRO '15), Open Science Café 2015 grant winner.
Grafman will engage participants in a local needs assessment followed by a quick co-design, to model the collaborative process of designing appropriate technology. He'll also share examples of past projects. By the end of the event, participants may find themselves exchanging information to continue working on the projects they've brainstormed!
Partners: College of Science and Math, Center for Innovation and Entrepreneurship, Engineers Without Borders, Social Sciences Club.
Read the press release at Cal Poly News.
Free and open to the public. Light refreshments will be served.
---