---
Event Details
WHEN:
May 2, 2014 @ 12:30 pm - 2:00 pm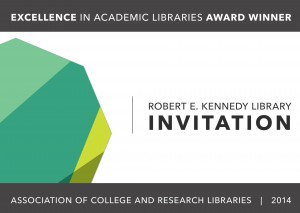 The Association of College and Research Libraries (ACRL) named Cal Poly's Robert E. Kennedy Library as a recipient of the 2014 Excellence in Academic Libraries Award. As part of the celebration, the campus community is invited to join University President Jeffrey Armstrong, ACRL President Trevor Dawes, VP of US Sales of YBP John Elliott and University Librarian Anna Gold for the presentation of the award. Refreshments will be served. Please RSVP by April 8: bit.ly/acrl-rsvp
More info on the award, including a press release and link to the application, is on our blog.
---