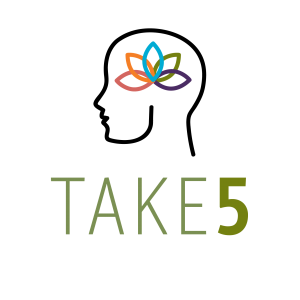 Take5 (formerly known as Stressbusters) is an outreach program that creates and facilitates positive, stress-relieving initiatives, activities and events in the library helping students to manage and reduce excessive stress, particularly in preparation for and during examination periods.
Core Values
Take5 team members lead by example: members have a positive attitude towards others and are fully committed to serving the Cal Poly student body; we are respectful to all.
Take5 listens to feedback: our stress-busting services are flexible, and reflect desires of students; we are inclusive to all.
Take5 team members are actively involved in finding and fostering partnerships with related and relevant programs on campus; we are open to all.
Take5 activities meet the changing needs of students: outreach methods will adapt to new technologies and trends; we are creative and experimental.
Goals
To provide meaningful, helpful and stress-relieving services to all students, supportive of their academic success.
To recognize and identify current student stressors and adjust the services accordingly.
To make use of library services supporting the Take5 mission; to promote and emphasize them.
To build alliances with library programs supporting our mission, and strengthen partnerships across campus.
To raise student awareness and to heighten recognition of the program by giving Take5 a unified branding and updated presence on the website.
Vision
The Take5 program is committed to making a difference to each individual student, and to contribute to a healthy Cal Poly campus climate. We will find and foster partnerships at Cal Poly, and raise awareness for stress-relieving programs and relevant services on campus.
Events
Past Events