Collaboration Rooms (bookable)
Group Study Rooms
In addition to the fishbowls, the library has another eight group study rooms available on a first come, first served basis. These rooms are located on the 3rd, 4th and 5th floors. Rooms 302, 303, 410, 411, 501 and 502 are available during library open hours. See our library maps and directories for more information.
All of these collaborative study rooms are equipped with whiteboards and large monitors you can use to display your work.
One Button Studio (bookable)
Create a professional video recording in our One Button Studio in Room 304. The room is already equipped with lighting, camera and audio equipment. Just push one button and everything you need is activated. Push the button again and you're finished. Bring a Flash drive (formatted with FAT32) to save your file!
Learn more about the One Button Studio.
  Book online!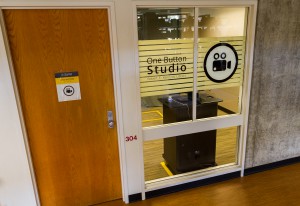 Active Learning Lab
The library's Active Learning Lab removes barriers to learning, and inspires both students and instructors to innovate.
This space features intuitive technology and spaces that support multiple uses, including testing and evaluation of parallel technologies. The lab is available for open access when not scheduled.
Data Studio
Struggling with big data and slow computers? Not in the Data Studio!
The Data Studio is located in room 111C on the first floor. We have special software and faster computers that are especially equipped for volume data like maps and GIS data.
Computer Labs
There are more than 300 computers in the library. You can find most of them in the labs on the first and second floor.
Room 111B- Windows Lab: 36 computers
Room 114C- PolyConnect Lab (PC and Mac): 48 computers
Room 216A- Mac Lab: 24 Mac computers
Room 216B- Active Learning Lab: 32 computers
Room 217C- Windows Lab: 27 computers
Room 217D- Windows Lab: 26 computers
These labs are used for classes, but are open access when not scheduled. View the schedules for these labs.
It's easy to find which computers are available with our computer availability maps.
View a list of the installed software on our computers. 
Open Computers
Most of our 300+ computers are in our six labs on the first and second floors. There are also open computer stations throughout the library, available to any students.
They are available to everyone on a first-come-first-serve basis. It's easy to find which computers are available with our computer availability maps.

Graduate Study Rooms
Cal Poly graduate students are invited to use rooms 301 or 401 for study and research.
Room 301 (third floor) is a collaborative study space, equipped with soft group seating, movable desks, whiteboards, three computers, a printer, wireless internet access, several power outlets, and mobile lockers that can go anywhere in the library.
Room 401 is located on the fourth floor, and was designed for quiet study. It's equipped with soft individual seating, several individual tables, mobile privacy panels, whiteboards, wireless internet access, and three computers.
Secure your laptop, books, papers, and other personal belongings in a mobile locker that you can use in either room or elsewhere in the library. Borrow a key from the Circulation Desk in the lobby to reserve your locker: all 12 lockers are available for 90 days and renewed if there is no wait list. Check with the Circulation Desk for availability and mobile locker policies (PDF).
If "old-school" lockers are more your style, 45 additional graduate hall lockers are located on the second floor near the stairwell and are available for a 90 day loan that can be renewed if there is no wait list. Check with the Circulation Desk for availability and hall locker policies (PDF).
Individual Study
You need to concentrate? We understand.
The fourth and fifth floor are dedicated to quiet and silent study, respectively.
Too loud?
Please let us know if other library users are overly loud on the upper levels. Library staff is available to reinforce our expectations of quiet on these floors.
Need headphones?
Borrow headphones from the PolyConnect Lab (first floor, room 114), if you didn't bring your own.

24-Hour Study
Are you a night owl? Got a last-minute project? Prefer studying in night shifts?
Our late night study spaces on the first floor allow you to work whenever you want – open 24/7 on most days through the academic year, we want to make sure you achieve your goals on your own time.
The collaboration area allows for active late-night collaboration.
You can choose to work in the silent study area where we kindly ask you to keep quiet conversation to a minimum and silence your phones.
The open computer lab features 50 PC and Mac workstations for you.
For your cravings, we have a snack machine located in the collaboration area, and installed a device charger where you can plug in anytime.
Bring your ID
Cal Poly IDs are required for access when the main Library is closed: the late night study area is open day and night.
Hours may vary during quarter breaks, holidays, and the summer quarter. Please check our hours page for details.
Be Safe
Escort Van
Cal Poly University Police offers an escort van pickup. The van leaves from in front of Kennedy Library 10 and 40 min past the hour.
University Police
University Police routinely monitor and walk through the 24/7 spaces after hours to keep you safe.
Emergency Alarms
Just in case – there are well-marked blue emergency pulls throughout the library.
Safety Advice
Better safe than sorry – please read the University Police safety tips.