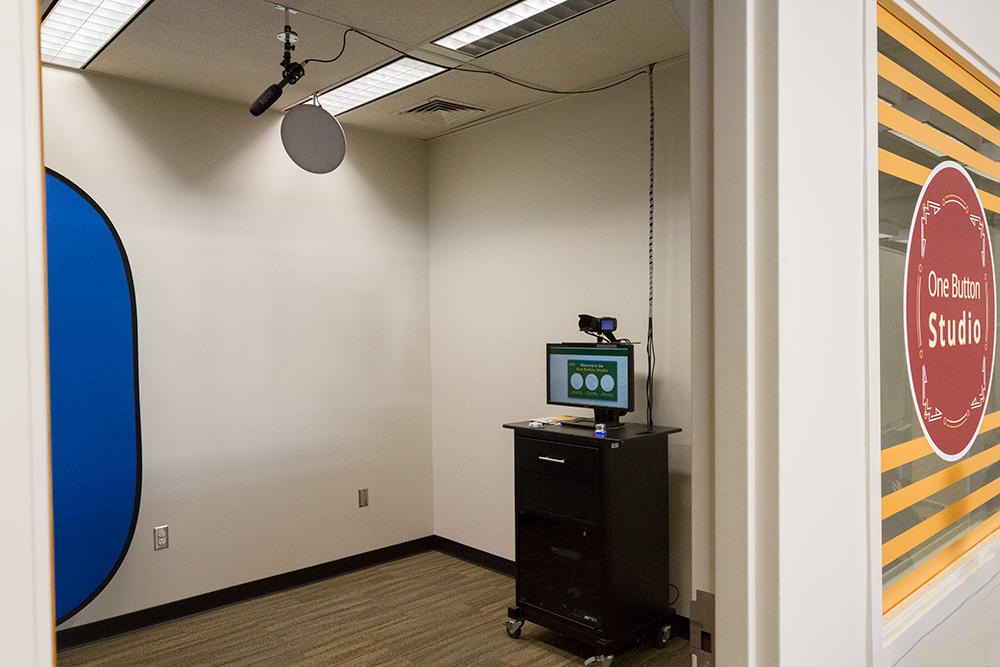 The One Button Studio (111E) is designed to be a simple video production studio for students and faculty, requiring no technical knowledge to operate.
The user comes into the studio, inserts a flash drive into the USB dock, presses a large button, then simply gets into position to begin recording a video. The One Button Studio provides a 5-second countdown, and then begins the video recording, handling control of the lighting, camera settings, and microphone. Once the presentation is finished, the user presses the button again to stop the recording. The One Button Studio then compresses the video into a .mp4 file and writes it onto the flash drive. The user then removes the flash drive and has their video presentation ready to take with them.
The One Button Studio is also equipped with a blue/green screen for chroma key work.
The One Button Studio works only with Flash drives formatted with FAT32. See this page to learn how to format FAT32 on a Mac.
1. Reserve the One Button Studio Online

Reserve the One Button Studio online: One Button Studio Reservations
At the time of your reservation, go to the Poly Connect service desk to get the key to the One Button Studio (111E)
The One Button Studio is available during regular library hours
Reservations available in 60-minute blocks
No food or drink is permitted in the Studio
2. Go to the One Button Studio, Room 111E in Kennedy Library

IMPORTANT: Your Flash drive must be formatted with FAT32
USB Flash drives are available for purchase from the vending machine in the 24-hour room on the first floor
3. Record Your Video
Insert your USB drive into the white USB dock to activate the Studio camera and lighting
Press the large silver button to start/stop recording
When finished recording press silver button
What for the onscreen prompt to remove your Flash drive
Remove Flash drive from USB dock to deactivate the Studio camera and lighting
Online support for One Button Studio: http://sites.psu.edu/tltsupport/
Kennedy Library thanks the Orfalea College of Business and Dean Scott Dawson for generously providing funding for Cal Poly's first One Button Studio.