Cal Poly graduate students are invited to use both of the library's graduate study rooms for study and research.
Room 301
This room is a collaborative study space, equipped with soft group seating, movable desks, whiteboards, three computers, a printer, wireless access, several power outlets, and mobile lockers that can go anywhere in the Library.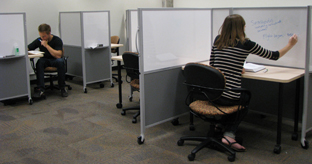 Room 401
Located on one of the library's two quiet study floors, room 402 is a space designated for quiet study. It is equipped with soft individual seating, several individual tables, mobile privacy panels/whiteboards, wireless access, and computers. Mobile lockers may also be stored in this room.
 Access and use guidelines
To provide a more secure environment, a Cal Poly ID card will be required to enter the graduate study rooms using the card swipes at the entrance.
Hours
The grad student study rooms are open during main library hours.
Computing and printing
PC computers are available in each room (see software list). You can print to a courtesy printer in Room 301, or to the print release station on the fourth floor. Please notify the library staff at the Front Desk if the computers or printers need service.
Graduate lockers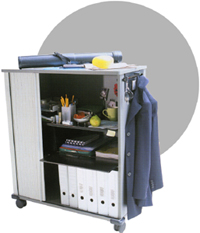 Secure your laptop, books, papers, and other personal belongings in a mobile locker that you can use in either room or elsewhere in the library. Borrow a key from the Circulation Desk to reserve your locker: all 12 are available for 90 days and renewed if there is no wait list. Check with the Circulation Desk for availability and mobile locker policies (PDF).
If "old-school" lockers are more your style, 45 additional graduate hall lockers are located on the second floor near the stairwell and are available for a 90 day loan that can be renewed if there is no wait list. Check with the Circulation Desk for availability and hall locker policies (PDF).
Who can get a Graduate Locker?
Currently registered Cal Poly graduate students;
Lockers are assigned on a first-come, first-served basis;
Lockers are checked out at the Circulation desk for 90 days; but may be renewed if there is no waiting list.
What can be kept in a locker?
Library materials checked out to the patron, if they are not overdue;
Food may not be kept in lockers overnight;
All personal items found in lockers without locks, or after the first day of summer break will be removed. Access Services staff will keep these items for two weeks, and send them to Campus Lost & Found if unclaimed; and
The Library reserves the right to inspect the contents of a locker periodically.
What about security of items placed in lockers?
Materials kept in lockers are the responsibilities of the user. The Library is not responsible for materials lost, stolen or damaged while stored in lockers;
Only library-assigned padlocks are permitted on lockers. Staff may remove any other locks placed on lockers; and
Access services staff can assist borrowers by opening locks if a key is lost. Replacement for a new lock is $25.
What are the overdue charges for assigned lockers??
After one week overdue, patrons are charged $100 lost fee, and all personal items recovered from the locker will be removed;
If the patron returns the key after being charged, the bill comes down to $25;
All lockers must be cleared by the first Tuesday after the end of spring quarter, and will be available again July 1.
More information on Graduate Study Room Policies
Supplies
Paper and whiteboard supplies are provided. Please alert the library staff at the Circulation Desk if supplies run low.