Equipment is available for check out at the Poly Connect service desk (Library, 1st floor.) All items are available first come, first served – sorry, no reservations. You may place a hold on 3-day iPads if all are checked out.
There is no charge to check out equipment, all you need is your PolyCard! See what's available below.
You may be charged a fee if items are not returned on time or returned damaged. Please see 'Serious Stuff' below for details.
iPad information
Kennedy Library has 60 iPads available for checkout at the PolyConnect service desk. We now have two iPad flavors: 3-day and 3-hour. Yum!
3-day iPads come pre-loaded with lots of apps – some for school and some for fun. If all of the 3-day iPads are checked out, you can place a hold on the next available 3-day iPad through PolyCat, just like a book. Search for "iPad 3 day" and click "Request." You will receive an email when your 3-day iPad is ready to pick up.
3-hour iPads are perfect for checking email or web browsing between classes. In addition to the standard Apple apps the 3-hour iPads have Facebook, Dropbox, Netflix and the Cal Poly app. These iPads are available on a first come, first served basis.
Check 3-hour iPad availability
iPad basics
All kinds of iPad help can be found at the Center for Teaching, Leaning & Technology  iPad Support page.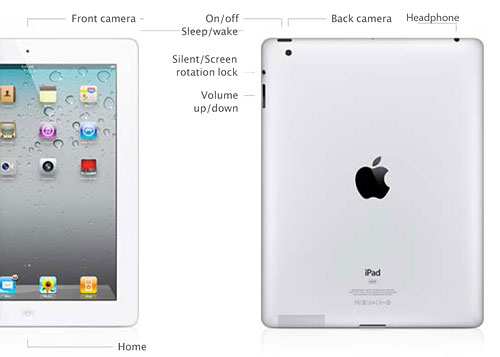 Get Connected to get started

  When the iPad is connected to a Wi-Fi network, the Wi-Fi icon in the status bar at the top of the screen shows the connection strength. The more bars you see, the better the connection.

  If not connected, click on Settings, then Wi-Fi. If on campus select Mustang Wireless. Log in to Cisco Clean Access and wait for the Wi-Fi icon. If it doesn't appear, click Wi-Fi "off" then "on" and login screen should appear.
Browsing the internet
  Use Safari to browse the Internet.
Connect to your email

  Return to Settings, then "Mail, Contacts, Calendars, " then "Add Account …" and select an email type. To connect to your Cal Poly email, select "Microsoft Exchange." When prompted for "Server" use "connect.calpoly.edu"

  The easiest way to get files and documents off of the iPad is by using your email. Look for the email icon to send self-created content.
What's in the bag

The cover for the iPad doubles as a stand.

Use the USB cable to connect to your computer to access your iTunes account.

Use the USB cable to connect to the power adapter for re-charging.

The video adapter connects the iPad to a projector or monitor with a VGA connection.

Use the stylus instead of your finger to take notes, draw, type, move the screen, etc.
Accessing your iTunes account
Connect the iPad to your computer and access your iTunes account to download apps and access your music, photos, etc. Use File Sharing via iTunes to move content on and off the iPad.
» See more from Apple.
A couple o' caveats
Syncing the iPad to your personal iTunes account may disable Kennedy Library's installed apps. Don't worry — we'll reinstall them when you return it.
Before you return the iPad, make sure you log out of all websites and accounts.
After the iPad has been returned, any account information, content or apps you leave on the iPad will be erased by Library staff.
More help
For more help see the iPad Users Guide in the iBooks Library or visit Apple's support pages.
Checkout policies
Use of  Library iPads is subject to:
Late fees and replacement costs are listed on the laminated tag attached to the iPad cover.
List of preloaded apps on 3-day iPads
App Store
Bamboo Paper Notebook
Bing
Bluefire Reader
Cal Poly App
Calendar
Camera
Chrome
Clock
Contacts
Dictionary.com
Dragon Dictation
Dropbox
Evernote
Facebook
FaceTime
Find My Friends
Find My iPhone
Free Books
Game Center
GarageBand
Google Drive
Google Earth
JMP Graph Builder
iBooks
Ideament
Instagram
iTunes Store
iTunes U
Kindle
Mail
Maps
Messages
Music
Netflix
neu.Notes
New York Times
News
Notes
NPR
Pandora Radio
Paper by FiftyThree
PCalc Lite
Photo Booth
Photos
Photoshop Express
Pinterest
Podcasts
Promptware
Quick Graph
Quickoffice
Reminders
Safari
Settings
Shazam
Skype
Spotify
Tips
Trailers
Twitter
Videos
Wikipanion
All available technology items
| | | | | |
| --- | --- | --- | --- | --- |
| Equipment Type | Checkout Time | Online Renewals | Late Fee | Replacement Cost* |
| Asisstive Headset | 3 Days | One 2-day | $10 per day | $75 |
| Asisstive Keyboard | 3 Days | One 2-day | $10 per day | $75 |
| Audio Recorder | 3 Days | One 2-day | $10 per day | $75 |
| Cell Phone Charger- Android | 3 Hours | No | $1 per hour | $100 |
| Cell Phone Charger- iPhone | 3 Hours | No | $1 per hour | $100 |
| Calculator-Graphing | 3 Hours | No | $1 per hour | $120 |
| Calculator-Scientific | 3 Hours | No | $1 per hour | $20 |
| Desk Lamp | 3 Hours | No | $1 per hour | $20 |
| Displayport to VGA & HDMI Adapter | 3 Hours | No | $1 per hour | $30 |
| DSLR Camera (Nikon D5500) | 3 Days | No | $10 per day | $1,500.00 |
| GoPro Camera (Hero 4 Black) | 3 Days | No | $10 per day | $800.00 |
| HDMI to Displayport Adapter | 3 Hours | No | $1 per hour | $30 |
| Headphones | 3 Hours | No | $1 per hour | $30 |
| iPad 3-Day (iPad 2 & 4) | 3 Days | No | $10 per day | $830 |
| iPad 3-Hour (iPad 4) | 3 Hours | No | $5 per hour | $700 |
| Mac Laptop Power Cord | 3 Hours | No | $1 per hour | $120 |
| MacBook Pro Laptop | 3 Hours | No | $5 per hour | $1,600.00 |
| Marker Kit | 3 Hours | No | $1 per hour | $20 |
| Mouse | 3 Hours | No | $1 per hour | $20 |
| PC Laptop | 3 Hours | No | $5 per hour | $1,800 |
| PC Laptop Power Cord | 3 Hours | No | $1 per hour | $50 |
| Scanner | 3 Days | One 2-day | $10 per day | $90 |
| Tripod | 3 Days | One 2-day | $10 per day | $100 |
*Replacement costs are subject to change
The serious stuff (Our policy)
You are financially responsible for damaged or lost items and parts. Normal wear and tear is okay.
A hold can be placed on your academic record and registration if replacement fees are not paid.
Don't be late! There is a late fee of $10 per day for AV items, and $5 per hour for laptops ($10 in fines will suspend your library privileges until paid.) All cables and accessories must be returned to avoid late charges.
You must have a PolyCard to check out equipment.
Please check the laptop software page to see a list of all the software installed on each laptop.
Checkout for 3-hour items ends approximately 3 ½ hours prior to the closing of the Poly Connect desk. Because closing times vary during the quarter, please call 805-756-6546 to verify today's hours.
Enjoy and please treat our equipment with the respect it deserves so that it continues to function well for the next student to use it. Also, please give us your feedback — we like that!

Renewals
As with anything you check out from Kennedy Library, you can manage your account online from PolyCAT. You'll need your PolyCard number to log in.