PolyCards
---
Payment
---
Logistics
---
PDFs
Powerpoint
---
How do I print using my PolyCard?
First, you must have money on in your Campus Express account. (If you do not, see next question.)
After selecting "Print" you will be prompted with a box asking for your name.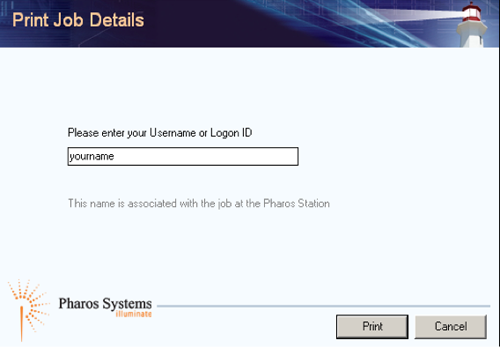 Enter a name for print job or your name, click "Print," go to the closest printer and swipe your PolyCard.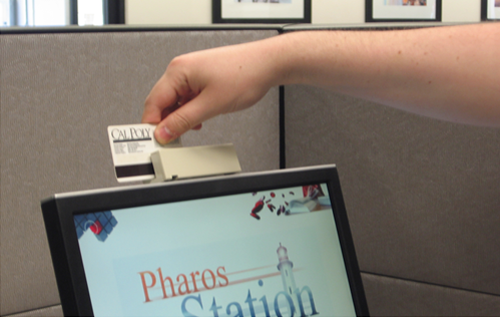 Select the your document from the list and click "Print". The costs for printing are $0.10 per per side for black, and $0.20 for color.
How do I put money on my PolyCard?
Go to the Cal Poly Portal and log in.
Click on the "Money Matters" tab.
Select Fast Pass/Campus Express Account
More instructions can be found here:MoneyOnCard [PDF]
I got charged for pages that didn't print or printed incorrectly. Can I get a refund?
Refunds from PolyCard printers are managed by Cal Poly Information Technology Service (ITS). If you need access to a refund request form, ask a Computer Support Assistant at the PolyConnect service desk. Refunds may take several days to be processed.
Can I use my Plus Dollars for printing?
No, plus dollars are for dining only.
Can I pay cash for printing?
Cal Poly Print & Copy in the 24-hour room (1st floor) accepts cash, credit card or debit card. They can open files from your USB drive or attached to an email. There is a $1.50 minimum charge at Cal Poly Print & Copy.
Images (PDFs, JPEGs, etc.) on USB drives can be printed from one of the copiers located on the 1st floor. The copiers accept coins.
How do I print two-sided? One-sided?
After clicking "Print" the Print box appears, click the "Properties" button.

Click the drop-down box under "2 Sided Print" and select your option. Use "Flip on Long Edge" for 2-sided, portrait-oriented pages.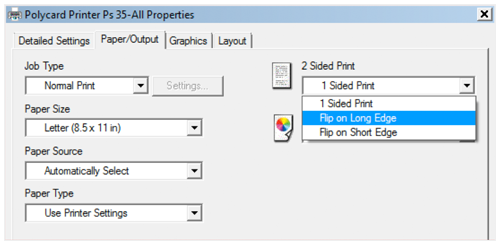 How do I change print settings on a Mac?
To change to one-sided or two-sided
In the Print window, pull down the "Copies & Pages" menu
Select "Layout"
Next to "Two Sided"

Select "Off" for one-sided printing
Select "Long Edge Binding" for two-sided portrait printing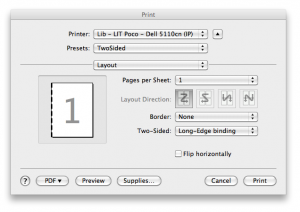 To change to color or black
In the Print window, pull down the "Copies & Pages" menu
Select "Printer Features"
Next to "Output Color"

Select "Color" or "Black"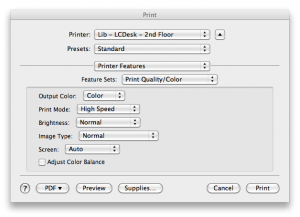 ↑ Back to top of Printing Issues FAQ
Can I print from my personal laptop to a PolyCard printer?
Yes. You can download print drivers for your laptop and connect wirelessly to the PolyCard printers in the Library.
» Get instructions and drivers
Be sure to follow all the directions and change all the settings before you download the print driver.
My document won't print and the printer says load "A4", "Legal", or "MPF". What's wrong?
Your document was sent to the printer using a paper size that the printer does not support. The printers will only print on "Letter" sized paper (8.5″ x 11″.) "A4" and "Legal" refer to other paper sizes. Cancel the print job, return to the computer you are working on and change your page or print settings so that paper size is set to "Letter."
When "MPF" is displayed, the printer is looking for paper in the Manual Paper Feed tray. Cancel the print job, return to the computer you are working on and change your page or print settings so that paper source is set to "automatic."
Instructions on how to request a refund to your PolyCard can be found here.
Why is it taking so long for my print job to finish? The printer display says "Processing."
Large documents, especially PDF files, can take between 3-5 minutes to process. Be patient and do not cancel the job. Some documents are larger than the printers' memory capacity. Try printing 2 to 4 pages at a time.
I'm having trouble printing PDFs, what can I do?
Try saving the PDF to the desktop and printing from there. If that doesn't work, try:
Opening the PDF with Acrobat Pro (not Adobe Reader) and printing.
If your document is over 10 pages, try printing two pages at a time. The document might be too large for the printer's memory.
Or, use a browser other than Chrome (e.g., Firefox, Internet Explore, Safari)
If you feel you have be charged for pages that did not print, ask the student assistant at the desk for a Print Refund Form.
How can I convert a document into a PDF?
From within the application (Word, PowerPoint, etc.) select "Save As" and change Format to PDF.
How can I change how many PowerPoint slides print on a page
In PowerPoint, select Print, go to "Handouts" and choose how you would like slides to print.