Did you know? If you are a Cal Poly student, faculty or staff member you can use most of our online services from the library, your residence hall, your home, or anywhere you have online access.
The two simplest ways to do this are:
Starting at either Find Everything, Databases A-Z list, Online Journals by Title or PolyCat should eventually prompt you to log in at the right time/place.
OR
Log into the My Cal Poly Portal first and then go to the Library tab, and then to the Kennedy Library homepage from within this tab.
Helpful resource links
You can also access databases from the Library Tab at MyCalPoly.
Additional Tools
Proxy Bookmarklet information
When you're off-campus, the proxy bookmarklet lets you reload a web page through the Cal Poly Library's proxy server.
If the page you are visiting is one that the library has a subscription for, using the bookmarklet will enable you to access the resource as if you are on-campus. You will be prompted to log in to My Cal Poly and will be returned to the web page you were on when you clicked the bookmarklet.
How to use the Proxy Bookmarklet
Simply right click on the bookmarklet link and save it as a favorite or bookmark or click and drag it to your bookmarks toolbar. Then, click on your new bookmark whenever you find yourself at an Cal Poly-subscribed resource that requests a password.
(Right click and add to favorites/bookmarks)
What if it doesn't work?
If the library doesn't subscribe to a particular title or does not subscribe to the resource, you may be still be unable to access the material, or even receive a Proxy Error page. Check out our Interlibrary Services to see about ordering the material from another library.
LibX browser extension
LibX also offers reloading pages through the proxy server but does so through integration to the Right-click context menu. LibX further extends the context menu by allowing you to highlight, for example, title terms or standard numbers in a page and right click and send those terms directly to be searched in library resources (including Google Scholar) from wherever you are.
LibX is available only for Firefox and Chrome. Demo, download and view more features.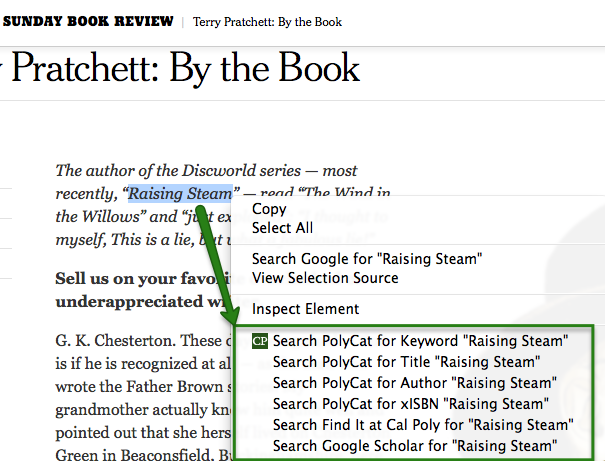 VPN remote access service (faculty & staff only)
Troubleshooting
If you're unsure you're logged in properly, check that this string of letters is somewhere in the URL of the article you're viewing: ezproxy.lib.calpoly.edu.  If you don't see this, try going through steps 1 or 2 the top of this page and using our Citation Linker on this page or Google Scholar to re-search for the article.
We have occasionally seen people have problems when they were either idle or "wandered" from the original session, which can be caused by the portal timing out in the background. If it's been a while and access seems to stop working, return to the library home page and browse your way back to the article by means of the Databases list, PolyCat, etc.
Sometimes opening another tab or window while doing research can result in dropping out our system. If you start having problems, make sure you haven't "wandered" too far from your original session.
Need help with this?
No problem. Ask us – we're here to help.