Kennedy Library is as strong as its people and its partners. And that's strong! We are grateful for our partners' generous collaborations in support of our students and community, and proud of our accomplished and dedicated faculty and staff.
---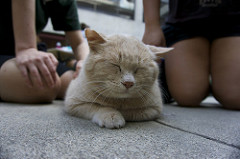 Partnering for Student Wellbeing. With 2000 seats, extended hours, hundreds of computers and over 20 study rooms, the library is always full during fall quarter's dead week and final examinations. And the Cal Poly students who visited the library (more than 100,000 times!) got help, friendship, and stress relief too.
All that support comes from a growing list of partners – students, faculty, and staff. During the last two weeks of the quarter, students at Kennedy Library were helped by:
ASI:

Provided activities, free coffee, refreshments, and Scantrons

Cal Poly Cat Program:

Brought cats into the library atrium for students to hold and cuddle

Connections:

Sponsored a Silent Disco in the atrium, featuring two DJ's and headphones for silent dancing

ARCE 306:
AEPS 215:

Students in this floral design course displayed their bright and imaginative mid-term and final projects along the first floor corridor

Mustang News:

Provided free coffee and refreshments
Student wellbeing is an all-in, community-wide effort! Kennedy Library thanks the community for supporting the whole Cal Poly student.
---
Zero Waste Pilot Program: Creating A Sustainable Future. What's green, blue, and black and the newest addition to the library's sustainability efforts? The new Zero Waste stations! The new receptacles include composting bins as part of Facilities Services' Zero Waste Pilot Program, an effort to reduce landfill contributions.
Midway through fall quarter the library became one of the four campus locations piloting the new Zero Waste program. Students responded to the new composting bins so readily that custodians had to supply additional compost bins throughout the library to meet the high demand.
All the coffee grounds from Julian's Café, paper towels from the library's seven restrooms, and countless students' study snack scraps can be composed instead of going to the landfill.
Facilities Services will follow-up with a waste audit during winter quarter to determine which items are being improperly sorted. The results will inform campus-wide education efforts as Zero Waste expands from a Cal Poly pilot to a Cal Poly way of life.
---
Our People: Welcome Berlin Loa to Special Collections and Archives

The New Year brought us a new colleague: Berlin Loa, who joined Special Collections and Archives as a Library Services Specialist III on January 5. Berlin is a Certified Archivist and was formerly Museum Director at The Museum of Casa Grande in Tucson, Arizona.