Since 2008, Kennedy Library has made our special collections and archives available online at digital.lib.calpoly.edu, using a digital asset management system called CONTENTdm. This system served the library well in our early attempts to provide basic access to our digitized resources, but the time has come to provide Cal Poly, San Luis Obispo County, and the world, a more engaging online experience.
As of last week, Islandora, an entirely open source framework using the Fedora Commons repository platform and the Drupal website management platform, has replaced CONTENTdm as the online discovery platform for the library's digital archives. With Islandora, we now have a robust, flexible, and dynamic digital asset management system and online discovery platform.
Enhancing access
Islandora's open source technology will allow us to enhance this access and move the library closer to providing in-browser access to born-digital resources like GIS data and email. Here are just a few improvements our users will see immediately: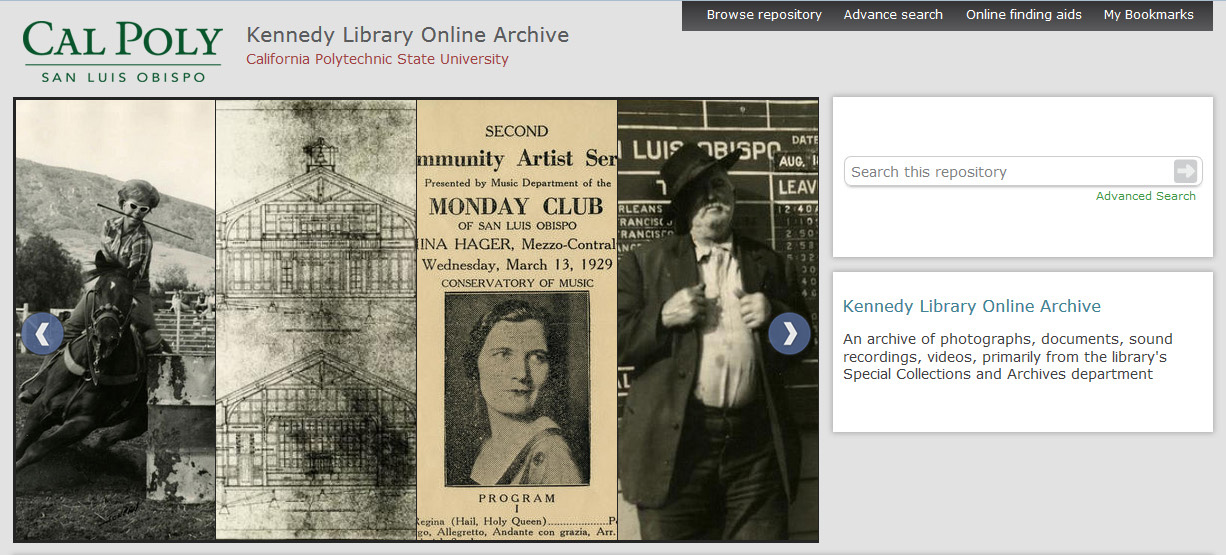 MODS behind the scenes
Another exciting change (at least for us library folks!) is that during the migration from CONTENTdm to Islandora, I crosswalked the archive's metadata from Dublin Core to MODS, a richer and more granular descriptive metadata schema. Besides Islandora's ability to make excellent use of this granularity through its built-in Solr index, MODS metadata should put the library in a good position to participate in metadata aggregation initiatives such as the Digital Public Library of America (DPLA).
Sandbox for Cal Poly's CS students
Islandora's open source technology will also create the potential to open up the systems' code base to student programmers and designers. Once we become comfortable with the system, we would like to create specific projects for student groups and courses, invite students to use the system as a sandbox, and sponsor activities like hackathons, all within the library's digital asset management system. This would not be possible with CONTENTdm.
Acknowledgements
Thanks to everyone who has helped make this new site possible, especially the members of the iDi Digital Asset Technical Infrastructure Working Group (Carl Hunt, Mike Price, and Russ White), Jessica Holada, Laura Sorvetti, Michele Wyngard, and all the students in Special Collections and Archives; and to Mike Price and Dale Kohler for their guidance and assistance in technology and security matters.
Finally, we also owe thanks to several visionary donors, who have given generously to help support the future of digital scholarship at Cal Poly.
Featured photo:  San Luis Obispo, panoramic view from Terrace Hill, 1907 [composite], San Luis Obispo County Regional Photograph Collection, 168-1-b-01-35-06