Find peer-reviewed articles
What is a peer-reviewed article?
A peer-reviewed article is published in a peer-reviewed journal only after it has been subjected to multiple critiques by scholars in that field. Peer-reviewed journals follow this procedure to make sure that published articles reflect solid scholarship and advance the state of knowledge in a discipline.
These articles present the best and most authoritative information that disciplines have to offer. Also, through the careful use of citations, a peer-reviewed article allows anyone who reads it to examine the bases of the claims made in the article. Peer-reviewed articles lead to many articles in a chain of information.
One drawback to the peer-review process is that articles may not appear for one or two years after they are written. For this reason they are not the best sources to seek for hot, news-driven topics.
Are scholarly and peer-reviewed articles the same thing? How can I tell if an article is a peer-reviewed article? Can databases help me identify peer-reviewed articles?
Where to find them?
Article databases help you find the articles and research information that you need. Find databases listed by topic, by database name, or do a quick search to find just a few articles.
Meet your college librarian! College librarians are an invaluable resource and can help you with finding and using information related to your courses and major.
Useful information on citing your sources in various formats.
Research Guides contain links to web sites and databases as well as other pointers to useful resources, tailored for specific subjects.
Learn how to use Kennedy Library's services and online tools, and how to plan your research project.
Find peer-reviewed journals
Description and purpose
Many scholarly journals use a process of peer review prior to publishing an article, whereby other scholars in the author's field or specialty critically assess a draft of the article. Peer-reviewed journals (also called refereed journals) are scholarly journals that only publish articles that have passed through this review process. The review process helps ensure that the published articles reflect solid scholarship in their fields.
Peer-reviewed journals versus scholarly journals
Scholarly journals contain articles written by, and addressed to, experts in a discipline. They are concerned with academic study, especially research, and demonstrate the methods and concerns of scholars. The main purpose of a scholarly journal is to report original research or experimentation and to communicate this information to the rest of the scholarly world. The language of scholarly journals reflects the discipline covered, as it assumes some knowledge or background on the part of the reader. Scholarly journals always rigorously cite their sources in the form of footnotes or bibliographies. Many scholarly journals are published by professional organizations.
While not all scholarly journals go through the peer-review process, it is usually safe to assume that a peer-reviewed journal is also scholarly.
Finding peer-reviewed journals and journal articles
There is no comprehensive source for identifying all peer-reviewed journals. However, some online databases to which the library subscribes have begun to flag the peer-reviewed journals so they can be searched in the database.
Find books and ebooks
Search for Books
At Kennedy Library
At Our Partner Libraries
Link+
Use Link+ to search for books at our partner libraries, including many university and public libraries. These books may be requested through the Link+ system and then delivered to Kennedy Library for pick-up. Use the barcode number located below your photo on your PolyCard ID card when requesting items. Requests for items held at Kennedy Library will not be processed, so please check PolyCat prior to requesting through Link+. Delivery time: 3-5 days
At Libraries Worldwide
WorldCat
Use WorldCat to search for books from libraries across the United States and other countries.
Interlibrary Loan
Use Interlibrary Loan (ILL) to request items not available at Kennedy Library or through Link+. Delivery time: 7-14 days
eBooks
Available eBooks
Kennedy Library offers several options for eBooks, including Google Books. Visit the eBooks page for links to our eBook collections and more information about eBooks at Kennedy Library.
Kindles
Kindles with pre-loaded titles are also available for check-out. Current titles and availability are both listed in the PolyCat record for the Kindles.
New books and popular reading books are featured on the first floor in a comfortable reading nook inside Room 111, just off the main elevator lobby. These items are also available for check-out.
Requesting Books
Interlibrary Services — Books not available at Kennedy Library may be borrowed from one of our partner libraries in Link+ or another library via Interlibrary Loan.
Need Help?
Find with Google Scholar
What is Google Scholar?
Google Scholar provides a simple way to broadly search for scholarly literature. From one place, you can search across many disciplines and sources: peer-reviewed papers, theses, books, abstracts and articles. Search results may be from academic publishers, professional societies, preprint repositories, universities and other scholarly organizations.
Set Library Links for Cal Poly to access materials the library has subscribed to.
How do I set Library Links for Cal Poly?
What are the different Library Links?
"Find It at Cal Poly" links next to the article title indicate full text is available.
"Find It at Cal Poly" links at the end of the citation indicate a copy may be available in the library.
For books, use the "Library Search" link at the end of the citation.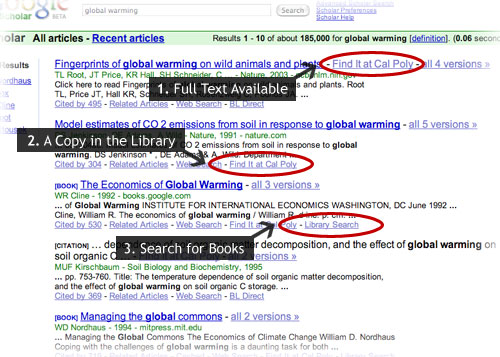 Why use the "Find It at Cal Poly" links?
Google may have indexed the search result from a source to which we do not subscribe. Using "Find It at Cal Poly" will check for the requested material in a library-subscribed resource. If the library does not have access to the item you will have the option to request it via Interlibrary Services. For more information, see our How-to guide to Find It.
What if I'm asked to pay for an article?
Use our Interlibrary Services to borrow materials not owned by Kennedy Library.
Find full-text articles and books with Find It
What is Find It?
Find It is an online tool tells you if the Library has access to the resource you want. When the item is available online, Find It links directly to it. If Kennedy Library doesn't have the item electronically, Find It searches PolyCat to see if we have it in print. If not, Find It can help you get it through an Interlibrary Services request.
Look for the Find It button

If a database is Find It enabled you will see the Find It button next to the records in your search results. Click it to find the full-text of an article or book chapter online, in print at Kennedy Library, or to request it from another library.

Which resources are Find It enabled?
Many of the databases that Cal Poly subscribes to are Find It enabled. When you select a database to search, the information screen will have the Find It icon, indicating available Find It services.
How do I use Find It?
Look for the Find It button after doing your search in a database. It can appear in the results list, but may only appear after you select a record. Clicking on the Find It button opens a menu window displaying your options, such as a link to the full-text article.
Why all the windows?
When you click Find It, a new window opens to display the Find It Menu. Selecting an option from the menu will open another window. Each window can be re-sized and will stay open until you close it. Be careful to close only your Find It windows and not your original database search window.
Why does the number of options in the Find It menu vary?
Find It dynamically generates the menu options that are available for the record you select, so the results may differ from one record to another.
Why does the Find It button appear even if the full text is already available from the database?
Once a database is Find It enabled the button always appears with the search results. You have the option of viewing the article directly or exploring other sources for the full text.
Why isn't full text always available online?
The full-text online option is available only if Kennedy Library owns that item. We don't subscribe to all titles, and not all titles are available online. If the Library owns the print copy, that option will be presented to you.
Know the name of the article?
Use Citation Linker, a Find It service, to find the article you need. It will tell you if Kennedy Library can provide the full-text version online or in print. And if we don't have it, it will help you request it through Interlibrary Services.
Try Citation Linker
When full text is available, why don't I always go to the article level?
Find It takes you as close as it can to the actual article. Sometimes Find It can only get to the table of contents or the journal's homepage because of restrictions by the publisher or database design.
Why doesn't the Find It menu appear when I click on the Find It button?
Software such as Pop-up Zapper and Pop-up Stopper turns off Find It as well, since Find It uses a pop-up window. If you have such software installed on your computer, you will need to turn it off in order to open the Find It menu.
What if my question isn't answered here, or I need help with my search?