---
Event Details
This event finished on 10 March 2017.
CONTACT:
James Werner | Phone: (805) 756-1561 |
email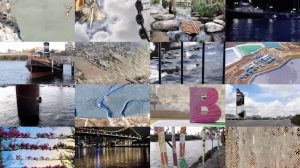 The Water Links series is a collection of art installations displaying video diaries from communities around the world. It encourages self-directed participation and offers visitors an opportunity to capture their thoughts and stories related to critical topics on water. The artwork is intended to extend relational aesthetic practices to the community and encourage creative expression through participatory art events. This type of interactive installation helps reveal how communities engage with this important subject and these technologies. The installation includes individual hand-made hanging artworks created by Ava Paterson Werner (an American painter and mixed-media artist). These pieces represent local histories and topics about water in the three regions exhibited in this installation.
Activities:
:: Tuesday the 7th, 12pm – 1pm: Video discussion with the residency artists in New Zealand.
:: Wednesday the 8th,  9am – 10am: Class visit and interactivity with the installation
:: Wednesday the 8th 1pm – 2pm: Class visit and interactivity with the installation
---